A Comprehensive Guide To Increasing Conversions With User Reviews
You already know that online reviews are a big deal.
But what you may not realize is that you have a TON of available options for taking control of your user review profile. There are some insanely effective ways to acquire and harness user reviews in 2017, and the businesses that are utilizing these strategies are achieving absolutely insane growth.
Today, we are going to cover some of the best strategies for acquiring user reviews and harnessing them to increase site conversion and growth.
But first, let's look at the data.
What The Data Says About User Reviews
Sometimes different metrics reveal conflicting truths about a given subject. That's not the case with user reviews. They make a significant impact from any angle we look.
Some of the more revealing statistics include:
Consumers spend 31% more on average when the business has excellent reviews.
According to Google, business listings that have 3+ start reviews receive 87% of total clicks.
Given equal pricing, guests are 3.9 times more likely to choose the higher rated hotel.
Customers who view user-generated content have a 133% higher conversion rate.
59% of consumers won't buy after reading 3 negative reviews
If there is any question on the importance of harnessing reviews, this infographic from WebsiteBuilder.org should definitively put it to rest: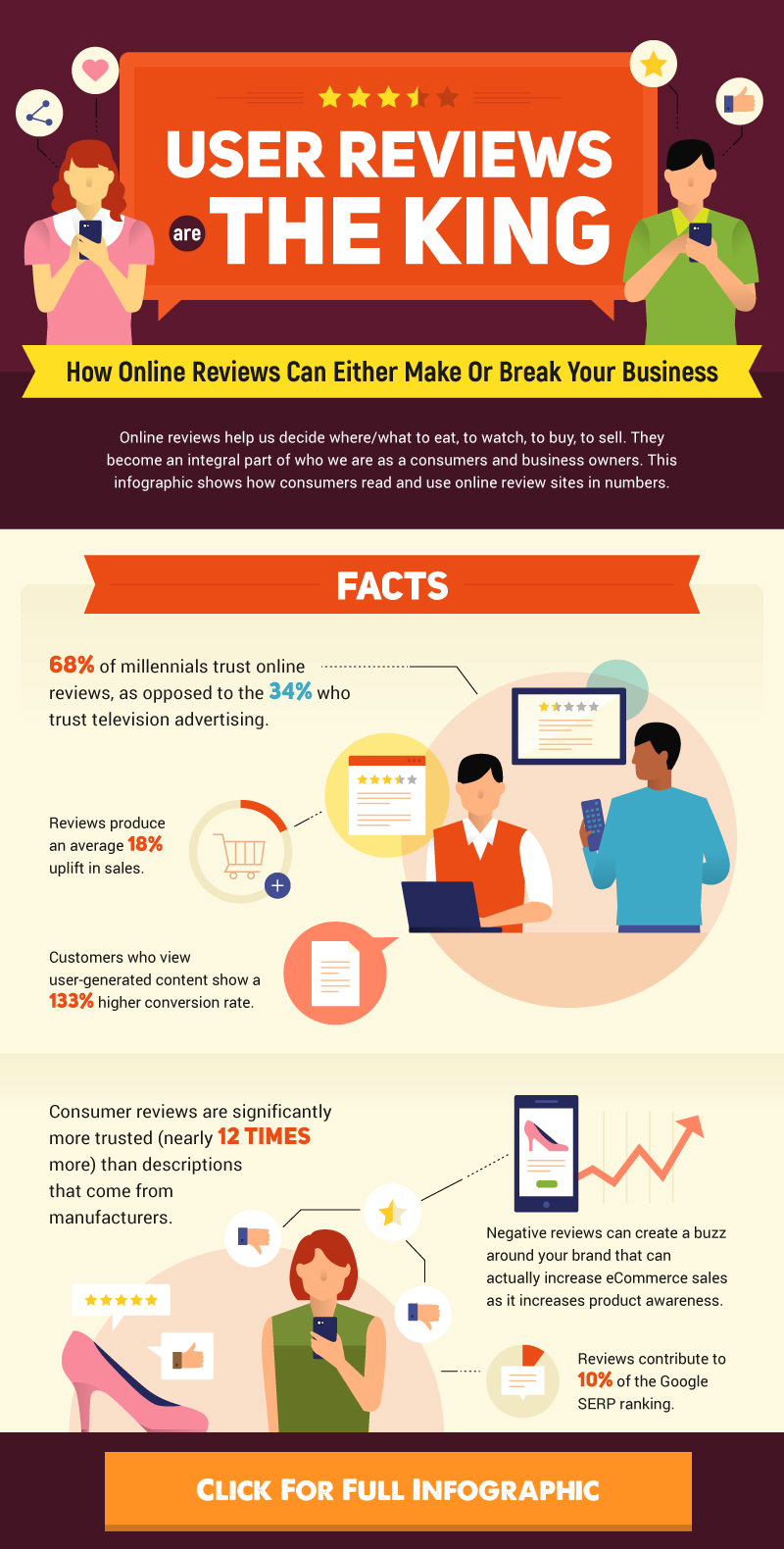 Types of User Reviews
When you think about what a review is, you might picture an Amazon product listing, with a star rating out of 5 followed by a few paragraphs of text.
That's certainly a common version of user reviews in action, but it's not the only one. In order to understand how many strategies we have available to us for utilizing online reviews, we need to first understand just how many different types of reviews exist.
Here are a few common types of user reviews:
Testimonials
A testimonial is a review written specifically to highlight the upsides of a product and encourage those considering it to make the purchase. A testimonial is given by someone who has actually used the product, but is not intended to be an objective, pro/con analysis of the item. The goal of a testimonial is always to promote the product in question.
Testimonials can be written, recorded as audio, or captured in video and often need to be actively solicited.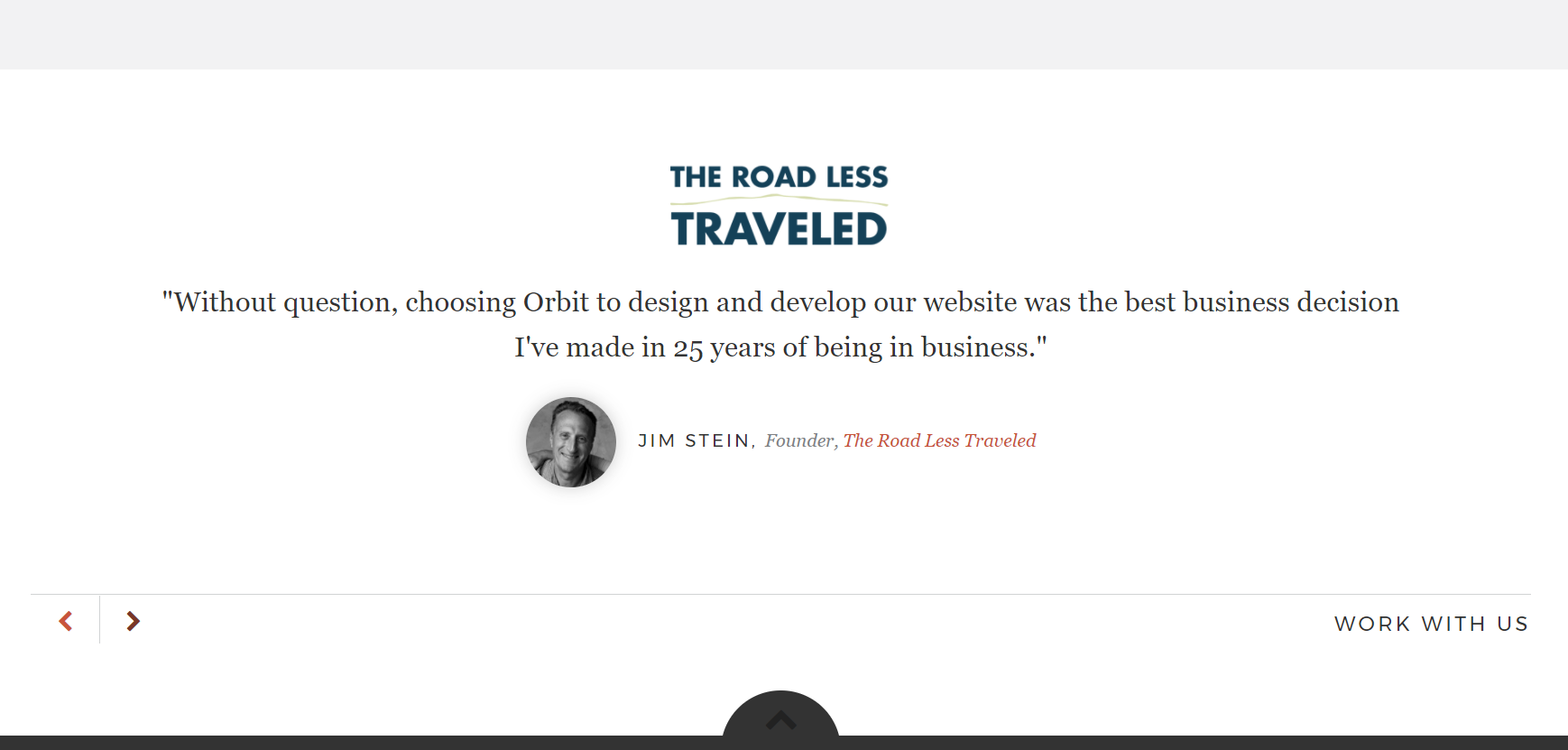 Endorsements
Endorsements are essentially the same as testimonials, but instead of being given by an average user, they are given by someone with influence in the business' niche. That influence can be as widespread as an international celebrity or as targeted as a niche blog.
When an endorsement is given, the endorser's influence is being intentionally channeled in order to encourage more people to purchase the product. In order to receive an endorsement for your product or service, you will typically need to have provided some level of value to the endorser (through your product/service or in the form of direct payment) or have an existing relationship.

On-Page Reviews
An on-page review system allows users to publish their reviews of your product, good or bad, directly for public viewing. On-page reviews tend to be more trusted by consumers, as they are theoretically more objective than testimonials solicited by the business.
Businesses that host on-page reviews for their products are taking the risk that negative user feedback will paint their product as a dud for prospective buyers. The upside is that having a positive on-page review profile can communicate significantly more value to potential buyers than hand-picked testimonials.

Social Media Page Reviews
Certain social media platforms now allow businesses to open up their social pages for user reviews. Similar to on-page reviews, social page reviews can be either positive or negative and offers a risk/reward scenario for business.
On sites like Facebook, reviews are prominently displayed and easily accessible. Business also have the option of disabling reviews on their page for any reason, which lowers risk in the event a page receives too many negative reviews for the owner's liking.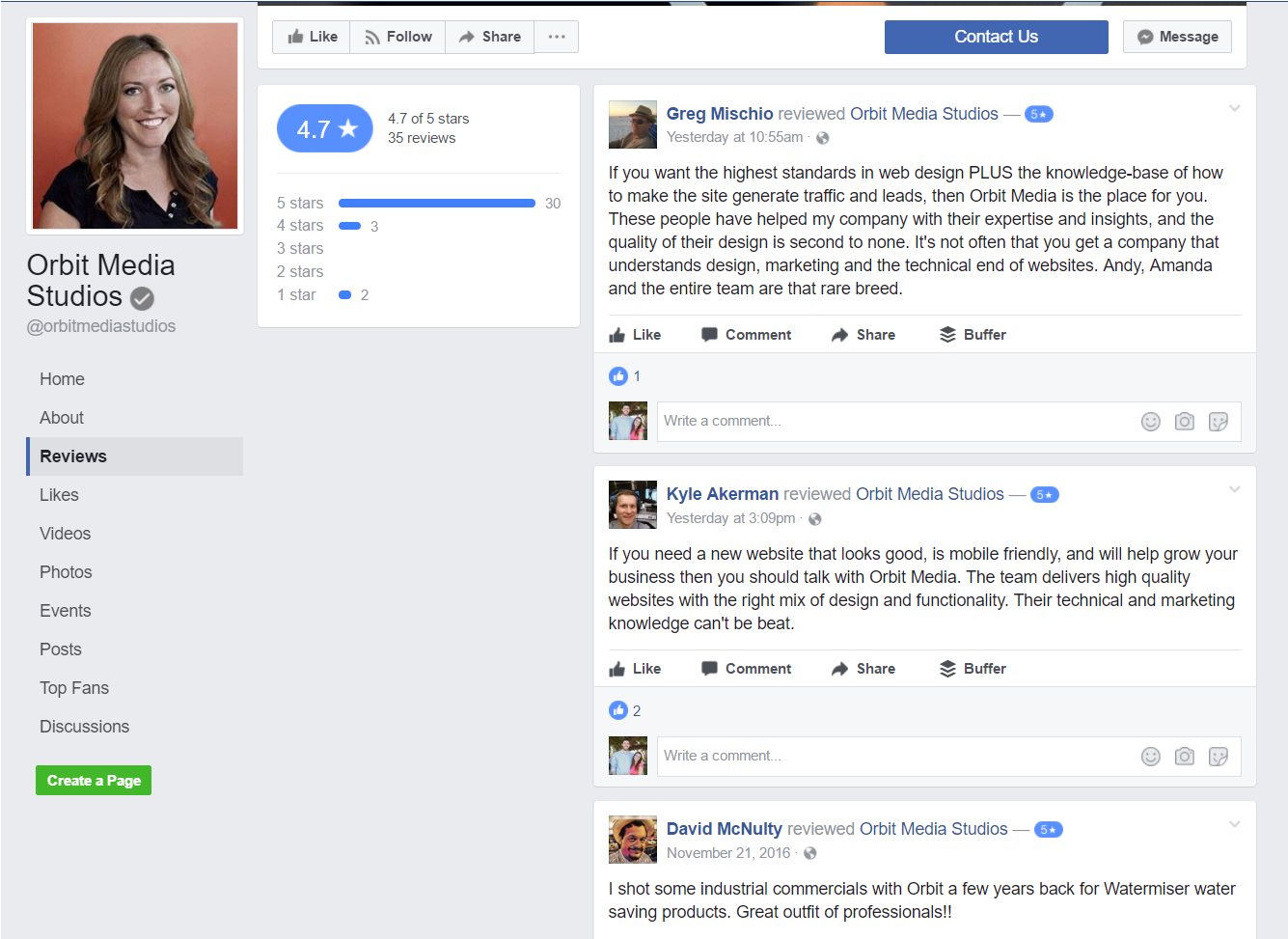 3rd Party Review Platforms
3rd party review platforms allow users to rate any business in a given category. They tend to be very popular with consumers, as 3rd party control of the site limits chances for businesses to manipulate their review profiles. Businesses are rated on these sites whether they wish to be or not, so the best course of action is usually to claim your listing, ensure listing information is accurate, and then respond to reviews.

Blog Post Reviews
The most thorough type of review you can receive is a full blog post dedicated to breaking down your product. These take some serious investment on the part of the user, and thus, typically only happen if their is something in it for the reviewer.
If your product receives a decent amount of search queries, that can be enough to prompt blog post reviewers. Affiliate programs and direct sponsored posts can also result in these types of reviews. If your product makes enough of a splash to be considered one of the top 10 or so on the market, you will probably also find yourself the subject of comparison/contrast reviews and "top _____" lists.

Youtube Reviews
Similar to blog posts, Youtube has become a popular destination for video reviews on a wide variety of projects. While visual items tend to perform best, anything that can be reviewed via a written post can be reviewed via video.
And just like blog posts, the best way to encourage Youtube reviews is to provide incentives for Youtube reviewers.

There's More You Can Do Than Sit And Wait
So we know without a doubt that reviews can be a powerful force in our business, and we've seen the variety of review types you can use.
The question then becomes, how can we capitalize on these reviews instead of just passively waiting for positive reviews to roll in? Or if we are actively encouraging reviews, what more can we do to harness those reviews versus just hoping they catch people's attention?
There are two primary objectives at play here:
How can you collect more reviews & better quality reviews?
How can you harness those reviews for the purpose of increasing conversions and driving growth?
We'll look at each objective separately.
4 Ways To Collect A Larger Number of Quality User Reviews
The first step to harnessing user reviews is collecting them in the first place. Here are 4 great ways to do that.
1. Ask customers for reviews during the follow up process.
The easiest and most consistent way to get reviews is simply to ask for them. Give customers some time to experience your product and then include a review request in your follow up process.
The timing is very important here. Yotpo estimates 8.1% of customers will respond to review requests on average, but that number can be significantly increased by optimizing the timing of your requests. While Yotpo uses machine learning to optimize send times, you can optimize open rates to a lesser extent by split testing.
Since email is the preferred method for post-sale follow up, the subject lines will make a big difference as well. Be sure you are using subject line best practices:
Keep it short and sweet.
Use a familiar sender name.
Use personalization tokens.
Do tell them what's inside.
Start with action-oriented verbs.
Create a sense of urgency.
Use numbers.
A/B test your subject lines.
Remember that not all reviews are created equal. If your Google My Business profile, for example, is at 3 stars, it might be more helpful to ask that users review that listing as opposed to your Facebook page. On the other hand, if very few people find your business through your GMB listing, it might be more effective to direct users to your on-page review section. It's up to you to identify where reviews are most important and direct users there.
Here's a simple follow-up template you can use, courtesy of Grade.us – click here for 6 additional templates.
[su_note note_color="#7aed8d" text_color="#000000″ radius="10″]Hi Jan,
Thanks for choosing [your business]. I wanted to reach out personally and ask about your experience.
What was your experience like? (e.g. amazing, terrible, etc.)
We want to be better. Your feedback helps us accomplish that. If you're willing, it only takes a minute or two.
Share your review here [link]
Thanks for your trust,
Andrew[/su_note]
It's also important that your user experience is low-friction for those who choose to click-through and leave you a review. For written reviews, you could use a plugin like Rich Reviews, or if you are interested in capturing video testimonials, you could use an app like VocalReferences.
2. Provide incentives for customers to review.
One option for increasing your review count is to offer incentives for reviewers. By offering a discount, giveaway, upgrade, etc. you can encourage users who wouldn't normally review to submit their feedback.
You'll need to be up to speed on local and national laws if you go this direction, and even then, you can only really use this strategy for your own on-page reviews or internal feedback. Trying this strategy to encourage reviews on 3rd party review sites is the quickest way to incur big-time penalties with those types of sites.
As you can see in the JCPenney example below, largest businesses often use sweepstakes entry as their reward system, since this ensures a user's individual commentary doesn't in any way affect their chance of winning the reward.

Another great incentive that doesn't really feel like an incentive is to hold a contest, where users compete with their own user-generated content. This works particular well with visual products or creative audiences, but it can work for a wide variety of businesses. Contests tend to work best when driven by social media marketing.
3. Send free stuff to reviewers and influencers.
The best, most thorough reviews you can get come in the form of blog posts, but like I mentioned earlier, in-depth, blog-post-length reviews take a lot of work, and simply asking someone to review your product in this manner isn't typically going to cut it.
In most cases, you'll need to compensate the reviewer, at minimum, with a free copy of your product. Some reviewers or publications that include reviews will do sponsored posts, but the best, most trusted reviewers won't go further than accepting a copy of the product and will attempt to provide an unbiased review, for better or for worse.

Unless you are a big brand with an anticipated product release, you probably won't be able to get the top reviewers in your niche. Instead, you'll want to focus on finding influencers with small but highly engaged audiences.
Youtube and Instagram are both notably powerful platforms for getting these types of reviews, and
Social Media Examiner has a great guide
 on running influencer campaigns in just this way:
Find authentic influencers
Hire by fit, not followers
Track response to links
Offer coupon codes
Create titles that drive niews
Optimize video for SEO
This approach is very targeted, and while it can scale, if you are looking to scale from the start, there is a better option.
4. Setup an affiliate program.
Creating an affiliate program is the easiest way to incentivize every single blogger in your niche at the same time. Everyone has equal opportunity to cash in on your company's buzz by writing reviews and adding affiliate links.
Unlike sponsored posts, bloggers don't have to explicitly state that they are writing the article with that incentive in mind. All they are legally required to do is acknowledge somewhere on their site that they include affiliate links on their site. Since affiliate marketing is so commonplace, most readers won't interpret the presence of affiliate links as a suggestion that the review is biased, which is less the case with sponsored posts.
In other words, if you can get people active in your affiliate program, you end up getting the best of both worlds.
This model is particularly effective for services that require month-to-month payment. For example, ConvertKit chose from the get-go to put it's growth stock on the affiliate train. They offered 30% recurring affiliate revenue (more than any of their competitors) and then got some big time affiliate marketers on board.  If you search for reviews, you will find page after page of blog posts promoting their product.

These reviews were instrumental in driving ConvertKit from a failing company at the beginning of 2015 to
$518,000 MRR
to close out 2016.
And as a user of ConverKit since 2015, I can tell definitively that it's not the quality of the product or even the marketing that is driving growth. It's a solid product, but what has ultimately been the key driver in its growth is the exponential effect of a well-run affiliate program.
3 Ways To Harness User Reviews For Increased Conversions
So we have our reviews now. What do we do with them? What can we do with them?
Every business model will work a bit differently, but the following three strategies can be applied to virtually any business.
1. Include positive reviews throughout your funnels.
The easiest way to use reviews is simply to plaster them all over your funnels, and you should absolutely be doing that. There are few better ways to improve site conversions than by adding generous helpings of social proof.

And while you no doubt understand how to add a testimonial or review to a landing page, you might not realize how effective it can be to add these reviews to your checkout pages as well. Neil Patel found that just adding a testimonial to his checkout page increased conversions by 6.38%, without any additional optimization.

2. Drive the narrative by responding to good & bad reviews.
People don't like to be scammed. They don't like receiving poor quality products. They don't like bad service.
They also don't like seeing hard working business owners abused. People understand that there are many consumers out there with unreasonable demands and a penchant for unfairly flaming any business that doesn't submit to their insane demands.
When you are actively engaged with user reviews, you can help drive the narrative about your business instead of having it swept away by individual consumers. You can thank those who leave positive reviews and invite them to purchase form you again. You can respond graciously or cheekily to the ridiculous reviews. And you can learn from the reasonable negative reviews.

This will look different for every review type we've discussed. For blog posts reviews, you could thank the reviewer for posting and answers questions from readers in the comments. For reviews on your own site, you could make special offers or engage in other forms of customer appreciation.
By being active with reviews instead of passive, you can help shape the narrative on your brand.
3. Upsell reviewers.
This is perhaps the most overlooked strategy here. When someone positively reviews your brand, they are in a prime position to be upsold.
They have literally gone out of their way to mention how great you are or how positive their experience with your brand has been. Now is the time to move them to the next level in your funnel or simply offer them a refill, additional item, or any other form of upsell.
Having great segmentation is important here. Your upsell pitch needs to be hyper-relevant the the reviewer. And how you attempt to upsell will depend on the nature of the review.
If you are requesting a review via email, you could include an upsell offer directly under the review request.

You could also track reviewers and include them in a separate follow up sequence that attempts to upsell them later.
For blog posts or youtube reviews, you could offer a special discount to viewers. There are a lot of possibilities. The only area you will need to be careful with is 3rd party review sites, as they probably won't want you using their platforms for upsells.
Don't Sleep On User Reviews
User reviews are a big deal, and harnessing them can have a major impact on website conversions and overall business growth.
I hope you've found our comprehensive overview helpful today, and I'd love to hear if you have any additional review strategies that have worked out for you. Let me know in the comments!
Latest posts by Jacob McMillen
(see all)