Live Chat for B2B Conversion Optimization
It may not seem intuitive business to business brands to implement live chat for B2B conversion optimization. But live chat is no longer only reserved for B2C brands. While Live Chat hasn't become popular with B2B decision maker just yet, more organizations are adopting this rich media tool to support their conversion optimation efforts.
Live chat can not only assist with customer service, but it can help with customer acquisition and retention. In fact, studies show that live chat can increase conversions by up to 20%. Source: Bold Software LLC, a live chat software vendor.
Furthermore, customers who live chat are three times more likely to make a purchase. When it comes to customer service, live chat shows higher rates of consumer satisfaction when compared to all other customer service touchpoints.
With the uses of live chat for conversion optimization clearly established, it's time for a complete how-to guide. Here is all you need to know to make live chat work for you in 2018.
Don't Skimp on Security
For live chat for B2B conversion optimization to be productive, your audience must be assured that their data will be kept private. A full two-thirds of brands promise security to their live chat customers. Doing the same would be wise, and an overall great move on your part. Source: AMA.
Put Experts at the Helm
Customers using live chat want instant answers to their questions, which means that proper and thorough training, as well as modern communication, are the orders of the day.
Integrate Add-On Solutions
Live chat can be effective all on its own, but you can enhance your efforts by adding click-to-call functionality and screen sharing solutions, for instance. Both of these technologies will make engaging with customers easier.
Add Live Chat Data into the CRM 
Your live chat agents should be trained to enter all consumer interactions into the CRM to ensure all data is up-to-date. Better yet, you can integrate live chat with your CRM to ensure data is transferred automatically.
Live Chat integrated with Infusionsoft, for example, allows your agents to recognize your customers instantly, making the interaction more personal and efficient.
Use Preset Responses Appropriately
It's common for your agents to field the same questions day in and day out, and pre-set responses can help to break the monotony. However, ensure that staff is trained to use preset responses so that customers always know they're talking to a person instead of a robot.
Instead of
"I am going to put you on hold for a moment."
you can be more relaxed, such as,
"I'm going to place you on a brief hold while I look up this answer. I'll return in a moment."
While still canned, it's a bit more personal and could reasonably have been typed live by your agent before hunting for the customer's query response.
It is important to note that a preset response used inappropriately or at the wrong time can make the consumer feel ignored and frustrated, which should be avoided at all costs.
It's Not About You or the Agent
Your live chat representatives should be trained to focus on the person they are interacting with and their needs. All organizational and personal agendas should be kept at bay until the consumer's problem is resolved.
Pass on Information Quickly
If the person on the other end of live chat needs to open a support ticket or wants a call back from the head of IT, then that information needs to be passed on right then and there and followed up with.
Consumers should be able to feel confident that live chat agents always have their best interests at heart, and will fulfill all promises made.
Test Live Chat Often
Don't just set live chat on your website and then forget about it.
Every so often, test the functionality of your live chat integration, and determine if anything can be improved upon, such as the colors, language used, training of your staff, preset responses, or the add-ons that can only improve enhance this amazing consumer-facing channel.
Make it Personal
Agents should be trained to ask for a customer's name straight away. Using the person's name and other identifiable information, such as their birth order, job title, and even location, can help to build rapport, and that's always great for business.
Take SnapEngage, for example. The brand tells web visitors precisely which experts they'll be chatting with, making the interaction helpful and personal.
Use the Best Software
In 2017, the best rated Live Chat software options included Live Chat, Capterra, and HelpCrunch. Olark, Smartsupp, and GetSiteControl were some other honorable mentions. They were chosen for their ease of use, availability of convenient add-on options, and ultimate reliability.
Arm Agents with the Proper Collateral
Your Live Chat staff should be trained to disseminate marketing materials depending on which stage the consumer happens to be at along the buyer's journey.
From awareness to the consideration stage, presenting solutions to consumers in the form of marketing collateral helps to build trust, with 77% of chat users reporting that Live Chat helped to improve their perceptions of the companies they interact with.
Training Should Include Consumer Education
While assisting customers, Live Chat agents should be aware of any opportunities to inform and educate. B2B sales cycles are on the longer side, and the more education your agents can provide the better.
All that education will successfully sway the customer in your favor when it comes to deciding between your organization and the other guys.
Collect Data
While not the focus of any Live Chat interaction, there is no hard and fast rule that you can't mine your customers for relevant and valuable information.
For example, just before the Live Chat session ends, it's perfectly acceptable to ask the person if the website performed to their needs. Did they find your content to be of the highest quality? Were their pain points addressed? Did they find the navigation to be intuitive or way too difficult to figure out?
Don't take up too much of the person's time, but at the same time, you should never let a customer interaction go to waste.
Action-Specific Chat
You don't always have to use Live Chat to sell a first-time customer or provide customer service.
Virgin Airlines, for example, only uses live chat to upsell customers who have already made a purchase. Crazy Egg reports that brands that use live chat for upselling report a 15% higher additional order value.
Go Responsive
40% of respondents said that they would be willing to connect with a brand via live chat on a mobile device if such an option were offered. The lesson is clear. Go responsive or get left behind.
LeadForensics makes Live Chat available on desktop and mobile for ease-of-use no matter which device you're using.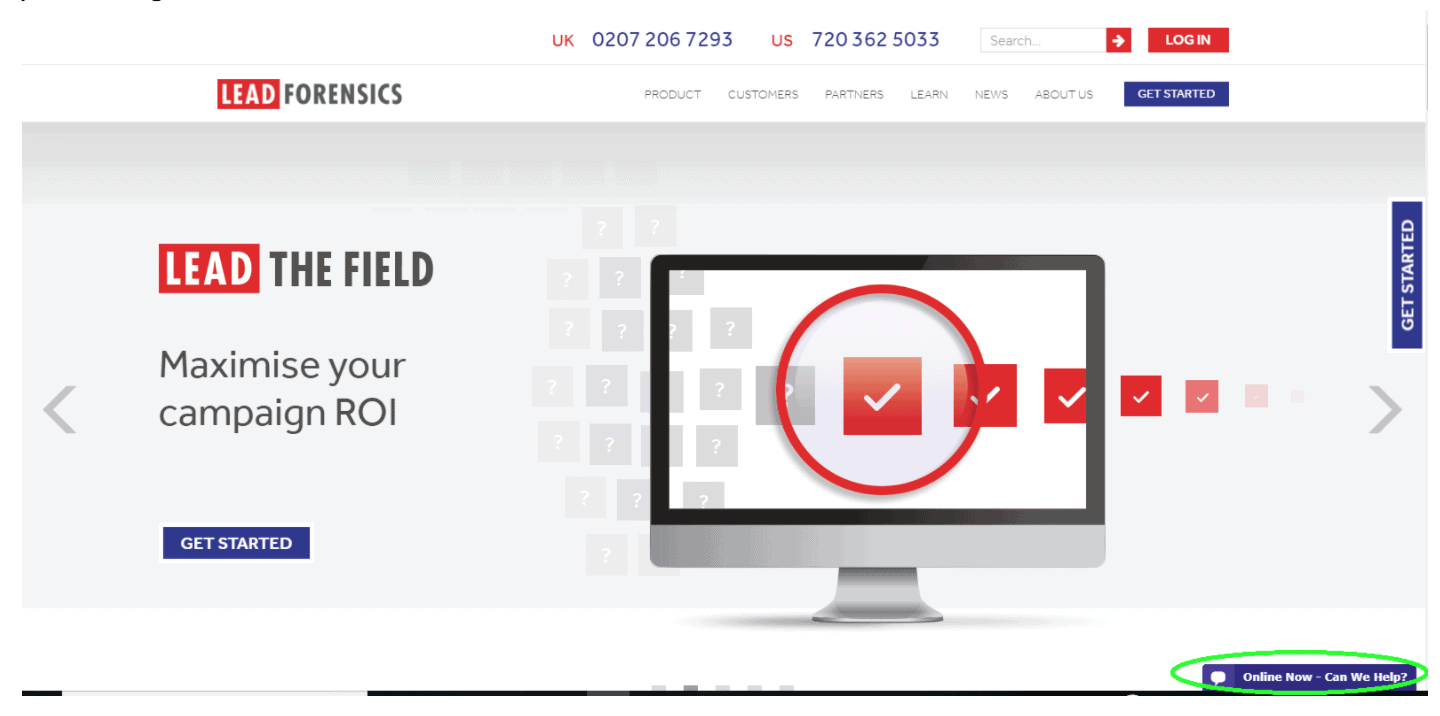 Give a Rundown
If you want to be extra helpful, provide your customers with a copy of the live chat transcript. That will keep your brand and the conversation fresh on their mind, which can contribute to lead generation and brand loyalty.
Don't Be Intrusive
While it is acceptable to have a LiveChat box pop up after the visitor has remained on a page for a certain duration of time, you should not bombard the visitor with popups, noises, or anything else. Live Chat should be available when needed without harming the user experience.
Take pet insurance brand PetPlan, for instance. The Live Chat tag is out of the way and unassuming until it's needed. That's how web visitors prefer it.
Add Chat to Email
Inserting a "Chat with an Agent" in your emails to give your customers instant access to a help agent anywhere they happen to be.
Analyze Customer Behavior
Agents should be aware of how your customer has interacted with your site leading up to visiting live chat. This insight into the actions of your consumer can help your agent further provide targeted assistance, leading to a more satisfying interaction overall.
Use Live Chat for B2B Conversion Optimization on Important Product Pages
Mark Tuchscherer, co-founder, and President of Geeks Chicago recommends using live chat on those pages where you tend to have a lot of drop-offs. Live chat can help to overcome hurdles and objections, and that can sometimes be all it takes to earn the deal.
Conclusion
Live chat for B2B conversion optimization can be used to assist customers, generate leads, qualify leads, entice conversions, and foster loyalty. To accomplish all of this, all of the above points about live chat could be condensed to the simple advice of: Be immediate with your audience, be helpful, be knowledgeable, and always pass of information accurately and on time. That's a helpful live chat agent, which is precisely what customers should expect from your world-class brand.
Latest posts by Ryan Gould
(see all)