Competitive Analysis: How To Find and Analyze Your REAL Competitors
Competitive analysis is competitive advantage.
What if you knew exactly what each of your major competitors was doing to attract, convert, and retain new customers?
You knew which channels were bringing them the most customers.
You knew how real customers were engaging with their websites.
You knew how customers were being onboarded, retained, and upsold.
Now forget the "what if", because by the end of this article, you will know the exact steps you need to take in order to understand how your competitors are running their businesses.
This isn't going to require a tremendous amount of time, money or expertise.
It is going to give you an immediate competitive advantage.
I've never made this claim before, but if you haven't already spent some time researching and analyzing your competition, this will be the most valuable and actionable article you read all year.
Let's get started.
Want to use the same scorecard we use to evaluate competitors here at Conversion Sciences?
The 3 Phases Of Competitive Analysis
If you've been following along with us at Conversion Sciences, you know that we love systems – proven, repeatable processes we can use to consistently get results.
Our competitor analysis process can be broken down into three distinct phrases.
Find out who your real competitors are.
Find out what they're doing to attract, convert, and retain customers.
Turn that intelligence into profitable business decisions.
The first phase is often the most misunderstood, and in the low-barriers-to-entry world of ecommerce, we've found that many business owners don't actually know who their real competitors are (more on that in the next section).
The second phase is where data analysis really comes into play, and we'll be talking about several tools that will provide you with the required data, and more importantly, how to use them.
The third phase is where your own expertise will come into play. We'll show you how to acquire and analyze your competitors, but how you apply that intelligence to your business is going to come down to your own strategic capabilities as an entrepreneur or manager.
We'll give you the spear of ice. You hit the dragon.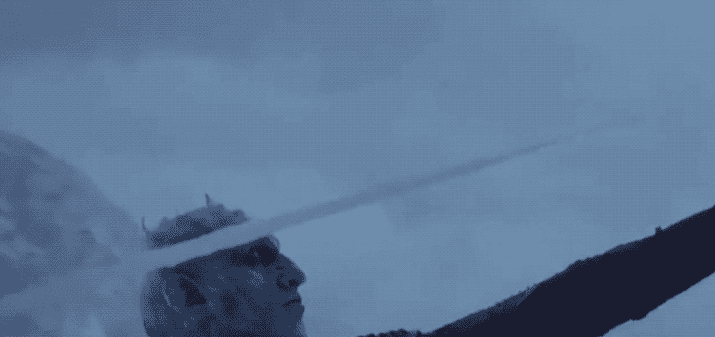 And as we begin discussing specifics, keep in mind that competitive analysis is often a team effort, as Angie Schottmuller explains:
Remember to share and collaborate on competitive research with other team members. It's common for a PPC specialist, copywriter, and landing page designer to individually perform competitive research. If research requirements are shared cross-functionally, steps can be consolidated to save time while also improving common understanding across teams.
– Angie Schottmuller, Growth Marketing Advisor
1. Find out who your real competitors are.
If you don't know who you're competing with… who you're really competing with… you can't gain an advantage over them.
You probably know about major players in your approximate niche, but in many cases, those big brands aren't your real competitors, as Theresa Farr explains:
The first step in doing any type of competitor analysis is to make sure the competitors you're analyzing are worth looking at! Don't just pick the big dogs in your industry for two reasons:
The strategies that work for household names usually don't work for smaller brands
They might have big margins or other reasons for their success despite unsophisticated digital marketing. Don't assume they know what they're doing just because they're a big brand. Check out what Brian Massey says about big brand failures.
– Theresa Farr, Conversion Max
Sometimes your real competitors are other businesses similar in size to yours, big business out of your niche that happen to offer a side solution similar to yours, or alternative solutions you haven't even considered.
The question you need to be asking is, "What alternative options are my potential customers considering?"
There are a few ways to answer that question.
Ask Your Customers
The best way to find out who else your customers have considered is to ask them, as Jason Quey describes:
Most companies that do competitor analysis are too self-focused and as a result, fail to truly serve their customer.
To start, you need to find out who your customers say the competitors are by asking them in a survey. This does two things:
You find out who are the biggest competitors are in the mind of your customer.
You find out about new competitors you did not realize you were competing against.
From there, you need to research how you plan to outwit your competitors and win the battle over your customer's mind. You can only do this by becoming #1 in a product category.
For example, Tom's of Maine toothpaste did this by becoming the natural, healthy choice. And while Colgate, Close-Up, and Crest fought for shelf space at the local grocer, Tom's of Maine became the only choice at whole food stores across the country.
This strategy can work in numerous other ways, whether you target different keywords or write content that fits a different audience. But the goal is to learn how you can serve your customer better than the competition… by asking them.
– Jason Quey, The Storyteller Marketer, VP of Marketing at Codeless
Talking with your customers is the single most effective way to identify who your real competitors are.
If you are B2C or B2B with little 1-to-1 customer interaction, using something scalable like surveys will probably work best. Just like with any customer touchpoint, remember to keep it simple and make it about the customer, not about you.
For example:
What alternative brands, tools, or options were you considering when you decided to go with us?
What most attracted you to these options?
What would you like to see improved in our product/solution to give you the best possible experience?
How can we make YOUR experience ideal? That's ultimately the goal of competitive analysis. How can we be the best possible choice for our customers and then communicate that value to prospective customers?
Ben Jesson offers some additional tips:
If you don't know how you differ from your competitors, there's a good chance your customers can tell you. Asking "How would you describe us to a friend?" reveals why your customers like you.
Similarly, you could ask a question along the lines of the following: "Which other options did you consider before choosing our product or service?" or "Why did you decide to use us?" It's particularly important to ask questions from this group before you undertake any re-branding exercise, so you understand what your existing positioning is.
– Ben Jesson, Conversion Rate Experts.
Direct client feedback is the best way to learn about your competitors, but it's not the only way. There a few other strategies at your disposal.
Ask Customer-Facing Staff
Sometimes you can ask the customer without ever asking the customer. Custom-facing staff on your team should be regularly queried for input on what customers are talking about, and the competition is a natural part of that intel.
Ben Jesson elaborates:
Talk to people who spend their whole lives speaking with users. For example, salespeople, consultants, and customer-support staff. We call these people "Voice-Of-Customer Aggregators" (or "VOC Aggregators").
VOC Aggregators already understand the users, the marketplace, and your competitors. And they don't just know facts like "The average user is 40 years old with 2.4 children"; they know the users intuitively, much like you know your own family. When you talk to a VOC Aggregator, you harness the wisdom of thousands of hours of conversations with users.
– Ben Jesson, Conversion Rate Experts.
This is applicable for both phase one and phase two of our competitive analysis process, but I've found that it tends to be most useful for identifying key competitors.
Use Competitive Analysis Tools
There are quite a few different tools that specialize in competitive analysis. Most of these are primarily phase two tools with some phase one capabilities built in.
For example, if you want to find out who is targeting the same keyphrases as you, just enter your website URL into Ahrefs.com and it will show you 10 websites targeting similar SEO keyhprases to you.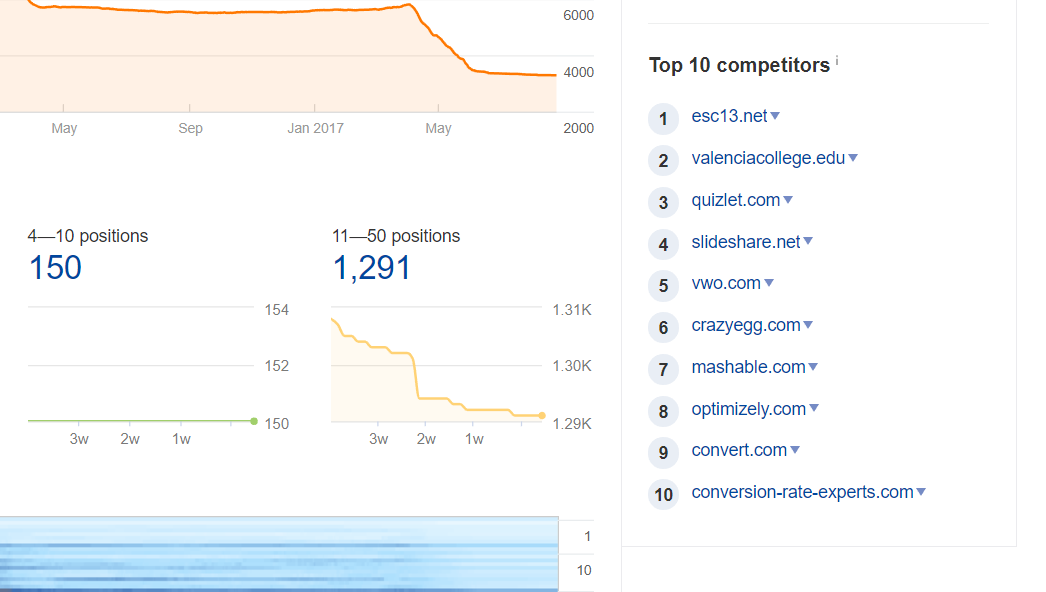 If you want to find out who is targeting the same paid keywords as you, simply enter the keyword into iSpionage and it will show you competing websites and their monthly Adwords budget.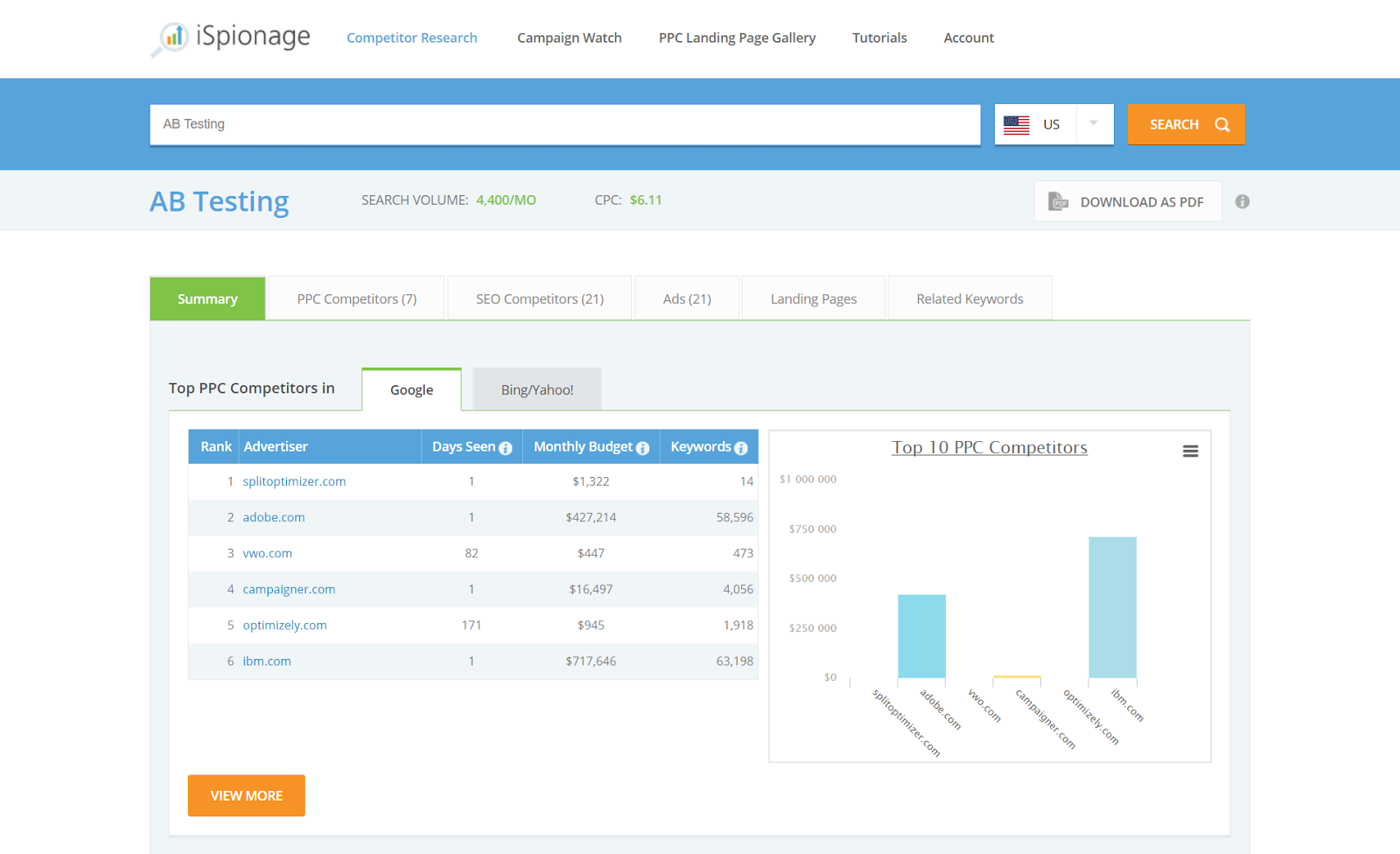 If you want to see who is writing on the same blog topics as you, just enter the topic into Ahrefs Content Explorer.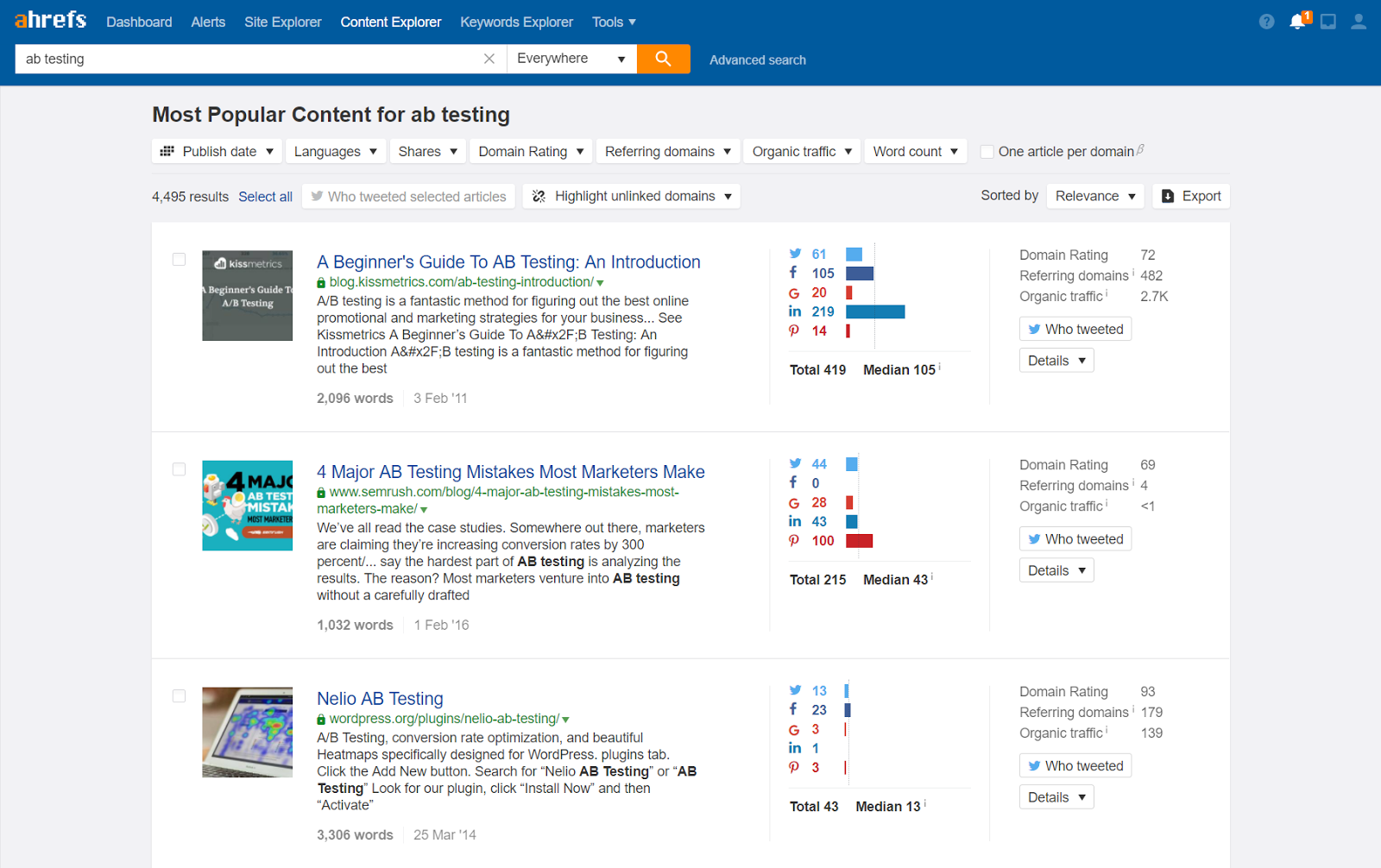 There are many other tools you can try, but these are some good ones to get started.
Use Google Search
The last method we'll discuss today can be pretty hit or miss, but it's free and relatively simple, so it's worth mentioning.
Just start typing relevant keyphrases into Google and see what comes up. There are a number of ways Google can point you in the right direction:
The search algorithm (obviously)
Paid ads (similar to the data iSpionage pulls)
Google's search autosuggest function (dropdown menu when you start typing)
Google's related searches (bottom of page)
In addition to identifying competitors, you can also use Google alerts and other alert tools to be notified in real time whenever a competitor is mentioned, as Ben Jesson explains:
Use search engines (to be notified when people say things about your competitors). Several search engines track mentions in real time, allowing you to discover what people are saying about your competitors on blogs, forums, and in social media. The following tools can be useful: Moz Fresh Web Explorer, Google Alerts, Talkwalker Alerts, Mention, NinjaOutreach, Twitter Search, BuzzSumo and Facebook. Salesforce Marketing Cloud provides powerful tools for real-time analysis and monitoring of social media
– Ben Jesson, Conversion Rate Experts.
Search engines are listed last for a reason, but if you don't have many customers, don't have any staff, and can't afford any tools, it can at least get you started, and you might get lucky and find your most important competitors just be using Google.
2. Find out how your competitors are attracting, converting, and retaining customers.
Now that we know who our competitors are, the next step is to find out what they're doing.
Similar to our overall competitive analysis process, we can break this phase down into an additional 3 phases:
How are our competitors attracting new visitors and leads?
How are they converting new customers?
How are they onboarding, retaining, and upselling those customers?
There's really only one way to find out most of this information.
Competitive analysis tools.
Yep… I'm about to throw a busload of tools at you. Some are expensive. Some less so. A few have been offered at $50 for lifetime access via Appsumo.
If you are serious about competitive analysis, you'll need at least a few of these.
How Are They Attracting Visitors?
We'll need to use different tools for different traffic channels, so let's discuss a few of the primary traffic sources you're likely to find:
Organic search
Paid ads
Social media
Other referral traffic
I alway start with organic search, because you can learn a whole lot in a short amount of time using a tool like Ahrefs.
Let's use our friends over at Convert.com as an example. When we enter their website, we can immediately see some key information.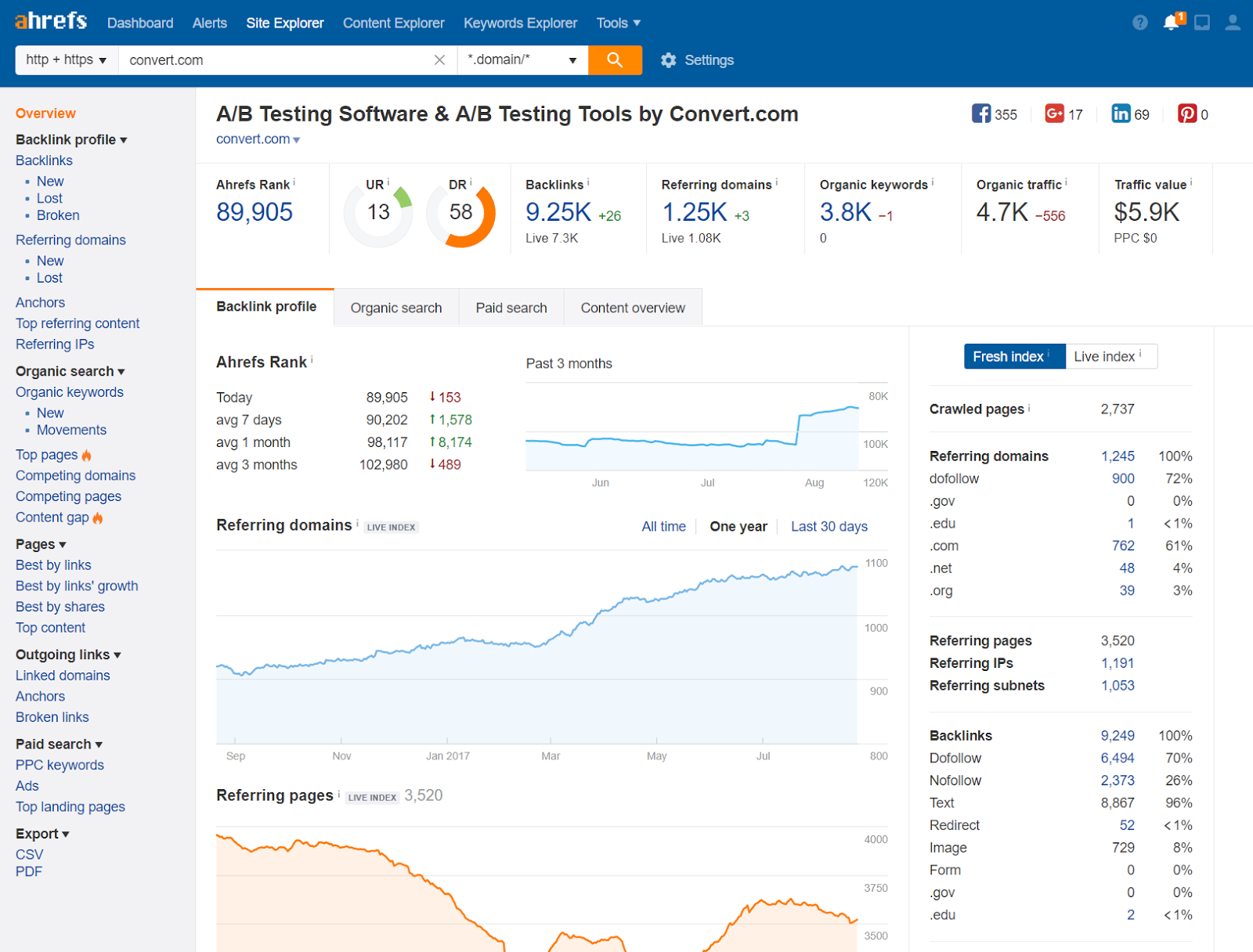 Backlinks, referring domains, ranking keywords and total organic traffic are all key insights on how Convert.com is pulling in search traffic. We can immediately see that they are getting around 5k search visits per month.
Click "Top Pages" in the sidebar and we can see which pages are responsible for the bulk of their traffic.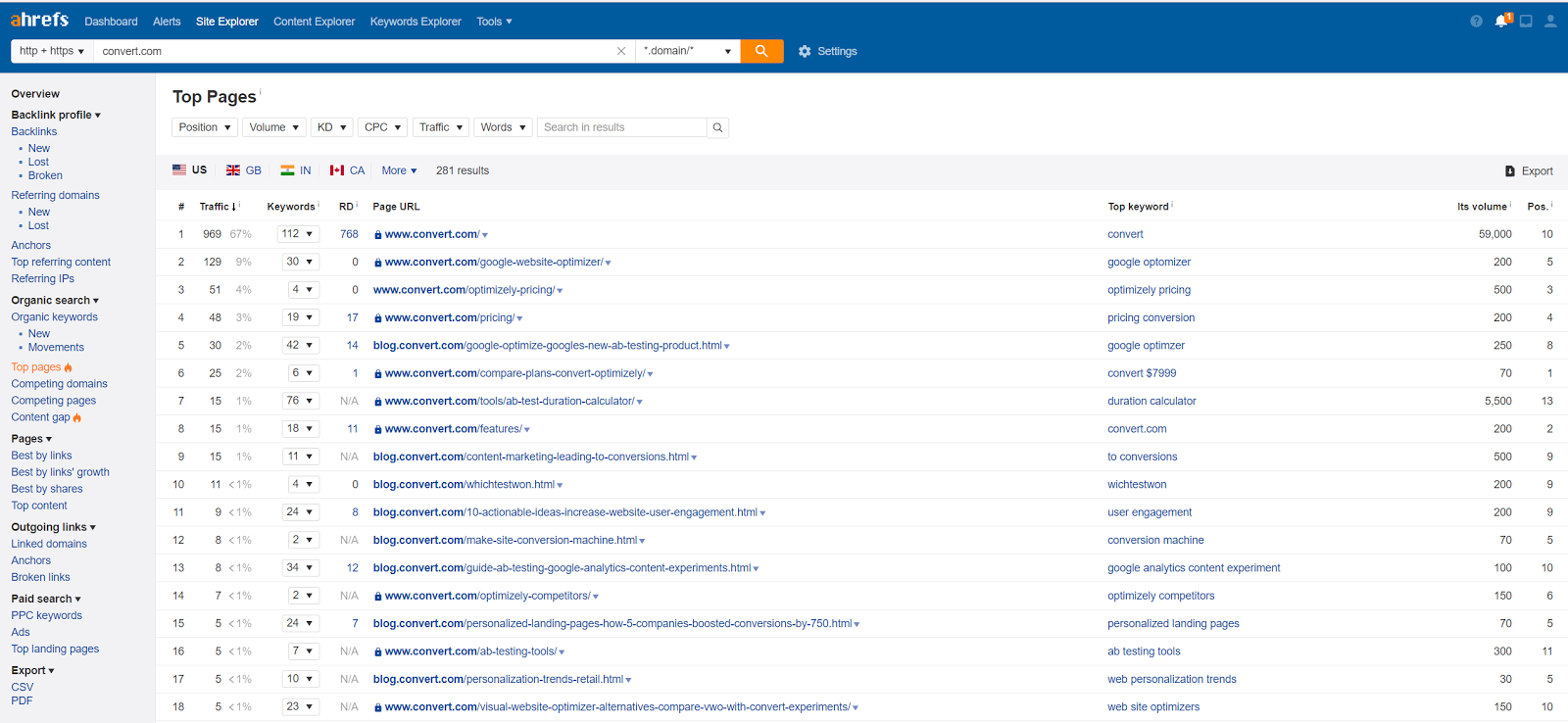 We can also look at which specific keywords are bringing them the most search traffic.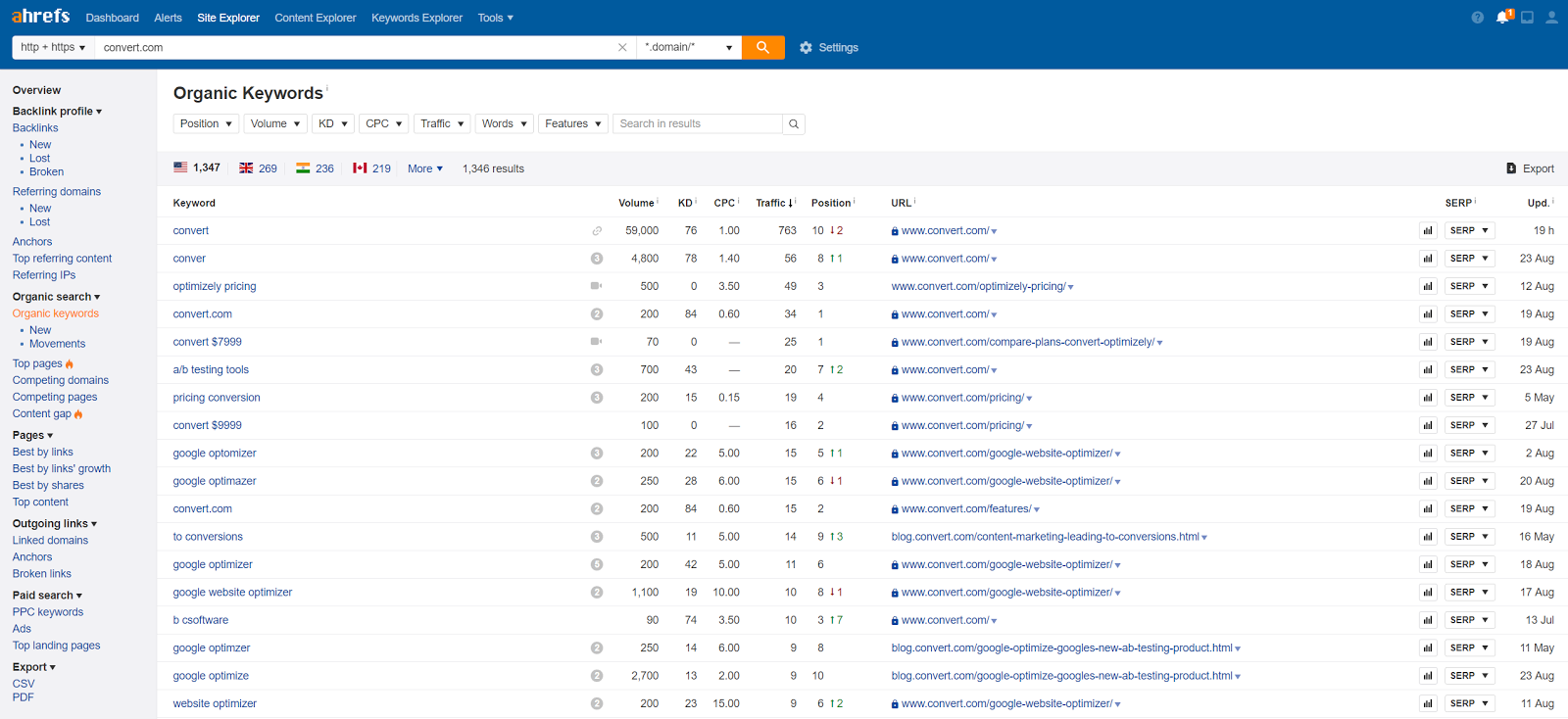 If I'm a competitor of Convert.com, I immediately know that most of their organic search traffic is from their branding efforts versus their SEO or content marketing efforts. If I were to analyze some of Convert.com's competitors and find that they too were driving significant traffic via unbranded organic search, I might conclude that organic search isn't an effective traffic source for my business OR that there is room to become the content marketing leader in my space.
Next, we could look at Convert.com's paid ads using iSpionage but since they don't seem to be using Adwords, we'll look at Visual Website Optimizer instead.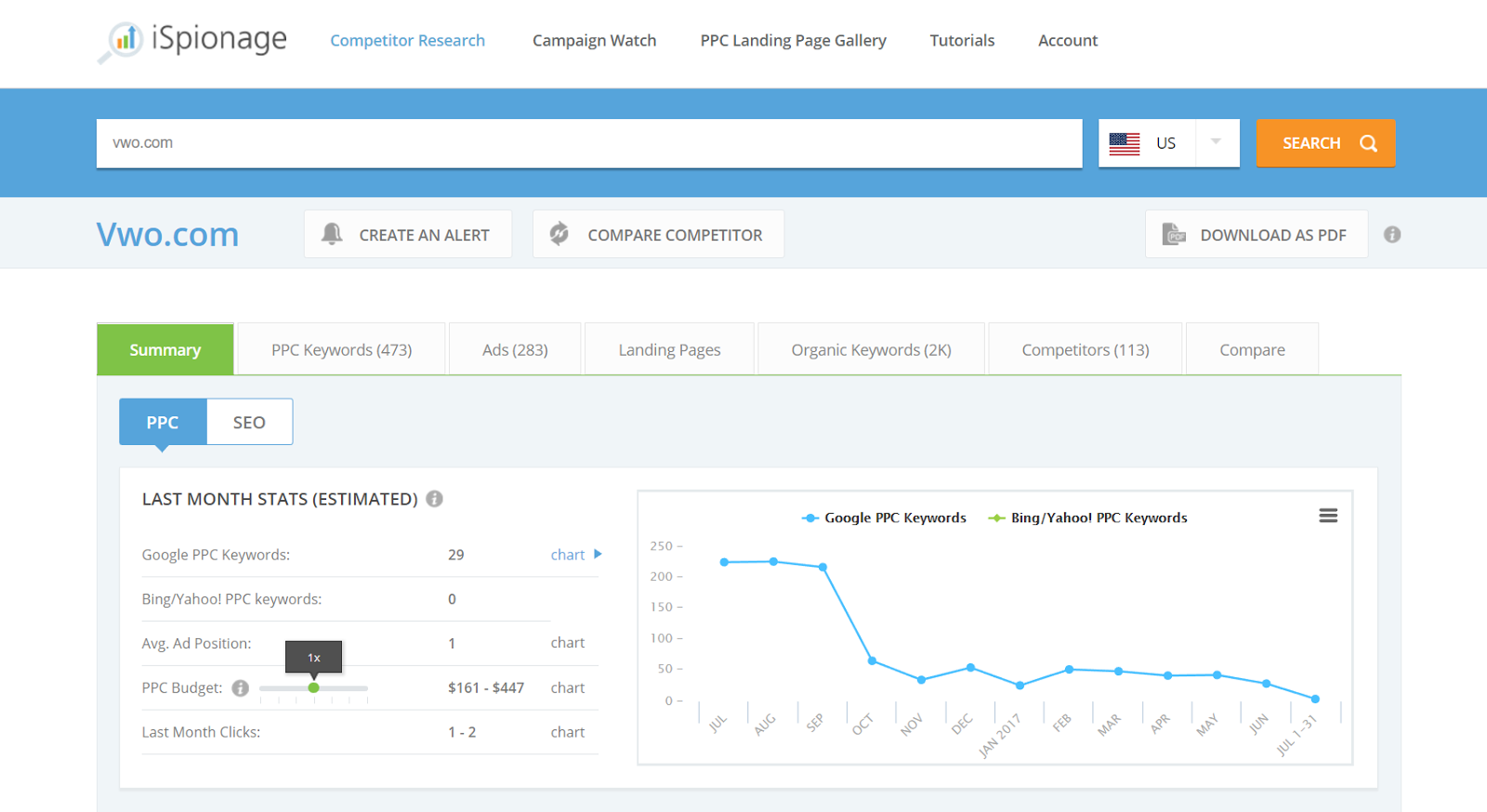 We can look at all search terms being targeted.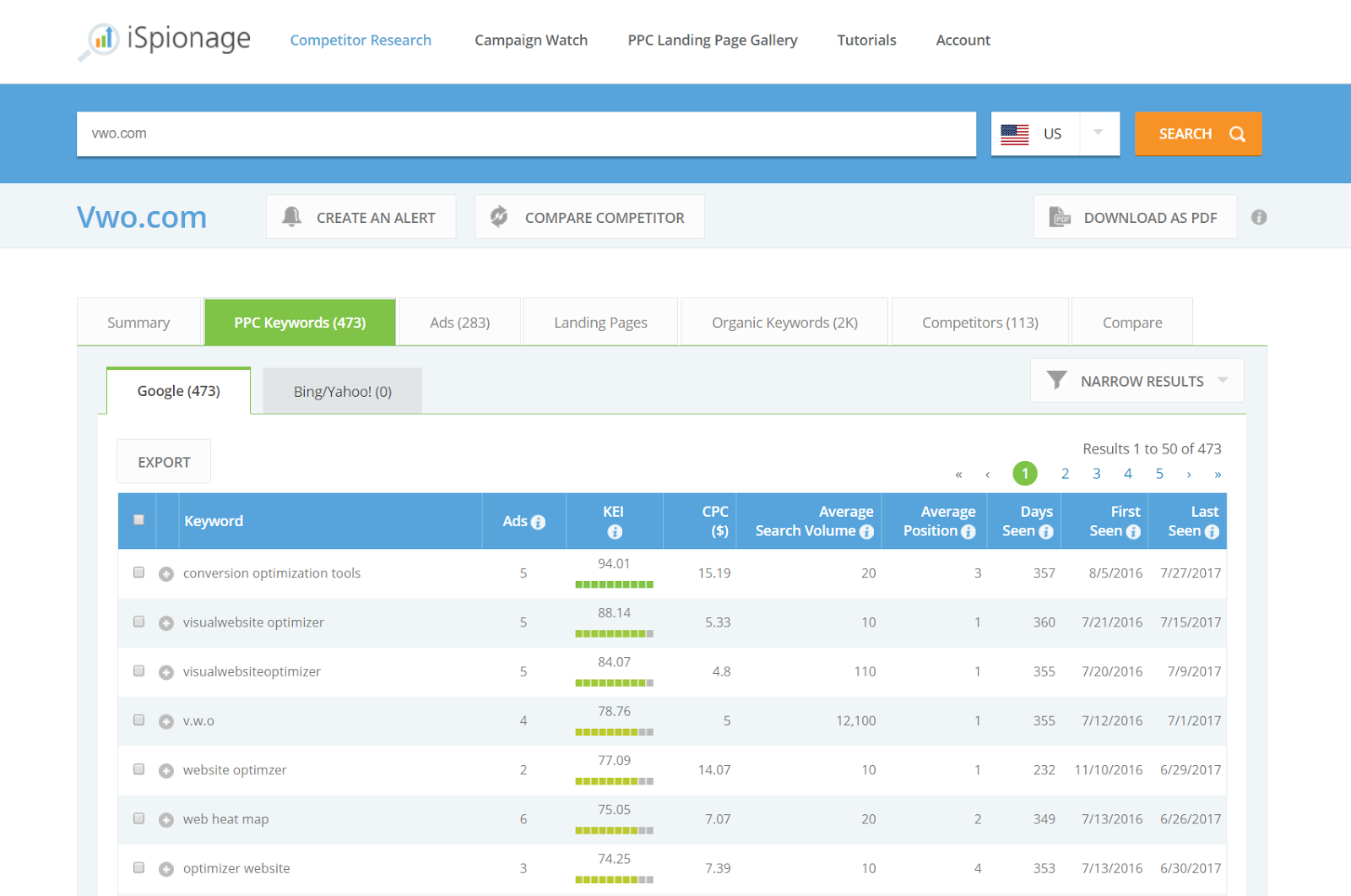 Compare multiple competitors' ad spend at once.
And even view the ads themselves.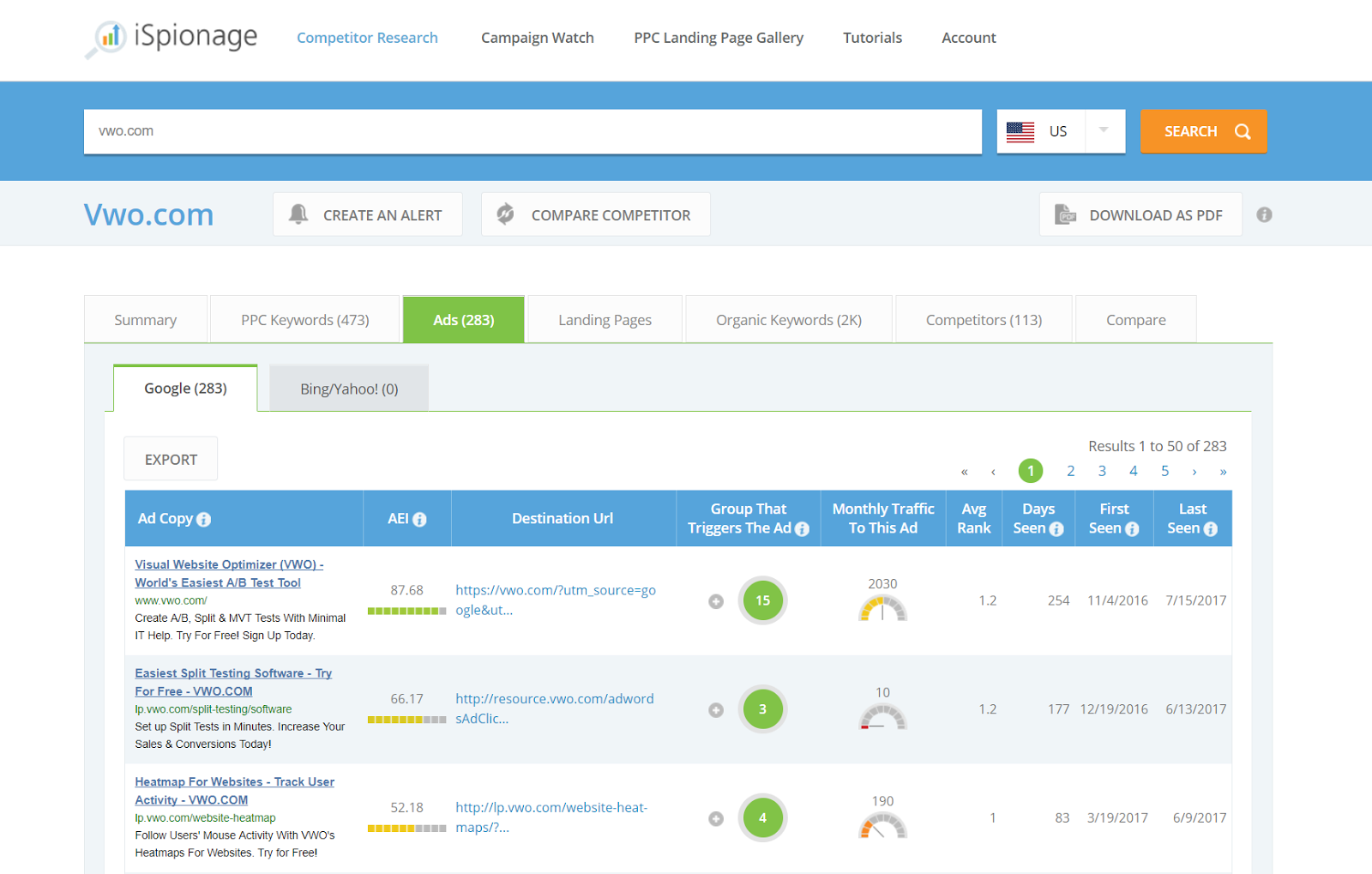 For social media, there are several different management tools with built in competitor benchmarking, but I haven't found any of them to be significantly more effective than simply eyeballing social profiles.
You can see pretty clearly just by looking at a feed whether or not it's generating significant engagement. Don't be fooled by account follower numbers or page likes. Those are easily manipulated. Look at individual post engagement to estimate click-throughs.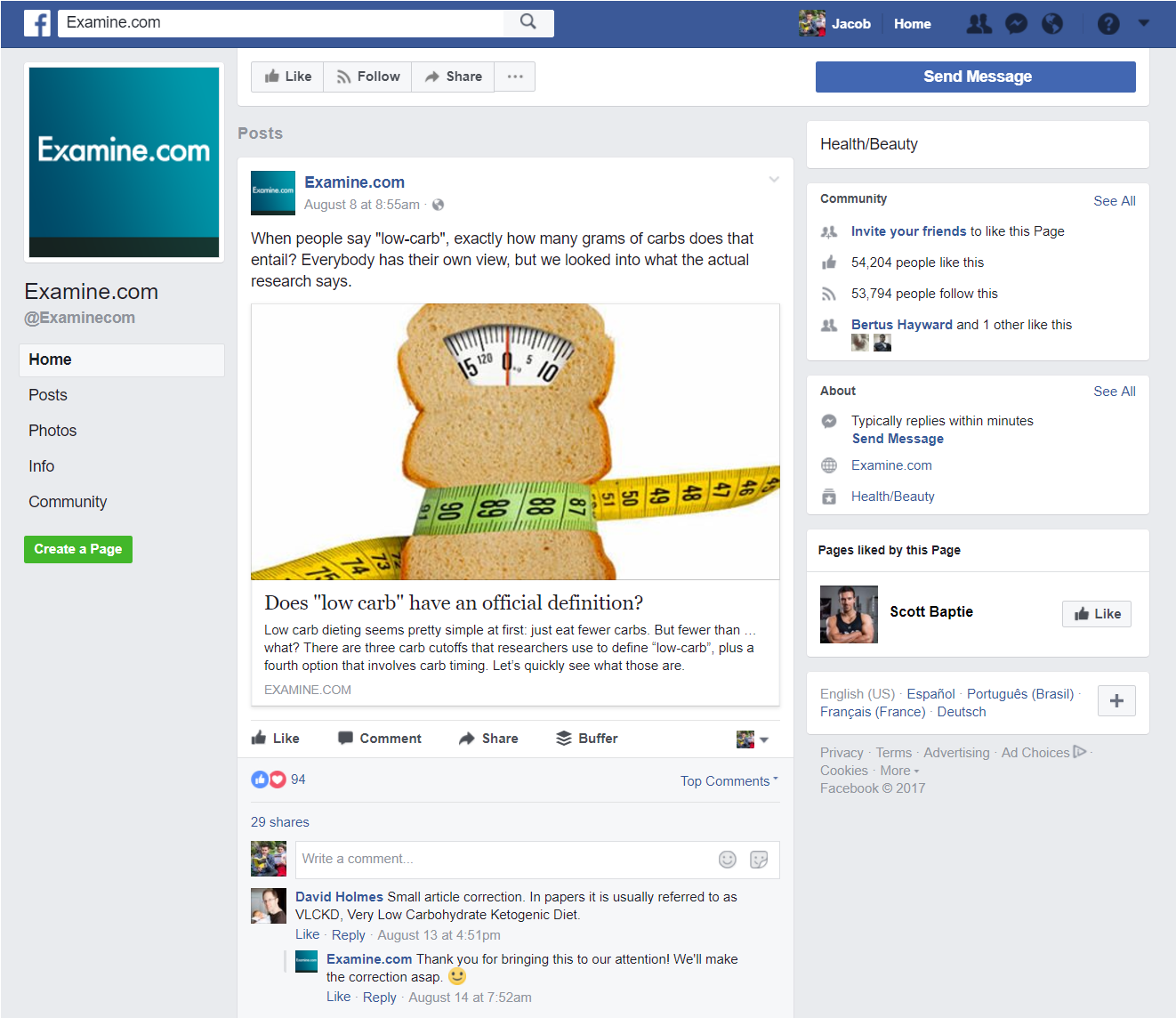 Monitoring paid social ads is a bit trickier, but there are a few tools here that collect and archive Facebook ads in huge databases for you to look through. You might be able to find your competitors' ads in there… or you might not.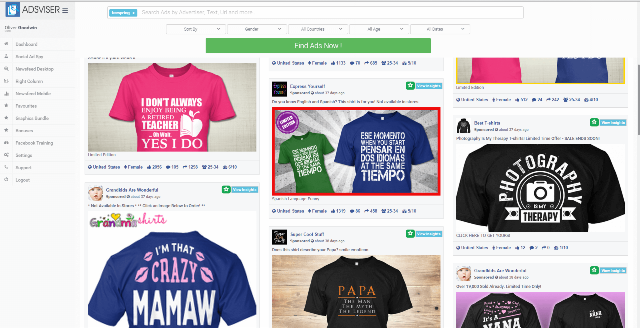 Moving along to referral traffic, you really can't estimate it. Instead, you can focus on reviewing the competitor's backlink profile and seeing who is linking to them and how often. This can give you ideas for publications to target with your own outreach efforts in addition to giving you intelligence on the competing business.
We'll head back over to Ahrefs for a backlink profile on Convert.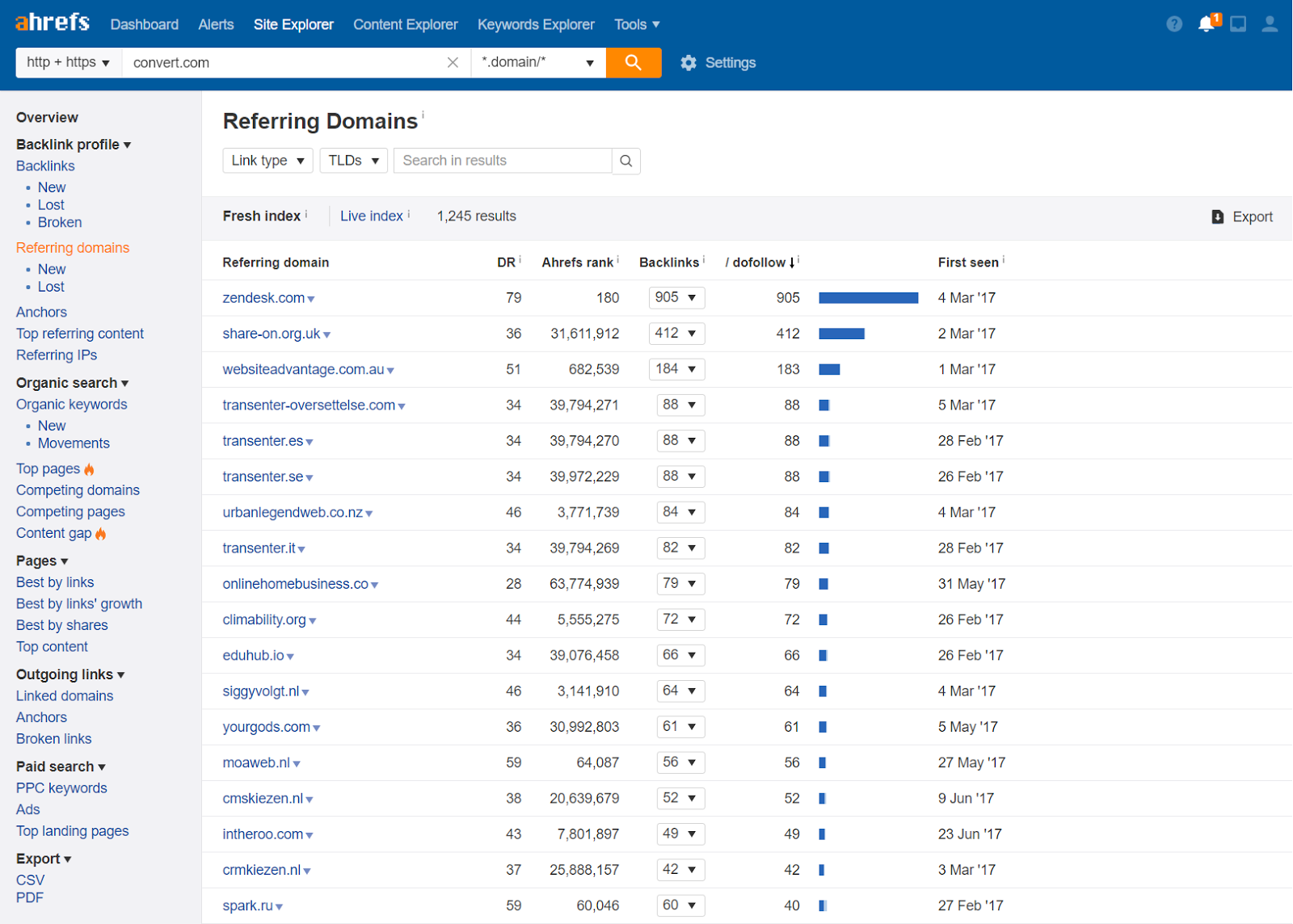 That's enough about traffic analysis for now. Let's dive into our favorite topic… conversion analysis.
How Are They Converting New Customers?
Now that we understand where our competitors' traffic is coming from, the next step is to identify how they are converting that traffic.
There are a few different ways to slice this, and we called on our network of conversion experts to provide you with a well-rounded take.
Theresa Farr bridges the traffic analysis process we just discussed with this new section in describing her process below:
I like to use Spyfu or SEMrush, plus the browser extension Ghostery, to quickly see how sophisticated certain competitors are.
Spyfu and SEMrush will estimate how much your competitor is spending on paid traffic, which landing pages they're sending it to, and how long they've been doing it. Why is that useful? As Spyfu's founder and CEO, Mike Roberts, often says, "Companies might lose money on advertising for a while, but not for long."
So if you see that your competitor has spent hundreds of thousands of dollars sending traffic to a certain landing page for several years, you can probably assume that page is working well for them.
Ghostery will show you the scripts that your competitor has on their site. If you only see the Facebook Connect Social Tracker on a competitor's site for example, you know their marketing isn't very sophisticated. But if you see several different analytics scripts, including tools such as Hotjar, Lucky Orange, or Crazy Egg, as well as A/B testing scripts, you can have more confidence that they're making data-driven changes to their website.
Then, once you've determined that a competitor is worth watching, use iSpionage to get notified whenever they start a new A/B test, or when they've found a winning variation. Seeing your competitors' winning A/B tests speeds up your testing plan immensely.
Just remember, don't make changes to your site or landing pages to copy your competitor. Use what they're doing as one of many ideas to incorporate into your testing strategy.
– Theresa Farr, Conversion Max
By identifying your more sophisticated competitors, you can piggyback off of their investments and find your own wins for pennies on their dollars.
On a similar note, there are several tools that will help you understand your competitors' site architecture and identify the tools they are using, as Dennis van der Heijden explains:
We love BuiltWith and NerdyData to get an idea on what websites use which tools. It's fairly easy to get an idea of customer spending and growth of competitors in the A/B testing market. We know in US Optimizely kills it and moved to the enterprise market pushing for higher yearly deals and you can see the installs grow there with segmenting high traffic sites in BuiltWith they do 90M ARR now.
The second A/B testing tool in the US is VWO that are spread out over the lower and mid segment of traffic with 10M ARR and we with Convert.com are third in the US with A/B testing and Personalization, right between those segments.
Review sites can be also helpful for competitor analysis. We once looked and analyzed over 1,000 reviews from G2 Crowd, Siftery and Trust Radius and build word-rankings on those and there you see how often "service" or "features" are mentioned in those reviews and that gives an interesting ranking of the market that is not instantly visible. That's a little hacky but gets new insights on if your segment (ours is focused on service, no-blinking, and affordability).
– Dennis van der Heijden, Founder and CEO of Convert.com
As Dennis also mentioned, review sites can be a great source of direct customer feedback.
Another approach is to use direct user testing like you would on your own website, but run the test on your competitors! Paul Rouke discusses this at length:
End users are a company's secret weapon when conducting competitor analysis.
Why? When conducting qualitative, intelligent user research, either remote or ideally moderated, including competitor websites in the research has a range of benefits:
it provides users with different experiences from which to compare and contrast – this is hugely important
it makes it easier for users to identify the strengths and weaknesses of different experiences
it ensures that users don't have any idea which website they are mainly been asked to provide insights on, so it keeps bias out of their feedback
it allows you to observe users conducting the same tasks on both the main (client) website and at least one competitor
it helps to understand how the different value propositions influence user behaviour and the decision making process
you can research a range of different approaches to delivering a user experience for a similar product and service, to see which suits the target audience ie. from simple and basic to more creative and progressive
As an added benefit, capturing video footage of users waxing lyrical about a competitor's online experience compared to yours/your clients, which is then presented to the C-suite and decision makers within the company, can prove vital in gaining attention and traction as to the importance of improving their user experience.
Competitive analysis sits under what should be the overarching goal of any progressive, ambitious, high growth business – that is to truly become customer centric. And customer centricity comes from speaking with and genuinely listening to customers and potential customers. Period.
– Paul Rouke, Founder & CEO of PRWD
By watching real customers engage with both your website and your competition's websites, you can get incredible insight into your competitors strengths and your own weaknesses. It also makes for incredibly actionable intelligence in optimizing your website.
And even though we are focused on the online experience, sometimes there are insights to be gained from offline competitors, as Ben Jesson explains.
You can learn a lot from carrying out method marketing with competitors, particularly with offline ones. Most online businesses have offline equivalents that you can visit. Offline companies are less subject to ivory-tower syndrome than online companies, because they have face-to-face contact with customers. Their sales funnels tend to be more sophisticated.
– Ben Jesson, Conversion Rate Experts.
Last but not least, engaging with competitor sites on your own time and exploring their funnels can provide you a wealth of information, and frankly, it's the only way to track how they onboard, upsell, and retain their customers.
How Are They Onboarding, Retaining, and Upselling New Customers?
This one is pretty easy to do, and it's as effective as you want it to be.
Hit subscribe or start free trial and then observe and document.
For example, I'm currently working on a copywriting course targeted at freelance copywriters, so I am actively tracking a competitor who targets freelancers in general and learning from his funnel.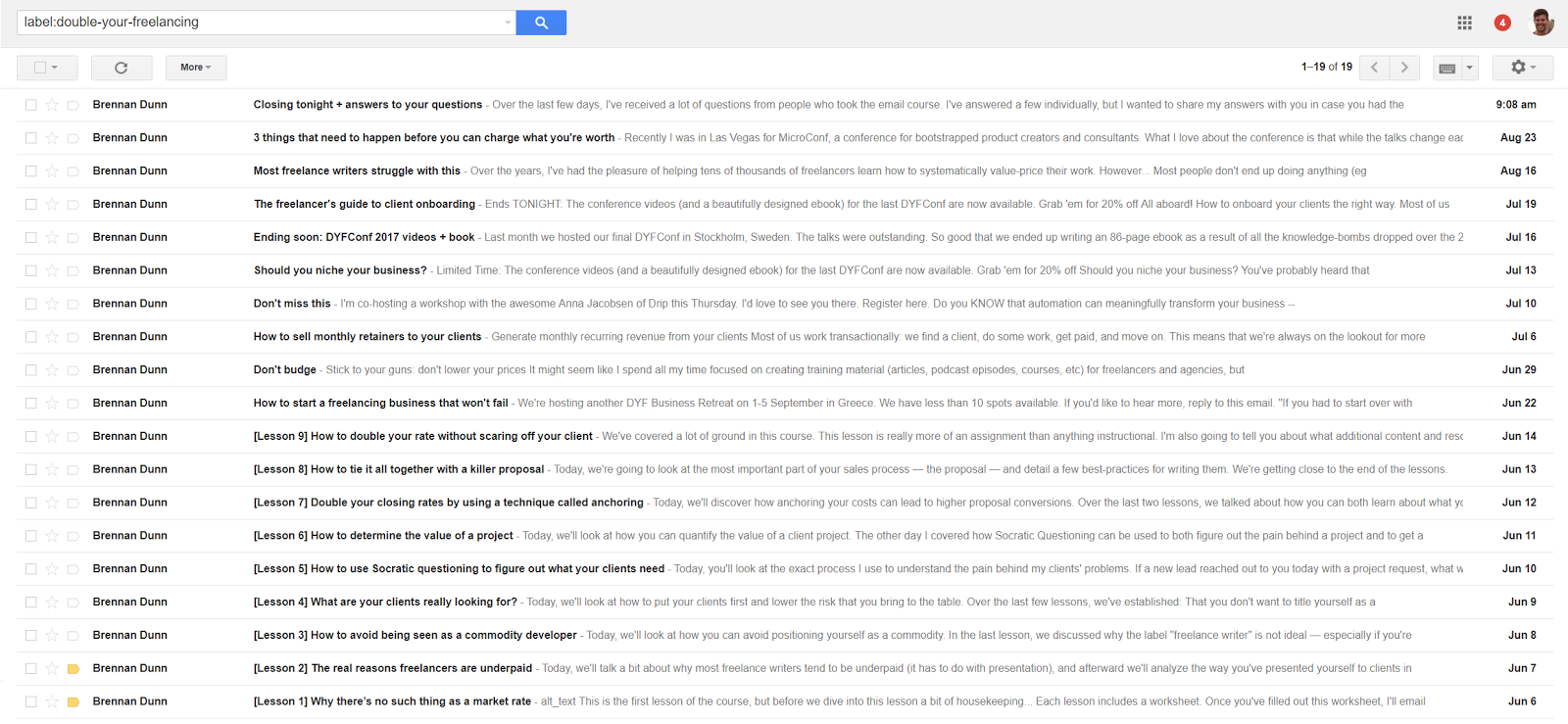 I do this for several of my competitors. It costs nothing, and it's my data to use as I wish forever.
Easy peasy. Next.
3. Turn competitive intelligence into profitable decisions.
The final step in our competitive analysis process is to turn the data we've discovered into strategic, profitable business decisions.
As I mentioned before, that will ultimately rely on your expertise and creativity, but there are a few things we can recommend.
First, as Theresa Farr mentioned earlier, focus on your most sophisticated competitors. If you have someone in your niche doing everything right, you can leverage their success to secure the #2 spot in the short term and then focus your creativity on overtaking them specifically in the long term.
Second, remember to apply rather than copy, as Rich Page explains:
Competitive analysis can be a great source of ideas to improve your website and your CRO efforts. You should perform a detailed review of the websites of your competitors initially and then every few months to look at what they have launched or redesigned. In particular check for improvements to key elements like headlines, imagery, forms, and CTA buttons. You should also often review best practice websites like Amazon.com and AO.com for inspiration.
Don't presume ideas from competitor websites will have a good impact though. It can work well but can lead to disappointing results. Why? Because every website is different, with variations in value proposition and types of visitors. Don't just copy ideas from other websites, always aim to tweak and improve them. To reduce risk of poor results you should also A/B test ideas before launching them.
– Rich Page, Website Optimizer
Speaking of AO.com, Paul Rouke has a very intriguing case study to share on competitive intelligence and application you might find helpful.
AO.com is now one of THE most customer centric pureplay retailers I have ever seen, but just 5 years ago, they were not customer centric at all, and they had run exactly zero A/B tests.
Our team at PRWD worked with them to propose and help deliver user research on a larger scale than we had done before or have done since. We planned a large scale remote research project using whatusersdo.com. 150 videos. Tons of insights. Far too many videos for 1 or 2 people to watch and analyse themselves.
The key to our rollout and the catalyst to AO.com starting down the path of becoming customer centric was that we provided each of the C-suite and senior decision makers with 5 videos each to watch. We sent them the videos and simply said, "Watch these videos of people using your website, and let us know if you feel there is anything we need to change or improve to make the website better for visitors".
The feedback came flooding back. The big decision makers – classic HIPPO's – all quickly realised that their online experience wasn't as good as it could be, and that they had had a lot of misconceptions about how users were interacting with the site.
The rest, as they say, is history. This case study is one of the few that I am most proud of in my 17+ years in the industry.
This exact same technique of cheap, remote testing at scale can be harnessed to also include all users carrying out the same scenario on 1 or 2 competitor websites.
There you have user research and competitor analysis at scale, with the added potential for this activity to be the "shock tactic" (as AO described it) to becoming a truly customer centric brand.
– Paul Rouke, Founder & CEO of PRWD
If you are reading this as a manager, marketer, or any position depending on a higher decision maker, visual user testing can be incredibly powerful both for intelligence AND securing buy-in "upstairs".
Click here for a number of effective user testing tools you can use to pull this off.
And of course, we wouldn't be Conversion Scientists if we failed to mention our favorite pursuit: conversion rate optimization.
Competitive analysis is a key part of data collection in our A/B testing framework. Once we understand how users are interacting with a website versus the website's competitors, we can develop an effective testing strategy to plug leaks and optimize conversion funnels.
As a final thought from our own Brian Massey, remember to incorporate competitive intelligence rather than letting it completely dictate your testing strategy.
Don't give your competitors' ideas more priority. Don't assume they know anymore than you do. Add any ideas you have to your hypothesis list and then go through your typical prioritization process based on what is most important in your unique funnel. Here at Conversion Sciences, we add them to our ROI Prioritized Hypothesis Spreadsheet which you download here.
Conclusion: Competitive Analysis Is Competitive Advantage
When you know what your competitors are doing, it positions your to make better strategic decisions. You can learn from their investments and learn from their mistakes. You can emulate what they do right and find ways to outmaneuver them in the process.
Most importantly, you can use the intelligence gathered and the gathering process itself to better understand your customers and the market you are trying to reach.
We've given you a lot to work with today, but we'd also love to hear from you as well. What is your go-to competitive analysis strategy?
Latest posts by Jacob McMillen
(see all)