8 Ecommerce Testing Examples You Should Have Tried Already
Preston Pilgrim presents 8 successful ecommerce testing examples, highlighting some fairly easy-to-implement wins. This is the type of stuff that you should probably have tested already on your site. If you havent' tried these, there's no time like the present.
Ecommerce and conversion CRO are the ultimate match: Lots of moving parts. High traffic volume. When it comes to ROI, the sky's the limit.
The following examples provide a great overview of what success can look like when you are executing on a proven AB testing framework.
1. Intuit Increases Conversions With Proactive Live Chat
Intuit Enterprise introduced proactive chat in various spots on their website. A small pop-up window with a call to action stating, "Chat now with a QuickBooks Sales Consultant" allowed potential buyers to instantly gain answers to their questions, clearing away roadblocks on the path to a sale.
Adding chat to the checkout process resulted in a 20% increase in conversions and a 43% increase in average order value.

Most impressively, when Intuit added proactive chat to the product comparison page, sales increased by 211%.
THE LESSON:
When you're thinking about adding chat, think about the areas where your customers are the most likely to have questions. This may be when comparing products, or could be regarding payment options. Put some thought into the correct placement and watch the conversions skyrocket.
On a cautionary note, sometimes, displaying a "live chat" that isn't actually live can alienate visitors. While it might work for certain audiences, for others, it can come across as misleading. If you are going to display a "live chat" without actually offering live chat services, just make sure to first verify that they aren't alienating your visitors.
2. SmileyCookie Increases Sales With Optimized Header
SmileyCookie is a niche ecommerce store that sells cookies and gourmet gift baskets. While the site was getting a fairly solid conversion rate, they decided to spend some time optimizing the header bar that was normally used for seasonal promotions.
This is a great place to test your value propositions.

They tested a number of different value propositions, including the following:
Order Today -> Ships Next Business Day
Want to save $5 OFF your next purchase? SIGN UP NOW ->
$6.99 Ground Shipping For Your Entire Order
FREE SHIPPING on any order over $40
Cookies Made Fresh & Hand Iced For You!
It turns out that immediacy was an important value to the largest segment of their visitors. The winning variation "Order Today -> Ships Next Business Day" delivered an impressive 12.61% conversion rate at 95% confidence. Even more importantly, the success of this test brought in an additional $1.01 per visitor for SmileyCookie.
THE LESSON:
The winning variation gives us some insight into what many ecommerce shoppers are looking for: fast shipping & handling. Any time you can lower uncertainty and solidify expectations, conversions tend to improve.
But an even more important takeaway is SmileyCookie's investment in testing 5 different options for a large impact area like the site promotional header. No matter how good your predictions are, you will almost always get better results when you are able to test multiple options as opposed to just two.
3. Express Watches Boosts Conversions With Trust Building
Express is a UK company that sells Seiko watches. It's an industry where buyers have legitimate concerns about purchasing online. What if the watch I buy is a fake?
In answer to this, ExpressWatches A/B tested placing a "price guarantee" stamp or an "authorized dealer" stamp on the product page.

This stamp of "authenticity" garnered a sizable 107% jump in sales.
THE LESSON:
If you're operating in an industry with fraud risk, proving your authenticity can go a long way. In this case, ExpressWatches "borrowed" trust by tapping into Seiko's brand authority. What associations logos, media logos and consumer review logos do you qualify to display?
While this split test worked, it's not a guarantee it will work in all industries. You will need to run your own split tests, try different variations of how you display authenticity and see how it affects your conversions.
This most likely wouldn't have a significant effect on conversions when dealing with lower priced "commodity" items, but with larger purchases, this type of split test can go a long way!
4. SAP BusinessObjects Increases Conversions With Prominent CTA Button
SAP BusinessObjects replaced its original small blue text "add to cart" link with a large, orange button.
Original:

Alternate version:
And conversions increased by 32%!
THE LESSON:
Make your call to action count by making it visually prominent. Don't make customers hunt for your "buy" button. Make it front and center and easy to click through and the sales will naturally increase.
I also want to conclude here that just because you make something bigger and stand out more, it doesn't mean it will convert higher. In some cases, decreasing the size of the button or CTA has had positive impacts on conversions. The main takeaway you need to grab from this case study is to always split test your main CTA's and buttons. Good designers know how to make something visually prominent.
Button size-Bigger doesn't always mean more visible.
Button placement-Place it so that the eye is drawn to it.
White space can make a call to action stick out.
Button color-Should be different from the page template
Button text that echoes the value proposition.
5. Horloges Increases Average Order Value With Guarantee
Horloges.nl is a watch dealer in the Netherlands. Their banner originally had information about overnight shipping ("Morgen al in huis"), free shipping ("Gratis verzending") and their status as an "official" G-Shock dealer.


Horloges.nl changed their banner to make it smaller, and include a 2-year guarantee on watches.



This change caused the average order value to increase by 6%, and total conversions improved by 41%.
THE LESSON: Adding a guarantee is an excellent way to increase new customers' comfort level in purchasing from a new vendor. Consider changing banner ads to make them simpler and easier to read in order to increase their efficacy.
This test changed several variables: the offers, the layout, and the font styling. When you test, start with guarantees and once you find one that works, test out how to present that guarantee on your page. Where can you place it? Where does it stand out? Should you only put it on products pages? These are all things you might want to split test.
6. MALL.CZ Increases Conversions With Larger Images
MALL.CZ is the second largest ecommerce retailer in the Czech Republic. Much like Amazon, they sell a wide variety of products, including kitchen supplies and electronics. Product images are an important component in their purchase process, and the company was curious how increasing image size might influence sales.
MALL.CZ's original product descriptions emphasized lengthy copy and had a smaller product photo.

MALL.CZ then tried altering the descriptions to emphasize a large product image above the text:
This variation resulted in a
 9.46% increase in sales.
THE LESSON:
It can pay off to play around with image sizes and layout. There is some evidence to show that in other circumstances, larger images can actually deter sales, so clearly the issue is product/industry dependent. But if you're looking for a factor to experiment with, image size has the potential for big rewards.
Aside from image size, playing around with different images in general is another great idea for running split tests.
Option 1: Split test image size, find out what converts at a higher rate.
Option 2: Split test different product images and angles and see what converts higher.
Option 3: Test a 3-D, click-to-rotate type image display, where viewers can get a 360 degree look at the product.
7. Express Watches Further Improves Conversions With Social Proof
Few things can impart safe buying like reading a positive review from a fellow customer. Knowing that other people have purchased the product and had a good experience with the product and retailer is a large factor in influencing customers to click "add to cart".
Express Watches conducted a customer survey and discovered that their customers wanted to know information about price comparison, if the company was trustworthy, and whether the watch would be genuine and not "fake".

Express decided to answer those questions by adding a Customer Reviews widget on their product pages. Adding the reviews widget, ExpressWatch saw a 58.39% increase in sales.
THE LESSON:
Social proof is a proven way to overcome visitor objections and push the sale closer to checkout will increase sales. Clear roadblocks by decreasing customers' worries and adding symbols of trustworthiness.
When you think about the logic of the buyer, it makes sense. When you are injured or sick and you need to see a doctor or therapist, you are most likely going to ask your close relatives or friends if they have any recommendations on a doctor they have used in the past that they have had success with. If they give you a recommendation with positive feedback, it's most likely you are going to choose that doctor over any other ones in the area. The takeaway, positive feedback can increase conversions tremendously.
Just realize that if you're showing your reviews to the public, too many negative reviews can lower your conversion rate. At the same time, having a 100% positive review rate will also lower conversions, as this tends to be viewed as being manipulated in some way. Negative reviews are an important part of visitor research.
The best review profile looks like what you'd expect to see if a bunch of people tried out a great product. Most would love it. Some would be unimpressed. And one or two would trash it out of spite.
8. Corkscrew Wines Increases Sales With Prominent Discounts
What good is a sale if you're not advertising it enough? The whole point of launching a sale is to move product, and in order to do that, customers need to be aware that there's a deal out there that can't be missed.
Corkscrew Wines experimented with adding sale information in a red circle, front and center over the product image.

The result? A whopping 148.3% increase in sales. Both product description pages showed the same price- but the second simply highlighted the savings.
THE LESSON:
Let people know when they're saving money. They'll want to buy more!
Again, there are many different ways to split test this. In this particular case they are displaying the discount on the bottle and title. Play around with this, try displaying it in different locations, try larger images, try different colors that stand out.
Conclusion
Hopefully, today's ecommerce testing examples have provided you with some pointers for you next batch of split tests.
Remember that your customers ultimately hold the key to increased sales, and any worthwhile AB testing framework starts with getting a thorough understanding of how they are engaging with your site and what they are feeling in the process.
For further reading, check out Conversion Sciences' rundown of The 7 Core AB Testing Strategies Fundamental to CRO Success.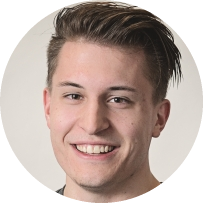 Preston Pilgrim is a marketer at Acro Media, a digital agency focused on optimizing Drupal point of sale product pages, contact pages, homepages, and more. Learn more from Preston's expertise via the Acro Media blog. 
Latest posts by Preston Pilgrim
(see all)
0
0
Preston Pilgrim
https://conversionsciences.com/wp-content/uploads/2019/11/conversion-sciences-cro-agency-conversion-optimization-consultants.png
Preston Pilgrim
2016-11-30 15:00:10
2019-01-15 20:39:27
8 Ecommerce Testing Examples You Should Have Tried Already