10 Conversion Lessons For Online Retail from Amazon
Discover the retail conversion lessons we can take from Amazon, and the science behind their success.
With 38.1% of total eCommerce sales in 2016, Amazon.com is the definitive king of online retail. The next closest competitor trails at just 7.8%.
What does this mean for us? It means Amazon is where we should be looking for conversion lessons.
With unparalleled traffic and revenue, Amazon is constantly testing, optimizing, and experimenting with new features and services. We can look at anything on there site and know without question that hundreds of thousands if not millions of dollars were invested in optimizing that thing.
As we hit the most lucrative time of the year for retail stores, both online and offline, this is a great opportunity to pull some lessons from the best in the business and boost our own conversion rates in the process.
So here we go: 10 conversion lessons for online retail from Amazon.com.
1. Highlight promotions and clearly display the value.
According to the NRF, holiday sales can account for as much as 30% of total annual sales for some retailers. With consumers fueled by the dopamine driven highs of bargain hunting, online retailers who take full advantage of this surge in shopping benefit handsomely.
This last week on Amazon's home page, Black Friday & Cyber Monday deals were front and center, and there are a few key things we can learn from just how prominently they featured these holiday specials.
This is the homepage customers saw when they first arrived at Amazon.com. Notice, the original prices are clearly displayed and marked out. For Black Friday, the new discounted prices were even highlighted in red.
The contrasting prices emphasize the value of the deal, which activates pleasure centers in a shopper's brain. The use of red has also been shown to instill boldness and a sense of urgency in shoppers, increasing conversion rates up to 21% in one study.
As an added reinforcement, 'limited-time offer' is displayed, adding to that sense of urgency that taps into shoppers' innate fear of missing out on an unmissable deal. According to loss aversion theory, the psychological fear of missing out on a deal can often be enough to motivate a purchase.
Other large retailers like BestBuy have adopted this strategy as well. Rather than attempting to highlight individual deals, BestBuy hard pitches the promotion itself, influencing consumers to assume that everything on the website is part of the promotion.
When you click through the category of your choosing, BestBuy follows up with the specifics.
What do you see?
40% off
WE PRICE MATCH
Limited Time
You know there is a sale the moment you arrive and you don't have to engage much to get the details. That's what ecommerce sites should be aiming for.
By comparison, you could visit ecommerce hub Etsy and never even realize a sale is going on.
"Cyber week" is in tiny font. They popular listings shown are apparently not on sale. And why is it showing me prices in Canadian dollars???
Etsy does a lot of great things, and we'll probably highlight a few of them down the road, but they are not a good example of leaning into seasonal promotions or large deals.
Don't be Etsy this holiday season. Be Amazon.
2. Make reorders stupid easy.
Some purchases are relatively insignificant as a single order but massively profitable as a recurring order. If you can get someone to buy something that will require a refill or reorder at some point, those are the types of customers that can make or break a business.
Amazon is one of the best players in the game at making reorders stupidly easy for consumers, and there are quite a few strategies you can steal for your own store.
The first and simplest is the "Buy it again" option that Amazon throws at you at every available opportunity.
Looking at your account? Buy it again.
Opened your cart? Buy it again.
Checking the status of your orders? Buy it again.
Amazon's 'Buy it again' algorithm does a great job of identifying items that are typically re-ordered and then suggests them for repeat purchase. It's an incredibly helpful feature, but wasn't always available, as one frustrated customer explained in a Reddit post two years ago.
Making reorders easier is really a no-brainer. It improves the user experience, and it acts as an upselling mechanism for existing customers.
Win win.
This particular interaction is so valuable to Amazon that they have created two additional features specifically to encourage reorders.
One is their suite of Dash Buttons that allows one-click reorders of any product available via Amazon Prime.
And another is their new Subscribe&Save option that allows consumers to save an additional 15% buying creating 5-item subscription packages.
If you're counting along, that is three distinct website features created specifically around reorders. If you take nothing else away from this, you should be seriously re-evaluating how much emphasis you are placing on reorders, retention, and customer lifetime value.
3. Track user behavior and make relevant suggestions.
It is easier and cheaper than ever before to track user behavior onsite and feed relevant purchasing suggestions to users while they browse or when they come back for a return visit.
Targeted product suggestions were one of Amazon's early distinguishable features, and it's a feature they continue to perfect to this day.
Consumers can visit your store anywhere, anytime, and at any stage of the buying cycle. It might seem like common sense to feed return visitors suggestions based on their past browsing habits, but even today, very few stores are actually doing this well.
Let's take a recent example of my own consumer experience.
I was browsing hiking equipment and clothing for a an upcoming multi-day camping trip. After doing some initial research on a few different sites, I returned to one in particular to review a few more items. This would have been a perfect opportunity for the site to pitch me a curated collection of items highly relevant to my past browsing behavior.
Instead, their algorithm simply locked onto the brands I had been browsing and sent me recommendations for out of stock women's pants (I'm a man btw) and types of jackets that weren't even that similar to what I was searching for.
That's a missed opportunity.
BestBuy on the other hand, follows this strategy perfectly. Sure, suggesting televisions is pretty simple, but notice that the television suggestions are all in the exact same class of what I'd previously been viewing: 40+ inch screens around the $200 mark.
Implementing these types of algorithms in your online store is really a no-brainer, particularly the more niche you go. When people are coming to your site to find something more unique, suggesting the right items is especially powerful.
4. Upsell and cross-sell at every opportunity.
If you aren't upselling, you are literally throwing away money.
Whenever a customer on your site makes a purchase or is getting ready to make a purchase, they are in prime position to be sold more. Amazon understand this well and attempts to upsell and cross-sell often.
It all goes back to the question every McDonald asks their customers, "Would you like fries with that?" The reasoning behind this is that fries enhance the dining experience which makes the customer more happy and the company more money.
"Frequently bought together" and "Customers who bought this item also bought" are cross-selling tactics that have increased Amazon's revenue by 35% since they implemented it in 2006. According to Forrester, that number is only 10-30% for other ecommerce sites.
So, what is Amazon doing differently?
For one, Amazon emphasizes their bundles are separate items that can be bought together for convenience. Notice the '+' sign and the check boxes in the 'Frequently bought together' section that clearly show customers that they have the option of purchasing these items individually.
This is an important detail. As Vineet Kumar of Harvard Business School notes in his research, consumers appreciate bundles as long as they feel like they have the option to buy products individually.
For example, when Nintendo released its Game Boy Advance console, revenue for bundles where the bundle was the only option was 20% lower than when the bundle items could be bought separately as well.
Turns out giving consumers options is a great idea in retail.
5. Leverage customer reviews as much as possible.
When Yotpo crunched the data from 200,000 eCommerce stores, they noted a 161% increase in conversions from companies who used social proof compared to those who did not. When you consider that a staggering 97% of consumers rely on product reviews before making a purchase, this comes as no surprise.
Reviews matter.
You know this. In fact, it's hard to find a company that isn't using customer reviews these days, so why am I bringing this up?
Having a spot on your product pages where customers can leave reviews is not the same as leveraging your reviews to provide social proof and drives conversions. There is an optimal way to harness review, and there are numerous ineffective ways to use reviews.
So on that note, let's look at what Amazon is doing and see what we can learn from it.
First, let's talk about color.
Amazon uses two colors: bright yellow for review stars and review distribution bars and then a distinct blue for the numbers and percentages.
Not only are these colors very visible but they also have notable psychological affects, with yellow triggering feelings of joy and energy while blue triggers feelings of confidence and loyalty. There is also plenty of white space, so reviews can be clearly read.
Have you seen this color scheme anywhere else?
Oh right, BestBuy again. Seems like they are way ahead of us on the whole emulate Amazon thing.
Now look at this example from an outdoor retailer. Notice how the monochromatic color scheme fails to draw the eye or provoke any emotion. It might look "cleaner" from a design perspective, but eCommerce sales isn't about sexy design. It's about sales.
Another thing worth noticing about Amazon's reviews is that they are ALWAYS prominently visible no matter where you are on the site. The number and score of reviews is always clearly visible next to the picture and title.
Finally, Amazon does something really powerful in an age where paid reviews are incredibly common. They indicate which reviews come from actual purchasers of the product. If you buy the product and then review it, you get a "Verified Purchase" tag next to your review. If not… you don't.
Have you ever showed up to a product listing and seen fifty 5-star reviews with no negative reviews? That immediately causes you to question all the reviews' credibility. While there are of course ways to circumvent Amazon's credibility mechanism, even just its existence immediately encourages consumer trust.
6. Show limited stock availability to create urgency.
If you have limited stock availability, SHOW IT. If you don't… well… consider your options. Maybe break the product down into categories where you can make it look like their is limited availability. For example, there are only 19 black backpacks available.
Only 19 left in stock is much more specific and helpful than simply showing an item as 'Out of stock'. I was mulling over a purchasing decision for a several days and every time I returned to Amazon's page, I saw that the number of items left in stock for my Osprey bag was dwindling down from 15 to 13 to 5. I knew I had to make a decision fast and ended up buying.
And this isn't the only strategy Amazon uses to create urgency.
7. Ship fast and tell them when it's arriving.
One of the things that can trip you up as an online retailer is delayed gratification. When visitors are browsing your store, they know that anything they purchase won't immediately be in their hands like it would be at a brick and mortar retailer.
Fortunately, the convenience of home delivery tends to outweigh the downsides of delayed gratification, but what if there was a way to have the best of both worlds?
Well, that's exactly what Amazon has pulled off with their lighting fast shipping capabilities, and they make sure to leverage that speedy timeline on their product pages.
Do you want this in your hands tomorrow? Order now and you will get it.
That's a pretty compelling offer.
Amazon follows up with this on the checkout page, this time even more prominently.
It's no secret that Amazon's ability to cut shipping times has had a massive impact on their success. Amazon holds a 2-3 day lead over its competitors on average.
But while you might not be able to cut your shipping time to two days, what you can do is make guarantees to your customers about what they can expect from your shipping process. If you can tell them, "Order in the next 4 hours and receive guaranteed delivery by [date six days from now]," you can create some level of expectation and trust in the minds of your potential customers.
8. Include images that help customers pre-experience the product.
It's hard to compete with the instore experience of touching, feeling, and seeing a product. The best thing an online retailer can do is simulate that experience.
Amazon considers it so important that they suppress vendors who fail to meet certain listing requirements. Product listings are encouraged to include multiple high-resolution photos that can take advantage of Amazon's zoom-in image viewing feature.
But it's not only Amazon who thinks it's important. 67% of customers believe product images are more important than product descriptions or customer reviews.
Simply put, customers want to virtually experience the product as much as possible.
A virtual product experience is quickly becoming a complex technological experience, complete with virtual and augmented reality and who knows what next.
For now, however, your main tools are images and video, and multiple images with different angles are going to beat a single image every time.
9. Leverage product popularity to sell more products
Why is social proof so effective?
Because deep down, no matter how stupid we think people are, we are always going to be swayed by a ton of people all being in agreement. For some, it activates FOMO and makes them want to try it out for themselves. For others who like to think disagreeing makes them special, it sways them avoid it.
Either way, popularity is influential.
And when you have popular products on your site, you should be flaunting how popular they are at every opportunity… like Amazon does.
You can't visit a large retailer without seeing a "Best Sellers" or "What's Trending" section, yet I often see it missing on more niche stores. Many stores will list their products in order of popularity but never get around to actually telling viewers, "Hey! This thing is popular!"
Meanwhile Amazon…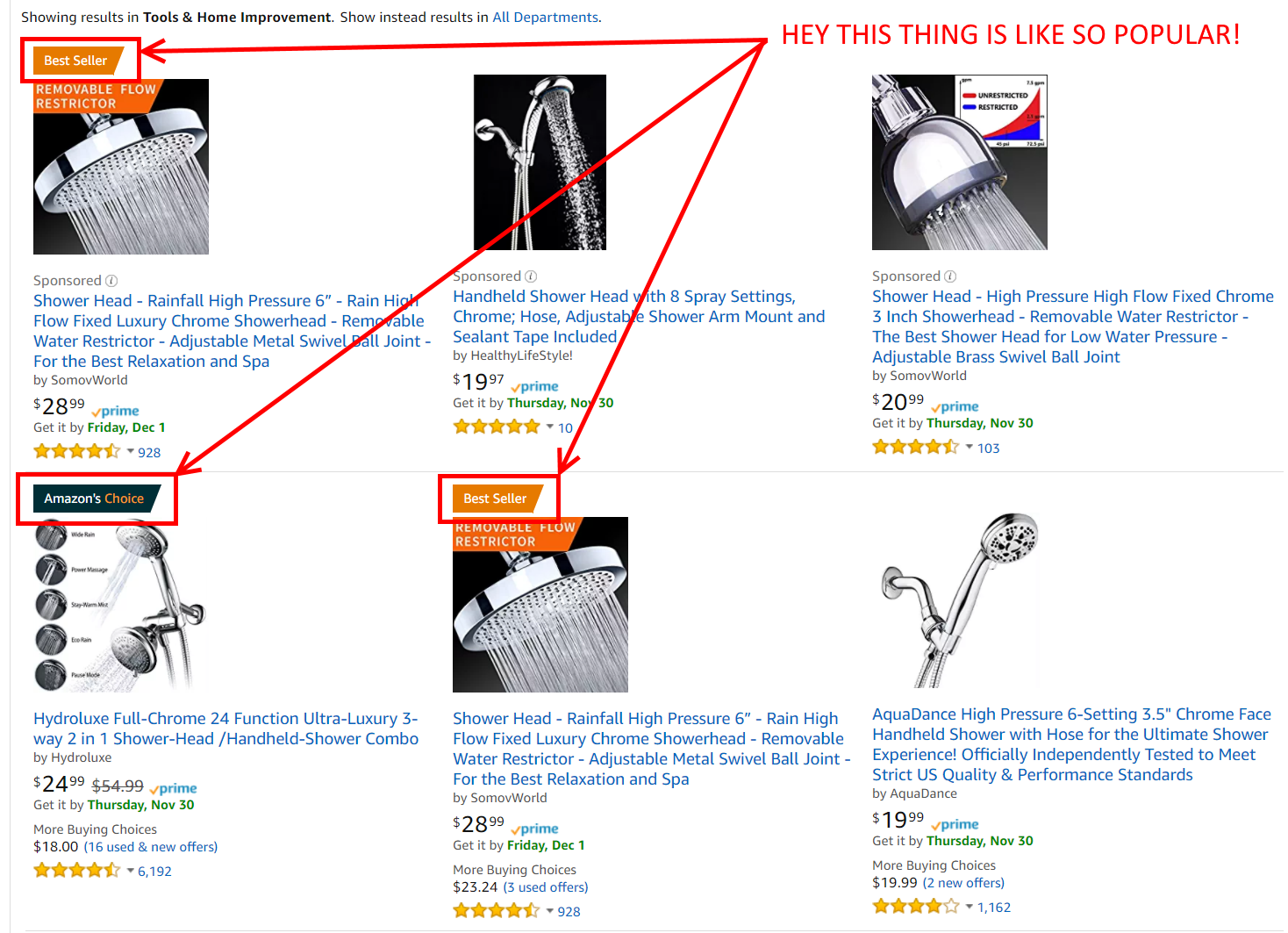 People want to get good stuff, and if everybody else likes it, they probably will to.
10. Keep customers coming back through strategic loyalty programs
We can't talk about Amazon without talking about Amazon Prime.
Amazon Prime and the two-day shipping that comes with it has redefined what a customer loyalty membership looks like, with an estimated half of all US households having at least one member.
Prime is really just getting started, and I'd expect that in 5 years, the following statement will feel like ancient history, but up to this point, Prime's massive success has been due to one thing and one thing only.
Amazon Prime solved a gaping consumer need with its two-day shipping.
That's it. That's the long and the short of it. People aren't magically loyal to Amazon. Amazon isn't necessarily going to have the cheapest option in all scenarios. For a long time, Amazon wasn't even near the top of the list in terms of customer service.
The simple reality is that people wanted to be able to order online goods and receive them quickly, and Amazon was literally the ONLY place willing to fill that need.
That's it, and when I look at other eCommerce loyalty programs… nobody seems to get it. Everyone seems to think that loyalty programs are nothing more than discount clubs.
Look at Ebay, for example. This is their "loyalty program".
Okay, so its a 1% cashback program. Who gives a #$&%?
Sure if I use Ebay already I might signup for it, but it doesn't make me more inclined to use Ebay. It offers me basically nothing. If I spend $1,000 on your site, I get $10  back. Whoopdeedo.
BestBuy might be worse.
First of all, its way too complicated. I had to do math in order to figure how little money I'm going to save.
Second of all, there is no compelling offer. Again, it's basically a cashback program, but where I have to do like 3 equations to figure out I'm going to make barely more than 1% unless I spend $3500 at the store.
Do you want free two-day shipping?
Hell yes.
Done.
Easy.
It's really not that complicated.
What do your customers want? If they are really hyped on discounts, that can be part of it, but discounts and cashback are rarely going to inspire brand or store loyalty by themselves.
It's also worth noting that paid monthly memberships can encourage use.
Despite having a $99 Prime membership option, Amazon chooses to advertise its $10.99/month plan because monthly payments incentivize Prime members to shop more often than an annual payment plan.
Customers feel more compelled to use products when they are paying for them, especially when they are continuously paying for them. A study on the psychology of consumption conducted by Harvard Business Review showed reminding customers on a monthly basis rather than allowing them to forget a one-time annual payment encourages continual and consistent use of a product, in this case, buying off Amazon.
Of course, if you are going to make them pay to join, you'll need to actually meet a need, which takes us back full circle.
Conclusion
Amazon is the king for a reason… for a lot of reasons.
They have focused on the right things time after time after time, and that's why they continue to expand their lead.
I hope you've found this discussion of some of Amazon's retail conversion strategies helpful. In review, here are the 10 we covered:
Highlight promotions and clearly display the value.
Make reorders stupid easy.
Track user behavior and make relevant suggestions.
Upsell and cross-sell at every opportunity.
Leverage customer reviews as much as possible.
Show limited stock availability to create urgency.
Ship fast and tell them when it's arriving.
Include images that help customers pre-experience the product.
Leverage product popularity to sell more products
Keep customers coming back through strategic loyalty programs
If you'd like to dive further into optimizing your retail site, grab a free copy of our 110 point optimization checklist.
Co-written by Daniel Ahn and Jacob McMillen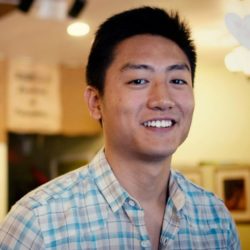 Daniel Ahn is a former technology sales recruiter who works with e-commerce startups to help grow their business. When he's not writing strategic content pieces, he's sharing stories about purpose, travel, and growth at readahn.com.
Latest posts by Jacob McMillen
(see all)