How Conversion Optimization is a Brand-Building Investment
It can often seem that conversion optimization conflicts with brand and image marketing. In some cases, this is true. A recent infographic from the New Jersey Institute of Technology's Online Master in Business Administration program (NJIT) got us to thinking about the importance of branding to any conversion optimization effort.
How a Conversion Scientist Thinks of Brand-Building
For the purposes of conversion optimization, brand is critically important. If we're talking about a landing page, a website, an email or an ad, brand can communicate some important information in the blink of an eye.

For us, brand is a container for trust, credibility and authority.
For us, brand is a container for trust, credibility and authority. Brand marketers will tell you to put the company logo and tag line on every communication. A Conversion Scientist uses brand symbols primarily to communicate authority and credibility.
A brand symbol is a hook on which brand experiences are hung. Conversion Sciences has benefited from its brand symbol — the
lab coat
— and we work diligently to hang positive brand experiences on this symbol when we write, teach, and speak. We give lab coats to our clients so they can associate our business-changing results with this important brand symbol.
Companies who have invested in brand recognition over decades and have protected their brand symbols have a significant advantage over less-known brands. These brand symbols communicate a complex set of impressions quickly.
From a budgeting standpoint, building brand is very expensive. It requires paying for millions of impressions with little expectation of short-term increases of revenue. It also takes time.
We believe that conversion optimization is a brand-building activity. Conversion-based brand building works on the assumption that
there is no better brand experience than finding what you are looking for
. As you improve the conversion rate and revenue per visit of your website, you are, by definition, giving your visitors better experiences. These experiences are associated with your brand symbols and build brand quickly and powerfully.
Brand Building in Digital Environments
Because conversion optimization relies on data, and since digital environments are data-rich, these digital environments are ideal for conversion-based brand building. Your investment in optimizing online properties is an investment in brand.
The infographic acknowledges that there are three moments in the buying process when companies come into contact with new and existing clients.

Each of these can be optimized to increase conversions and sales.
    
Before purchase, using proper navigation, search and "affordances" to guide the visitor to their desired outcome.

    

During purchase ensuring that completing the transaction is intuitive and surprise-free.

    

After purchase optimization influences up-sells, repeat purchases, and enables sharing.
Be Careful with Consistency
The infographic tells us that "Consumers Expect Consistency" across channels and devices. This is a lie.

Consumers expect consistent quality of experiences and consistent use of brand symbols. However, our testing shows that they want very different experiences when they are in different contexts. Desktop visitors want a more intense experience with more choice and deeper information. Smartphone visitors want immediate access to solutions.
Quality experiences across devices become a consistent builder of brand value.
Optimizing Touchpoints
There are different kinds of people coming to each of your touchpoints. They are often the same person coming in different modes.
Search Engine Watch tells us that certain types of searches are more common on Bing than on Google – finance and automotive for instance. You probably already know that mobile iOS users behave differently than Android ones, but have you made the connection about how their searches differ?
Ninety-seven percent of Millennials touch at least two devices every 24 hours, and many of them interact with even more devices.

That's a lot of opportunity for touchpoints just from search.
Social media platforms
prime
visitors in different ways meaning online experiences must be tailored to each. For example,
Instagram
is poised to be a better organic marketing option than Facebook for many companies.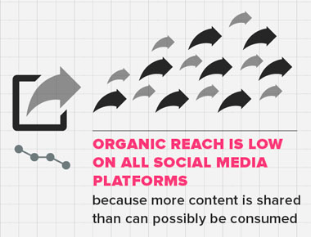 Customers expect to find you on all of the major social media platforms, but how much effort should you use in maintaining your presence? Our answer is to be only on those platforms for which you have the resources to optimize the experience. The default social experience may negatively impact your brand.
Each platform has a distinct purpose that should dictate how much time and money you must invest in it. Your most important task when you invest in new digital marketing is to go back to the original concept of branding, no matter how complicated contemporary marketing may seem. Your new and existing customers will know what to expect from you based on past experience, and today's experience is tomorrow's past experience.
Thanks to NJIT's MBA program for sharing.

Feature image by
Hanna_Elise
via
Compfight
cc
and adapted for this post.

Latest posts by Brian Massey
(see all)