What are you doing today to ensure that your business brings in a continuous flow of qualified leads on a daily basis? Do you have a refined procedure, or are you throwing content out into the abyss of the interwebs with fingers crossed, hoping to score new leads and make some money?  If you can't map out your strategy and don't know where to fine tune the rough edges over time, chances are your business won't be around for long. At Conversion Sciences, we take the time to build blue prints, formulate hypotheses, test strategies, and analyze data to keep our business and clients growing and moving forward.
Optimizing our content strategy, we've found takes an important attention to detail, consistency, and patience to bring in quality business. If you're ready to accelerate and improve your lead generation strategy, you must first understand the path you took to close the deal with your first clients or buyers. Who was the person you engaged with? What was their job description and social interests, and why were they an ideal lead?
Knowing this can help you understand who your target audience is and how to reach them on social media. Does this lead attend a specific type of conference or event each year? Do they read a certain publication or regularly visit an industry website?
Once you have identified your target audience, you can begin implementing advanced techniques to grow your business. Here are ten ways to enhance your social media lead generation strategy.
Choosing the Right Social Media Platforms for Lead Generation
Don't invest time and money into every social media platform until you know what will work for your business.
The key to social media is not just a presence, but how followers engage with your brand and if those followers turn into leads.
If you've already established a presence on all platforms, see how your traffic correlates with each social site via Google Analytics or a comprehensive social media sharing software like Oktopost that allows for conversion tracking. What sites are bringing you more traffic and leads?
Based on our conversion tracking efforts using Oktopost, we can track how many leads are generated in each social network. We consider leads to be anyone who joins our email list, downloads a report, joins our blog course, or fills out a contact form. Last month we created a campaign that offered a free report for the higher education marketplace. Our large Twitter audience brought in the most clicks and leads. However, our data tells us LinkedIn leads convert at a higher rate than Twitter leads. We've begun focusing more on LinkedIn as a result.
For a clearer perspective on how to choose the right social platforms for your business, we recommend reading these tips from Wishpond.
Educating Your Buyer: Reports and Whitepapers
By offering free white papers, reports and ebooks are a great way to make your prospects experts at buying your products. They are also a great way to create email lists to better segment your audience. Pragmatic Marketing says, "if you provide something of value to prospects, they will give you their respect, time, loyalty, and ultimately their business." If only it were that easy.
The cost of creating content is falling as the web gobbles it up. We use blog posts to test topics of interest to our audience. We will prepare a live presentation or webinar on hot topics. These presentations get cast into case studies, blog posts, reports and social media posts.
But writing a report simply isn't enough. Targeting your whitepapers to the right audience is of utmost importance and can be done in several ways, including Facebook Ad remarketing, LinkedIn Groups, or Twitter hashtags and discussions.
[sitepromo]
Why LinkedIn Groups Are Lead Hotbeds
A hotbed is defined as "a place or environment favoring rapid growth or spread". In our recent research, we've discovered LinkedIn to be a valuable hotbed for B2B lead generation, particularly when it comes to engaging with LinkedIn Groups. In the past, most marketers or brands were taught to create a main page where all content would be shown to followers or 'likes'. In recent years, we've seen a surge of engagement and activity in social groups with defined interests and demographics due to the change in algorithm from Facebook and LinkedIn updates.
Now LinkedIn Groups have been a hotbed for Conversion Sciences when it comes to generating new leads or subscribers. A few months ago, we launched our industry report for Higher Education Marketing and created a comprehensive campaign targeted to Higher Education professionals. By researching groups and engaging with members, we were able to build relationships and grow our lead pool in just a few months.
At the end of the campaign, we generated a total of 24 leads in under a month; 80% of those leads were from Higher Education Facebook groups we engaged and shared content with. However, always remember that
one of the most important ways to gain new customers is to create an authentic relationship
. Groups are not for spamming or sharing irrelevant content.
How Ad Targeting and Retargeting Builds A Lead Magnetic Field
Did you know the Earth produces its own magnetic field which is important in navigation? It also shields the Earth's atmosphere from solar winds that are capable of destroying humanity as we know it! When it comes to lead generation, you should think of your business as the Earth, Facebook Ads at the magnetic field, and your competition as the solar wind.
Facebook Ads will help discover and navigate your leads to your lead-generating content, and bring them back to "Earth," aka your business. Let's say you were a software company looking to draw attention to a new service targeted to apparel companies. You could create an ad directed toward people who like specific pages, job titles, and keywords, or install a Facebook retargeting pixel on your website. This will help a potential lead see your ad immediately over the duration of your campaign.
Take Google Fiber for example. I was recently referred to its site by a friend who mentioned it will soon be available in the Austin area. I snooped around the site but lost interest, since it isn't making itself available in my part of town. In the days following my visit, this is what I saw in my Facebook News Feed.
Fancy schmancy. It's a Retargeting Ad! The fun stuff happens when I click on the "Sign Up" button. I'm directed to a landing page to enter my address to see whether Google Fiber will be in my neighborhood. Total bummer though: it looks like they won't be available for a little while, so I decided to sign up for their email list. Guess what? I'm a lead now.  Not exactly a bummer for Google Fiber. We recommend Facebook for Business for further insight on how to create the perfect campaign.
Mapping Out Your Traffic Using Hashtag Targeting
Hashtags are the perfect place to find new business. By doing a simple hashtag search, you can find various tweets and discussions that direct you to new leads. Think of them as the magnetic field lines that map out all directions of the magnetic force. Hashtags direct content to communities, who in return will engage (like, comment, and share content). Let's go back to the Higher Education report data. On Twitter, we found several hashtags corresponding that to this topic including #higheredmktg #hemktg #highered. This puts us in direct contact with many professionals we engaged with through content marketing.
Take for example our hashtag streams we created on Oktopost when targeting our Higher Education Report to industry professionals. We've created a comprehensive directory of conversations aimed at this topic. In it, we were able to locate specific professionals we could engage with and place our brand in front of by participating in their discussions. Look at this! @markhoddell works for the University of Chester in the Marketing Department. Potential lead? We think so! If you're not taking part in hashtag targeting, the time is now.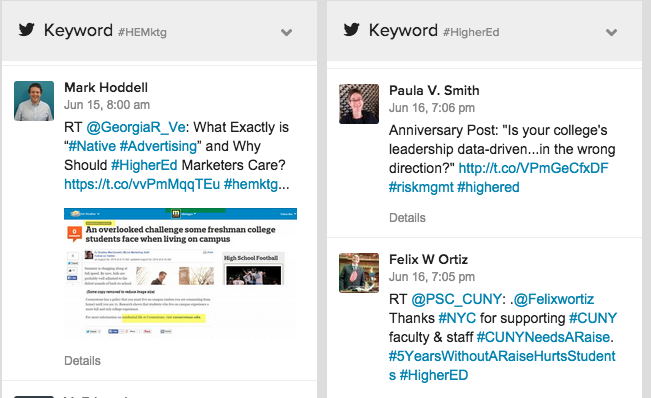 Learn more on Hashtag.org.
Juicing Your Lead Generation With Content Marketing and Blogging
Building reports or whitepapers, and launching them with comprehensive organic and paid Facebook Ad strategies, is just the tip of the iceberg in online lead generation. But, how can you continue to engage your community and build your customer base without reloading them with offers or retargeting ads?
By implementing an enriched content strategy in your marketing funnel, you will intrigue and entertain your audience, as well as leave a footprint online that will increase your organic SEO and reach. Infographics, videos, images, and podcasting are just a few content ideas that drive traffic. Think of your entire content marketing strategy as the great magnetic force that pulls in new leads. The strength of that force determines on the strength and creativity of your content.
A recent study from the Content Marketing Institute and Marketing Profs states that over 80% of B2B respondents use Content Marketing in their business practices, yet only 38% of these businesses say their strategies are effective. However, the study also indicates that 48% of these businesses were not documenting their strategies effectively. In the end, there's no way of telling what practices are showing results, or hurting business. Here are a few creative examples on how we incorporate content marketing elements in our online lead generation strategy to ensure maximum results.
Webinars
Webinars offer exclusive information and help grow your email list and lead base. LinkedIn groups are the perfect foundation for generating new leads through webinar promotion. You can target groups based on your field of expertise, or type of audiences you aim to reach. This avoids spammy sales letters and overbearing ads. WebinarNL says, "webinars generate a lower cost per lead and high level of engagement with prospective clients." They also detail several benefits to hosting webinars including:
Direct contact with your target group
Reaching your target group both live and afterwards
Interaction with your target group
How webinars save time and money
So, we decided to put this statistic to the test and hosted our very first webinar "UX vs. CRO: The Digital Fight of the Century" As a special incentive for attendees, we had them ask several questions on UX or CRO. The people with the most creative questions won a free website evaluation from Brian Massey himself.
After an extensive social media promotion, we were surprised to find 212 conversions in just 20 days of implementing our content strategy.  That's more leads in a short period of time than any other strategy we've executed. So ask yourself, "What benefits do webinars offer your business?" To see how our first webinar panned out, watch the webinar replay.
Podcasting
Perhaps the most underrated form of generating new business leads comes from podcasting. It's free and accessible, and makes radio quality audio shows available for download through an RSS feed to a computer, MP3 player or mobile phone. Listeners only have to subscribe to a podcast once.
First, you'll need to conduct a keyword search that will get your content noticed in the podcast world. Then, be sure to create short blogs of no more than a few sentences to capture the reader, launch your podcast, and have them listen.
Interviewing an industry expert or hosting a panel debate can help maximize reach and listeners. Be sure to keep discussions focused on topics you can actively talk about with your leads. This is the perfect way to begin establishing yourself as an industry thought leader.
"The goal of the business podcast is to create a conversational thread that you can pick up with your lead on the next call," says Benchmark. Think of this as a first experience with future customers. You are building trust and proving them with valid information to nurture a business relationship. Again, podcasts are easy to market via LinkedIn groups, hashtag targeting, and Facebook Ads. Also, fan page Apps like 22Social help incorporate podcasts into your Facebook page so followers can listen in.
Guest Blogging
What does your business specialize in? Moving, fitness, prepping, or social media marketing? By writing as a guest blogger, not only will you be showing off your knowledge, but it adds credibility to your business and brand, while introducing your chops to an entirely new audience. This also gives you the opportunity to grow your social media following by adding social follow-back buttons or a Twitter handle to your posts.
Begin by creating a list of publications in your niche market that offer guest blogging and dive into what kind of content they are pitching.
KissMetrics layouts three important goals for Guest Bloggers:
Positioning yourself as an authority and well-known name in the industry.
Getting exposure (traffic) back to your website.
Building backlinks to your website.
Again, you want your potential customers to know that you are an expert in your field, and in the process you'll be increasing traffic back to your site. We recommend reading KissMetric's Ultimate Guide To Guest Blogging for more insight.
Video Marketing
Did you know 80% of internet users recall watching a video, and 46% of those viewers actually take action after watching the ad? Now, YouTube is making it an even more refined tool through annotations. By implementing annotations in your videos, you can direct viewers to a landing page on your website where they can sign up for your services, download a free report, etc. YouTube Ads also amp up this strategy, especially since they easily incorporate with your Adwords strategy.
Let's take this Heineken YouTube Ad for example. Apparently, the internet knows that people like me – people who are my age, have my interests, and share my browsing and search history, for instance – love beer. Again, this is the whole idea of remarketing.
As I'm watching this ad, what do I see in the corner of the video? It's an annotation that says "Visit Advertiser's Site". Since I'm curious, I click on the link and low and behold, I'm on their site and enter for a chance to win in their sweepstakes.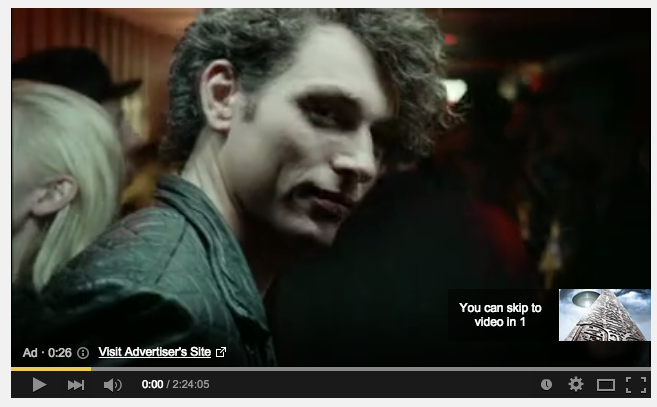 The sad thing is, the campaign was over before I landed on the page, and Heineken missed its chance to get me on its list. Will I see a remarketing ad in the future? Possibly!

Are You Ready To Map Out and Fine Tune Your Lead Strategy?
So what will you do today to insure that your business brings in a continuous flow of qualified leads on a daily basis? Can you begin to map out a refined procedure? Remember, don't just throw content out into the world and expect a beanstalk to grow in your backyard overnight. The business world is not a fairytale.
If you incorporate just a few of these social media strategies into your overall lead generation plan, not only will you be able to grow your business, but you will start a snowball effect that brings in new prospects for the long term. Now put your thinking caps on and start outlining your strategy, or if you're looking to generate more B2B leads watch our latest webinar.

Luis "Mikey" Ramirez is a frequent contributor to the Conversion Sciences blog.

Latest posts by Luis Ramirez (see all)
0
0
Luis Ramirez
https://conversionsciences.com/wp-content/uploads/2019/11/conversion-sciences-cro-agency-conversion-optimization-consultants.png
Luis Ramirez
2015-06-23 14:02:19
2019-03-21 21:31:05
10 Ways to Accelerate and Improve Lead Generation