Driving eCommerce Sales Through Online Quizzes
Online Sales have a growth rate that's 10 times more than their brick and mortar counterparts. This in turn encourages retailers to do everything they can to optimize their selling capabilities. With an emphasis on driving e-commerce sales, finding new and innovative ways to spur online sales requires an effective strategy.
If BuzzFeed hasn't made it apparent already, quizzes have really started to re-emerge over the last couple of years, driving a ton of social traffic and interaction. Using interactive content like quizzes can to attract and engage audiences, generate leads, and increase e-commerce sales.
Here are five examples of successful online quizzes, all built by a quiz building app by Interact.
Read about how to A/B test quiz-style web forms to improve conversion rates on your landing pages.
How Z Gallerie Personalized Their Site to Bring Tons of Leads Per Day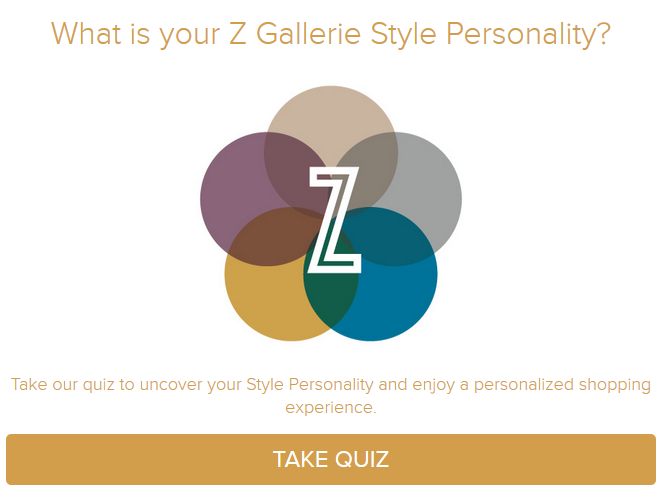 Z Gallerie is a company that offers customers creative furniture and household products from all around the world. They cater to both professional and amateur interior designers alike, with 57 physical stores across the United States and a relatively strong online presence. Z Gallerie created the quiz "What is your Z Gallerie Style Personality?"  to generate leads and to personalize their product line.
Z Gallerie's strategy is to provide a personalized experience for every potential and current customer. This kind of an approach is heavily present in their personality quiz. After six visual questions, Z Gallerie collects our contact information through a lead capture form. Then they follow up in a personal way through marketing automation.
After completing the lead capture form, Z Gallerie's quiz delivers your "Style Personality" with a link to learn more about it. Clicking the link directs you to a personalized page with product suggestions based intensively on the answers you chose on the quiz.
A personalized approach not only keeps customers engaged, it also allows your brand to recommend products tailored specifically to an individual's personal preferences based on your quiz. This lets your brand to create a connection with your customers on a level that would convert them into repeat buyers.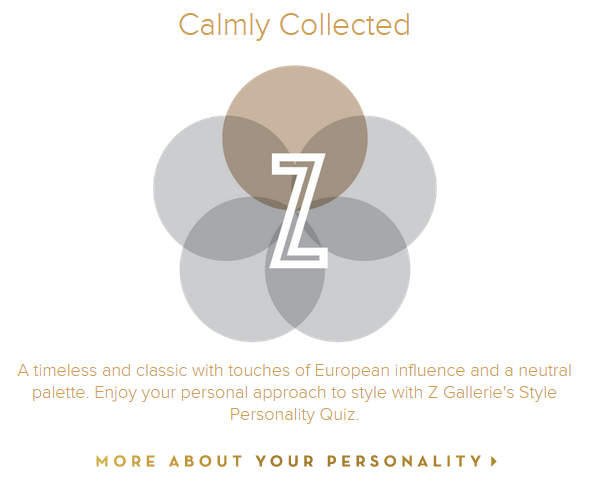 With the help of their personality quiz, Z Gallerie generates significantly increased lead acquisition.
Here's how you can use this strategy for your brand: Create a quiz with personalized results for each individual customer so that you can offer product suggestions specific to that person. This can be done by either recommending one specific product or by assigning people a "personality" that relates to a group of products. Make sure you follow up with marketing automation to keep your customers coming back for more down the road.
How Birchbox Used A Personality Quiz to Differentiate Between Products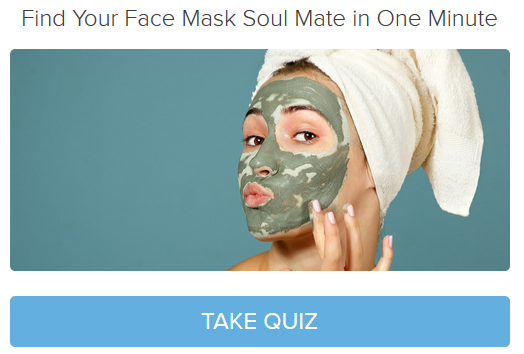 Birchbox specializes in monthly deliveries of personalized samples with original content and an exciting e-commerce shop. Similar to Z Gallerie's reason for creating their quiz, Birchbox created the quiz, "Find Your Face Mask Soul Mate in One Minute" to give personalized suggestions on which facemask to purchase.
Where Birchbox's strategy differs from Z Galleries lies in their execution. While Birchbox followed the same formula of creating a quiz that recommends products based on personalities, they mainly used it to differentiate similar products, most of which were different variations of facemasks.
Birchbox didn't use their quiz to generate leads, but instead used it to place an emphasis on the perfect face mask for their customers. The quiz established a very personal connection with their customers by offering products tailored specifically to them. Personalized experiences such as these help grow the relationship between customers and retailers.
Here's how you can apply this method: Create a personality quiz with results based on your customer's personal tastes. From there, you can recommend the single most suitable product which is awesome because personalized recommendations convert at 5.5 times better than general ones. Who would've known?
How BioLite Capitalized on Trends to Suggest Products Via Online Quizzes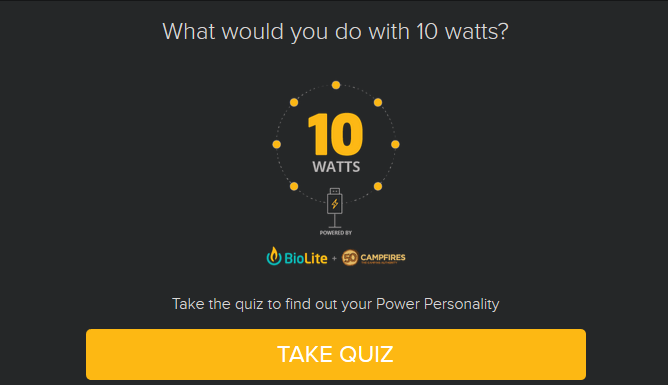 BioLite develops and manufactures advanced energy products that make cooking with wood as clean, safe and easy as modern fuels while also providing electricity to charge cell phones and LED lights off-grid. Essentially, efficient low-energy-required products that you can use or recharge. BioLite created the quiz "What would you do with 10 watts?" to generate leads and to raise awareness on how ready people can be when the power goes out.
BioLite's strategy was incredibly simple. Taking into account the fact that BioLite relies on selling their 10 watt-only rechargeable products, they created a quiz in an effort to raise awareness on power outage readiness. After taking their quiz and getting your results, no matter how prepared you may be, BioLite can still recommend products that may be useful in similar situations.
Like most quizzes with a lead capture form, BioLite asked quiz-takers if they would like to submit their contact information to receive updates on environmental friendly products. The form brought in 4,852 leads.
Here's what you can do to emulate this strategy: Create a quiz that makes people take into account various situations that questions how prepared they really are. This will encourage them to purchase your products in order to be better suited for such situations.
How The Elephant Pants Kickstarted Themselves Into Success Through Quizzes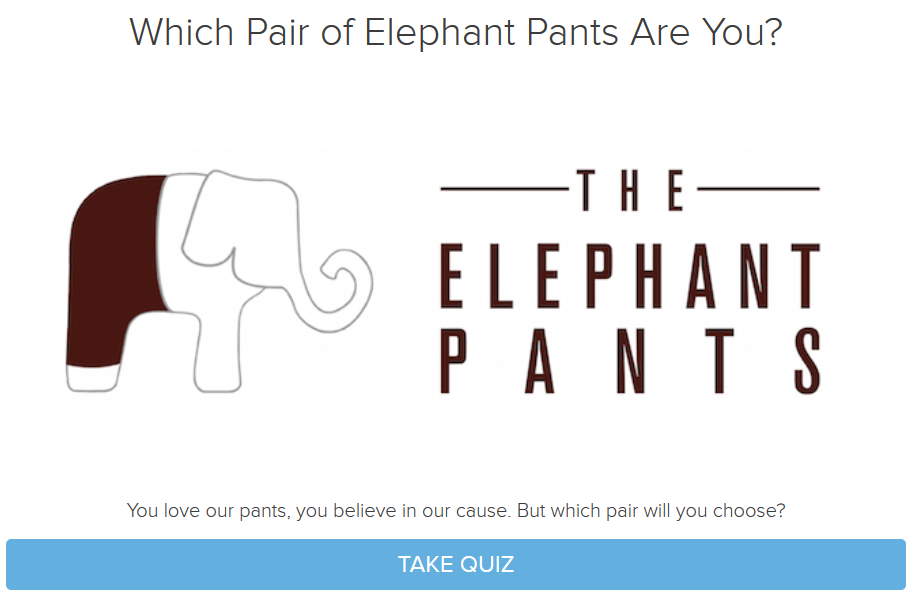 Before The Elephant Pants – a clothing company supporting the African Wildlife Foundation – came to be as successful as they are today, their humble beginnings clung onto the support they received from a Kickstarter campaign. By creating the quiz "Which Pair of Elephant Pants Are You?" and linking it to their Kickstarter, they were able to generate enough leads to fund their launch.
Like the previous examples that we've seen so far, The Elephant Pants also used their quiz to distribute personalized results that recommended a specific kind of product to customers, in this case, a particular kind of Elephant Pants.
The Elephant Pants made sure to add a link at the end of their quiz in the results screen to help fund their Kickstarter. It also opted-in prospective customers to keep them interested and up-to-date with any new developments.
Low and behold, The Elephant Pants Kickstarter was a success, and through quizzes, helped raise over $8,500 which was enough to help the startup launch into a strong business today.
Here's how to deploy this method yourself: Like several of the examples we've looked at prior to this one, create a quiz that recommends possible products that would encourage customers to fund your business so that you can have a lucrative launch. It also lets you develop a strong customer base from the start.
How Aaron Brothers (Michael's) Artistically Uses Quizzes to Generate Leads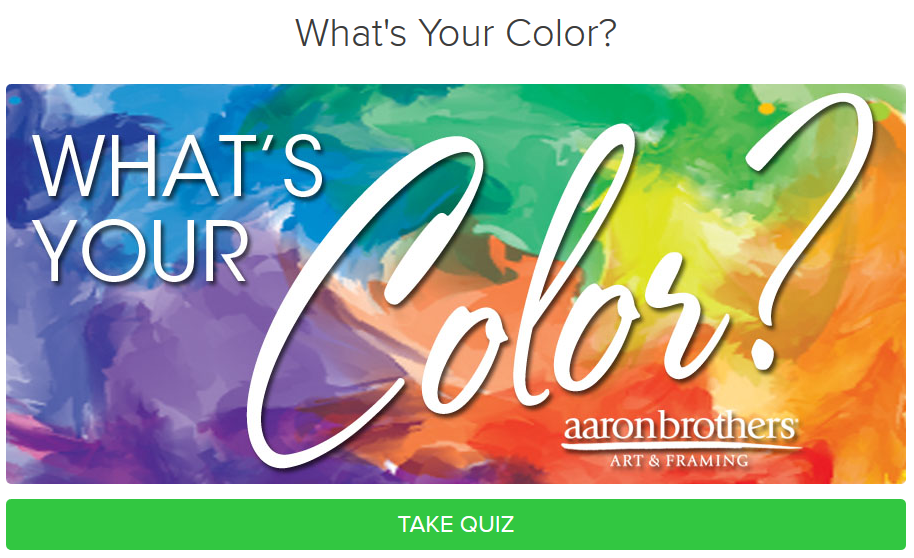 Aaron Brothers (Michael's) takes pride in their merchandise by offering custom framing, art supplies and picture frames. Aaron Brothers also brings the latest fashion designs in framing and home decor. With their artistic sense of style, they created the quiz "What's Your Color?" for the sole purpose of lead generation.
With an emphasis on art, Aaron Brothers created a longer quiz to determine someone's color. It was an entertaining piece of shareable content whose sole purpose is to generate leads for the brand. Personality quizzes that categorize quiz-takers into personalities are highly favored on social media, so they get shares on a frequent rotation.
The quiz ended up generating 515 leads and has been Aaron Brothers' most successful part of their recent color-centered marketing campaign.
Here's how you can draw out the same tactic: You might be tired of seeing this now, but this quiz is pretty much an exact replica of the quizzes that are so popular all over the internet. That's the strategy.
Reproduce the idea of a popular quiz and use it as a means of generating leads.
Reproduce the idea of a popular quiz and use it as a means of generating leads.
Let's Recap And See What We've Learned
As retailers begin to take note of the wild growth of online sales, they're beginning to set their eyes on the most effective and innovative ways to join the bandwagon. So what's stopping us from figuring out the best possible way of driving e-commerce sales?
You've seen how popular quizzes are; how they've swept the nation's social media feeds with simple yet entertaining micro-interactions with shareable results. They aren't just a form of enjoyment, they're a super secret marketing mega weapon!
Once you've set your scope on your target audience, you can use quizzes in a personalized manner as a way of recommending individually-tailored products to customers. Using quizzes to deliver personalized results can help grow a customer base that not only encourages purchases and return buyers, but as a means of generating leads as well!
In the end, quizzes did exactly what these companies set out to do, and that was to drive e-commerce sales in a continually growing industry.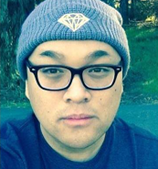 Latest posts by JP Misenas
(see all)
0
0
JP Misenas
https://conversionsciences.com/wp-content/uploads/2019/11/conversion-sciences-cro-agency-conversion-optimization-consultants.png
JP Misenas
2015-10-06 23:35:31
2023-07-25 14:29:23
Driving eCommerce Sales Through Online Quizzes