Donation Throw-down: Social Media vs. Traditional Media
When the Arizona PBS station asked Lon Safko to do a first-of-its-kind special on social media, they didn't know what they were getting in to. Lon knew that this was going to be a throw-down between social media vs. traditional media, measured in donation dollars.
Believe it or not, KAET AZPBS does not do an online version of their specials during their key fundraising times.
We are changing that.
This is the first airing of a television program on the entire spectrum of social media. It will introduce the audience and businesses to the full potential of social media, from Twitter to Second Life. Lon addresses issues such as privacy, using social media as a meeting tool, and finding work using social networks.
We are pleased to work with some very innovative folks at AZPBS, but they are steeped in "the way things are done around here" syndrome. However, they have agreed to work with us to measure the effect of an aggressive social media program. I've joined Lon to see if social media can out-raise their on-air spots in a very real and measurable way and I can't wait to see the data.
If we are able to demonstrate the donation-raising power of social media, more of these excellent programs will be available online. Furthermore, a successful program will get national coverage in June. If you help out, we can change hearts and minds across the nation.
This is where you come in.
Where You Can View this Special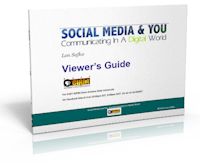 Download the Free Viewer's GuideTo View Online – You can view a pre-cast of the AZPBS special on Facebook. You can watch it in its entirety.
To View on Live TV (Arizona Residents only) – The on-air broadcast will be at 10:30pm MST.

Ways to Show your Support
The title of the AZPBS special is Social Media and You: Communicating in a Digital World. It will air online first and then be broadcast through Arizona TV stations later in the evening. Now is your chance to send a very real message to television stations everywhere. Vote for social media by donating online.
You can donate and show your support the following way:
    
Watch the special online at www.22s.com/LonSafko starting March 6 starting at 10:00pm EST. You can sign up for a reminder on this page now.

    

If you support public broadcasting, donate through the link on the page.

    

Spread the word.
Once you have viewed the special and donated to support local broadcasting, make sure to share this information with your friends, family, business associates, and anyone else you can think of. Note: you can donate at any time, even now.
Your donations will go to KAET AZPBS, home of the Walter Cronkite School of Journalism and Mass Communication at Arizona State University. Is there a more appropriate place to start a revolution?
Will you join in the Throw-down?
Be sure to get your reminder and watch the program. Donate if you support public broadcasting, and let's make some history together.
Here's a sneak peak of Lon talking about mobile marketing.
Special thanks to our media pioneers: 22Social, Andrea Vahl, Phyllis Khare, Jamie Turner, Brian Massey and of course, Lon Safko.

Latest posts by Brian Massey
(see all)