Conversion Optimization Supernova
In 2014, we declared Austin, Texas the Conversion Optimization Capital of the World. We will be updating our yearly list of Austin's greatest conversion minds on CRO Day, April 9. Subscribe and see if you agree.
If Austin is the conversion capital of the world, it was a supernova of conversion optimization brilliance this past week when the Conversion XL Live conference was held here. Luminaries from around the globe converged here for a program that covered topics from landing page design to "bandit" algorithms.
I learned a lot.
Here were some of the highlights for me.
The Dame, The Detective and the Double-cross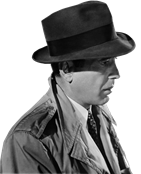 I used Humphrey Bogart detective movies to illustrate that conversion optimizers use a variety of data sources to determine what to test and what not to test.  The femme fatale will appear in the detective's office and pose a problem. The salty detective will investigate, looking for clues. If he's not careful, he can be double-crossed by the data.
For a data detective, the initial hypothesis is the "dame's" story. Of course, she is hiding something. He must find clues to tease out the truth using alternative data sources. He can use post-test analysis techniques to make sure he wasn't double-crossed by his data.
Some of the alternative sources I discussed were:
Aggregated Behavioral data like Google Analytics and AB Testing Tools.
Aggregated User Interaction data like click tracking tools and form-tracking tools.
Individual User Interaction data, like session recordings, ratings and reviews data and live chat transcripts.
Self-reported data, such as surveys and online feedback.
Customer knowledge, often found by interviewing sales and customer support people.
When you prioritize hypotheses that have lots of support in data, you keep yourself from being double-crossed by unexpected results.
Mobile Website Design
We believe that the mobile Web is like the desktop Web in the 1990s: we will look back and laugh at the choices we are making today.
Amy Africa has done a lot of testing on mobile websites, and gave us a flood of Mobile Web 2.0 tips. My notes were extensive, but some of the her revelations were surprising.
Don't think in terms of pages. Think in terms of screens and scrolls.
Make your "action directives" (action buttons, search options, etc.) big and bold.
80% of mobile success is having the right navigation.
One third to one half of mobile visitors will use search. Design search results pages as if only three items will be seen.
Mobile forms are abandoned more often on mobile.
Email is of even bigger importance with mobile users than desktop users.
Social logins can reduce abandonment if done right.
"Oversell the phone number" in the purchase process.
Responsive design comes with a mobile performance hit.
Transfer mobile visitors to the desktop by sending email or text.
Email will make up for deficiencies in the mobile experience.
She introduced me to some new terms, including "donuts", "spreaders" and "cart hoppers."
It's clearly an exciting time in the mobile world.
Predictive Analytics and Machine Learning
Matthew Gershoff introduced us to the world of predictive analytics and machine learning.
Optimization = Learning efficiency + Applying the "best" learnings
New tools, such as his company Conductrics provides tools that use the key ingredients of optimization.
Setting goals
Sensing the environment, usually through analytics.
Having the ability to act and execute on learnings.
Observing outcomes.
Learning the decision logic of visitors.
These ingredients are the basis for machine learning.
He recommended courses on VideoLectures.com to get up to speed on machine learning and artificial intelligence.
Conversion Maturity Model
Brooks Bell was interviewed by conference host Peep Laja about the Conversion Maturity Model that defines how advanced an organization is with respect to optimization.
Her namesake company surveyed 300 companies, rating them on six criteria.
Culture
Team
Tools and Systems
Process
Strategy
Performance
The executive sponsor at a company is key to the success of the optimization effort, she pointed out. Very true.
Conversion Optimizers from Everywhere
Austin truly was the Conversion Supernova of the World.
In from Vancouver, Oli Gardner of Unbouce took us through the rules of good landing page design. He provided us all with some free tools to help us evaluate our landing pages and forms.
André Morys runs one of the largest conversion optimization companies in the world. He's both hugely entertaining and German.
Michael Aagard flew in from Denmark to share some of his most embarrassing testing mistakes and his triumphs.
Yehoshua Coren is a cross-cultural phenomenon as the Analytics Ninja from Israel.
Lukas Vermeer traveled from The Netherlands to share his conversion challenge game, So You Think You Can Test?
Michael Summers of Rockville, MD showed us the powerful insights to be gained from eye-tracking studies.
Anita Andrews showed us how using the wrong goal will result in poor testing decisions.
You should be at ConversionXL Live next year.

Latest posts by Brian Massey
(see all)
0
0
Brian Massey
https://conversionsciences.com/wp-content/uploads/2019/11/conversion-sciences-cro-agency-conversion-optimization-consultants.png
Brian Massey
2015-03-17 16:00:52
2021-05-03 12:35:43
Conversion Optimization Supernova