Mobile Apps, Mobile Email, Infographs and Viral Video Formulae: For Further Study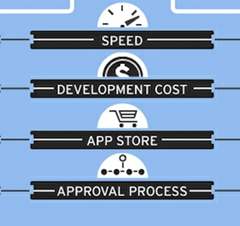 These are the stories that caught the eye of The Conversion Scientist last few weeks. If you are a curious marketer looking to learn more about conversion, please subscribe my weekly recommended reading list, For Further Study.
Mobile Site or Mobile App: Which Should You Build First? [INFOGRAPHIC]
I only touch on the issue of Mobile Apps in my new book Your Customer Creation Equation. So I'm happy to share this very helpful infographic on Mobile websites vs. Mobile apps.
Is it just me, or is it clear that mobile websites are the way to go (except in extreme situations)?
Buddy Media CEO Makes Unforgettable 'We Got Bought' Video
How is this touching video different from your corporate press release? In every way. "The Human Voice is Unmistakeable." In Your Customer Creation Equation (coming in June) I make the point that your business should be using the content it naturally makes to feed your audience.
Clearly Michael Lazerow is good with an iPad and Keynote.
What are you good with?
How to Build and Operate a Content Marketing Machine | SEOmoz
It is a great sign that @SEOMoz included Conversion in their grand plan for Content Marketing. This infograph considers conversion a key component of content marketing, but in my upcoming book on conversion I make content a key part of conversion marketing. Different approaches, same result.
Enjoy the Infograph.

Latest posts by Brian Massey
(see all)