Dan Siroker, Founder of testing platform Optimizely offers six key ways to improve the conversion performance of your pages. This was captured live at the Conversion Conference Chicago 2012 by yours truly.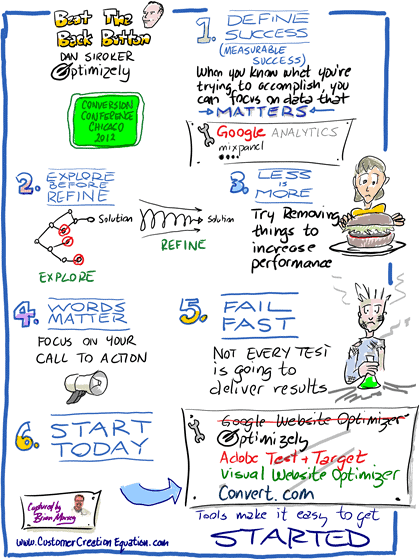 Define Success
Explore before you refine
Less is More
Words Matter
Fail Fast
Start Today
Brian Massey is the Founder and Conversion Scientist™ at Conversion Sciences. He is the author of Your Customer Creation Equation. His rare combination of interests, experience and neuroses were developed over almost 20 years as a computer programmer, entrepreneur, corporate marketer, international speaker and writer.
Get a Free Chapter
I've written a tell-all with juicy details about how to run a high-converting website. Become a friend of the author for free chapters and bonus content from Your Customer Creation Equation: Unexpected Website Formulas of the Conversion Scientist
.