Color preferences are deeply rooted emotional responses that seem to lack any rational basis, yet the powerful influence of color rules our choices in everything from the food we eat to the clothes we wear to the cars we buy.
    
One study found that magazine readers recognize full-color ads 26% more often than black-and-white ads.

    

92.6% of people say the visual dimension is the #1 influencing factor affecting their purchase decision (over taste, smell, etc.).

    

2 out of 3 consumers will not buy a large appliance unless it comes in their favorite color.
Color has a powerful psychological influence on the human brain. Others have used color to their advantage and now you can do the same. Check out this infographic by our friends at KISSmetrics.

Source: How Colors Affect Conversions – Infographic
Brian Massey is the Founder and Conversion Scientist at Conversion Sciences. He is the author of Your Customer Creation Equation. His rare combination of interests, experience and neuroses were developed over almost 20 years as a computer programmer, entrepreneur, corporate marketer, international speaker and writer.
110 Point Ecommerce Checklist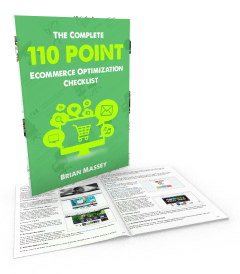 Our Best Ideas for Ecommerce Websites
We assembled our Conversion Scientists in a room and asked them to list out what they consider testing when given an ecommerce website.
This is what they told us.
110 ideas in 17 pages
Full color examples
From the home page to the cart.
Keep this resource on your desk always.

Embed This Image On Your Site (copy code below):