We have all done it.
We have a purchase in mind. We drive to the store, any store, and focus all of our attention on completing this mission successfully.
We wander aimlessly around crowded aisles and end caps stuffed with closeouts and uncategorized "junk". Giving up the scavenger hunt, we now look for a customer service attendant to help us out.
We wait. We continue to wait until we catch the eye of a reluctant employee. We ask for help and low and behold, they are out of stock.
What do we do now? We order it on Amazon.
You still might be asking yourself, if only 10% of purchases are made online, how is it that Amazon is kicking Walmart's butt?
Selection
Price
Availability
Highest Customer Service Ratings
Jeff Bezos says "We are not in the business of selling books, but of helping our customers buy books."
2/3 of Amazon visitors are return visitors.
Amazon can tell an email was unsuccessful as soon as it goes out.
Amazon changes their pricing 2 million times per day – no one can compete with that.
Brian Massey attended Conversion Conference San Francisco and captured this infodoodle of Bryan's Keynote Presentation: How Amazon Uses Relentless Customer-Focused Optimization to Crush Competitors.
Share this Image On Your Site
Please include attribution to Conversion Sciences with this graphic.

Shelly Koenig
110 Point Ecommerce Checklist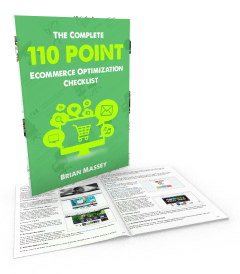 Our Best Ideas for Ecommerce Websites
We assembled our Conversion Scientists in a room and asked them to list out what they consider testing when given an ecommerce website.
This is what they told us.
110 ideas in 17 pages
Full color examples
From the home page to the cart.
Keep this resource on your desk always.