4 Automated Email Responses With Insanely High Conversion Rates
When you think of email marketing for your eCommerce site, what comes to mind? Like most eCommerce business owners or managers, you might be thinking about the newsletters you send to your email list subscribers or the transactional emails that go out automatically once a shopper on your site completes a purchase.
But think about this:
Time and time again, email has proven to be an excellent tool to help you not only engage with your shoppers but ultimately increase conversions for your eCommerce site.
With that in mind, what if you could leverage the power of email to convert more traffic into sales?
I'm talking about using automated email responses to bolster your conversion rate optimization strategy.
If you're wondering what email and CRO have in common, not to worry. (We'll get to that in a minute.)
As an online retailer or eCommerce manager, your ultimate goal is to convert your site traffic into sales, right?
In this article, I'm going to share with you the powerful connection between email marketing and conversion rate optimization, plus I'm going to show you the exact four automated email campaigns you can use to drive a winning conversion rate optimization strategy for your online store.
Using Email to Convert More Window Shoppers Into Paying Customers
The scary truth about eCommerce is this: Most of your traffic isn't converting. That's traffic that you've likely put in a lot of effort to driving to your store, in the first place, whether it be from PPC, SEO, or social media.
Naturally, this is where CRO comes in.
And as you probably already know, optimizing your site for conversions is truly a science.
It takes careful examination of data to really win at CRO. And in 2017, there's no shortage of tools at your disposal to do so.
Have a look at this eCommerce site's analytics, for example: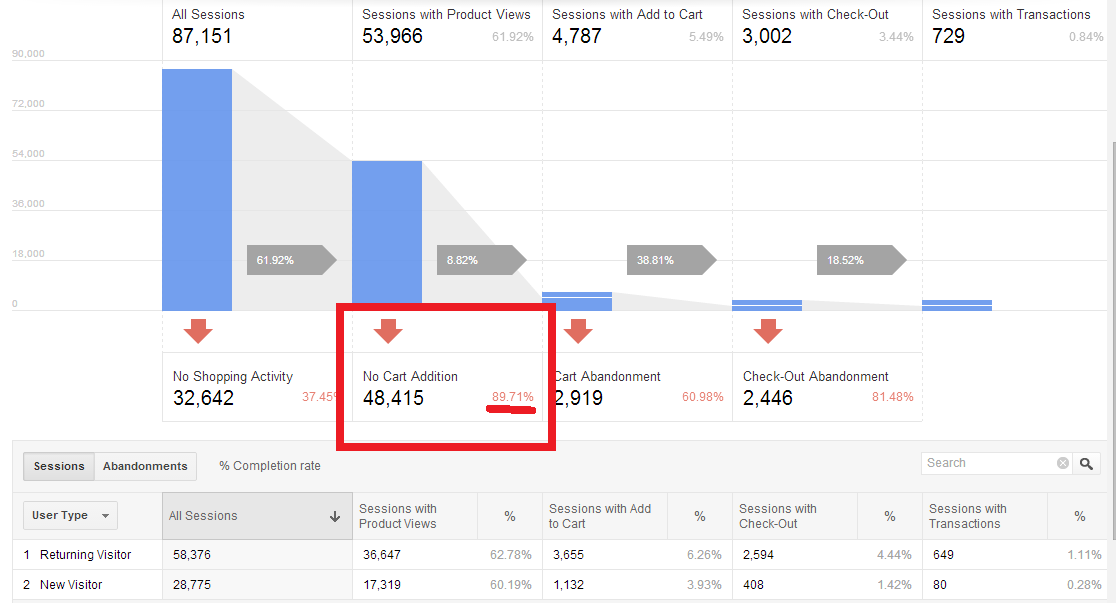 In this case, nearly 90% of this eCommerce site's traffic left without adding anything to a cart.
Generally, only about 5% of your website's traffic will make it to your cart page, so while it's great to implement on-site CRO tools to keep shoppers on your site for as long as possible in the hopes that they'll complete a purchase, there's got to me more that can be done to leverage the rest of your site traffic that's slipped away.
At this point in digital marketing history, most retailers and marketers know about and may be using cart abandonment emails to bring back lost traffic. Cart abandonment campaigns and exit-intent technology powering on-site messaging are just two examples of how you can increase the reach of your overall conversion rate optimization strategy.
But how can you take that same approach of addressing seemingly lost shoppers who've expressed high levels of purchase intent and apply it to more of your site traffic to lift conversions?
The answer is Browse Abandonment Emails.
Browse Abandonment Email Campaigns: The Key to Unlocking More Conversions
What is browse abandonment?
As you can see, your eCommerce site traffic reaches various steps in the shopping funnel. About 30% reaches a category page; 20% reaches a product page.
When you take a look at this data, you may be asking yourself, how can I effectively convert shoppers at each step of the way rather than losing them?
The most common tactics for getting more site traffic to convert generally address the elements on your actual site.
On-site optimization is great. You can:
Add strategically placed popups to various pages and keep shoppers on your site for longer
Optimize your pages with trust signals like ratings and reviews to increase the likelihood that a shopper will purchase
Incentivize shoppers with special offers and discounts
Improve UX/UI to make it easier for your shoppers to sail through the checkout
But what about when the shopper leaves before completing the purchase? Are you just going to let them get away forever?
Enter Browse Abandonment Email Campaigns.
Similar to cart abandonment email campaigns, browse abandonment campaigns help you engage with these shoppers through automated emails that bring them back to your site. This helps you recapture the site traffic you nearly lost.
How much more?
They can be used to reach up to 5x more shoppers, bringing them back to your site to complete a purchase.
These emails are great because you can send them to the shoppers who drop off at various steps in the shopping funnel, creating more engagement and conversion opportunities, and therefore, getting more out of your site traffic.
Here's an example.
If a shopper left after visiting your homepage, you can send a Homepage Browse Campaign.
If a shopper viewed a category but never went on to check out individual products, you can send a Category Browse Campaign.
If a shopper viewed specific products on your site yet never added any to their cart, you can send a Product Browse Campaign.
Another point in the shopping funnel you can address is your site search. If a shopper searched for a term or product keyword on your site yet never continued in their shopping journey, you can send a Site Search Abandonment Campaign, too.
Take a look at how well browse abandonment campaigns perform:
In this case, browse campaigns converted almost 7x higher than all other channels and campaigns, including the site's newsletter.
Here, the conversion rate of automated email responses beat the conversion rate of all channels by more than three to one.
What makes these automated emails so effective?
For one, these campaigns engage the shoppers who dropped off earlier on in your shopping funnel, so your reach is much greater than other email campaigns.
It gets better.
Browse abandonment emails can be highly personalized, which means they can work extremely well for any online retailer. Given that 81% of shoppers report they are highly likely to purchase from a site that sent them personalized emails, these behaviorally-triggered and highly personalized messages work.
Now that you know how browse abandonment campaigns work, I'm going to show you examples of the 4 automated emails we spoke about earlier so that you can send them to your shoppers and convert more browsers into buyers.
Capturing Emails For Automated Responses
So how do we capture emails when users are just browsing?
The simplest answer is that there is no correct answer. There are literally hundreds of lead capture strategies, with new technologies coming out every day.
That said, here are a few different methods you might use to grab browser emails:
Exit-intent popups
Discount offers
Newsletter signups
Site login
Lead magnets
Etc.
It's also possible that you already have the user's email address through previous engagement or the way they arrive at your site.
For example, if you run a cross-promotion with a 3rd party's email subscribers, you can set it up so that when they click-through from the email to your website, you automatically receive their email address.
Regardless of how you collect the email address, these are some of the best automated email responses you can send to visitors after they leave your site.
Automated Campaign #1: Homepage Browse Abandonment Email
Homepage browse emails are a great way to engage with shoppers who landed on your homepage but never went on to explore your site further. Invite them back with product recommendations that showcase your site-wide top sellers.
Average open rate: 22%
Average CTR: 16%
Average revenue per email sent: $0.61
Automated Campaign #2: Category Browse Abandonment Email
You can send category browse emails to the shoppers who expressed interest in a category, brand or department on your site but did not proceed to view any individual products.
Peak the interest of these shoppers by displaying product recommendations that are related to the category they viewed and additional options that include site-wide top sellers.
Average open rate: 42%
Average CTR: 27%
Average revenue per mail sent: $1.71
Automated Campaign #3: Product Browse Abandonment Email
Product browse emails are very similar to cart abandonment emails in that you can use them to engage with abandoning shoppers who expressed a high level of purchase intent. The kicker here is that there are a lot more of your shoppers looking at products than those who click "add to cart" so your conversion potential here is much greater.
Invite these "warm leads" back to your site by displaying the product they viewed plus related product recommendations.
Average open rate: 52%
Average CTR: 26%
Average revenue per mail sent: $3.42
Automated Campaign #4: Site Search Abandonment Email
Site Search emails are important because they allow you to reach out to shoppers who were clearly searching for something on your site yet for some reason they did not find what they were looking for.
Use these emails to invite back those lost shoppers and help them find what they were looking for.
Average open rate: 52%
Average CTR: 28%
Average revenue per mail sent: $2.85
The Expert CRO Strategy That Most Merchants Aren't Using
By now, you may be asking yourself, if browse abandonment emails perform so well, why aren't more online retailers using them as part of their CRO strategies?
Larger retailers like Amazon have been sending personalized email messages like these for ages, but smaller guys, not so much since it used to take large development and marketing teams and even larger budgets to implement strategies like this one.
Luckily, things are now changing.
With more automated personalization tools for email available to eCommerce businesses, you can now send highly-targeted, behaviorally triggered browse abandonment email campaigns to your shoppers, no matter how big or small your business might be.
This year, optimize your business for higher conversions by using the most effective marketing channel to leverage more of your site traffic, and reap the rewards all year long.
Latest posts by Jacob McMillen
(see all)
0
0
Jacob McMillen
https://conversionsciences.com/wp-content/uploads/2019/11/conversion-sciences-cro-agency-conversion-optimization-consultants.png
Jacob McMillen
2017-03-30 09:16:45
2023-07-25 14:49:04
4 Automated Email Responses With Insanely High Conversion Rates