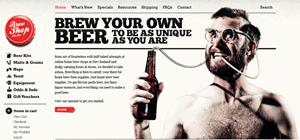 These are the stories that caught my eye last week. If you are a curious marketer looking to learn more about conversion, please subscribe my weekly recommended reading list, For Further Study.
For more, sign up to get a copy of my up-coming book: The Customer Creation Equation: Unexpected Formulas of the Conversion Scientist. You'll also get a free 40 minute video on your Conversion Formula.
Are You Saying "No" When You Could Be Saying "Yes" in Your Web Forms? | UX Magazine
Feb 29, 2012 11:27 pm
If all problems are opportunities, then error messages and error pages are generally missed opportunities. Marketing should be policing the errors reported on their website, messages that are usually written by a techie in IT. John Ekman give us five steps toward writing error messages that say "Yes!" instead of making the visitor feel like an idiot.
Tags: forms web error
read more
The Product Page 2012: 7 Must-Test Elements
Feb 27, 2012 08:22 am
@TheGrok  says "Test your product headline to be benefit oriented as opposed to just product name." I hadn't considered that. Good lists always tell you something you hadn't thought of and Bryan has such a list for Online Stores and Publication sites who feature their offerings on Product Pages. Product pages are the money pages on your site, and are one of the first places to look for optimization opportunities.
Tags: product pages testing split e-commerce online store
read more
The Shocking Truth About How Web Graphics Affect Conversions
Feb 27, 2012 01:14 am
@KISSMetrics – David Ogilvy is experiencing something of a renaissance these days as his experience and research in offline marketing are proving true in online marketing. And we need him. Images are an abused medium on the Web, and this article points out mistakes that you are probably making.
There are some real nuggets here, such as "Captions under images are read on average 300% more than the body copy itself" Ask your designer what research he has for his decisions.
This is an important article, and you should read it before you blindly follow the advice of lazy designers.
Tags: design images photography stock
read more
The following two tabs change content below.
Brian Massey is the Founder and Conversion Scientist™ at Conversion Sciences. He is the author of Your Customer Creation Equation. His rare combination of interests, experience and neuroses were developed over almost 20 years as a computer programmer, entrepreneur, corporate marketer, international speaker and writer.
Latest posts by Brian Massey (see all)
https://conversionsciences.com/wp-content/uploads/2018/11/conversion-sciences-conversion-optimization-agency.png
0
0
Brian Massey
https://conversionsciences.com/wp-content/uploads/2018/11/conversion-sciences-conversion-optimization-agency.png
Brian Massey
2012-03-16 17:43:52
2019-05-06 12:56:29
Web Forms, Product Page Testing and Shocking Web Graphics: For Further Study