They friend you. They fan you. They pin you. They follow you.
BUT how often to they customer you? How often do they buy, subscribe, or register? How often can you get your fans and followers to convert?
When you get customered, your business grows, you gain another social influencer, and you get proof that your social media strategy is delivering what your social network wants.
They "liked" Me
BUT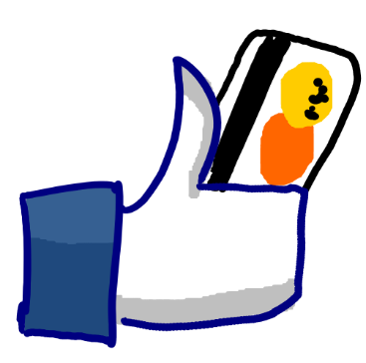 They didn't "customer" me.

Getting customered is an important part of the social media life cycle, and it's also one of the trickiest. First, you need to recognize the potential within your social networks.
The possibilities Within Your Social Networks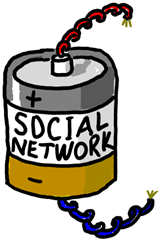 Your social networks store potential, like a battery stores voltage. What you need to do to charge your social battery:
Get Noticed
Get Liked
Get Followed
Get Connected
Sounds great, right? But, how do you hook up to the juice that turns that potential into leads and revenue? Tapping this potential requires that you connect your social battery to something of interest to both you and your social aficionados.
Use Content for Wires
As you know, there is a plethora of content out there and it comes in many forms. Content might be blog post links on Twitter, contests on Facebook, and product pictures on Pinterest. Without the content, no one is going to find their way back.

Many of us already have content strategies for our social networks, but what gets people to customer us when they visit? How can we get engage our customers?
Content. Content drives engagement.
Connect Them to Your Landing Pages
Unfortunately, once read, content is quickly dismissed. No matter how great your content is.
Keep in mind that most visitors spend only a few seconds on a new site deciding whether to engage further with the content or to click the "Back" button. So if your landing page is forming the bridge that introduces your new visitors to the rest of your site's content, it's vital that this page be as compelling as possible in getting new visitors to investigate further.
What is the next step for me as a visitor and potential customerer of your business?
The secret is to treat your content pages as social media landing pages.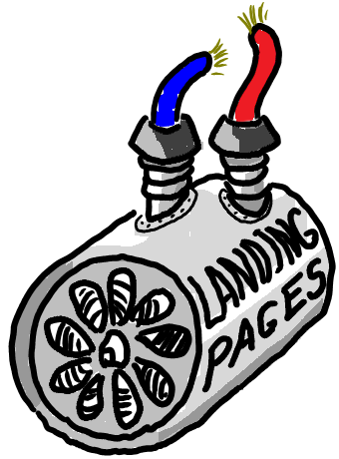 A landing page is a single minded page designed to do two things:
Keep the promise made by the link that was clicked.
Get the reader to do something that benefits them and your business.
A Social Media landing page, then, is a single minded page designed to:
Deliver the content promised.
Get the reader to customer you.
Both pages have content that delivers on a promise and a call to action that entices readers to do something wonderful.
Where do Social Media Landing Pages Live?
Social media landing pages live anywhere you are drawing social visitors.
Your blog content pages have the content, but do they have the call to action? Is the call to action where it can be seen? – Add calls to action in or near the content.
Your email signup pages have the call to action, but do they have the content that makes signing up appealing? – Give subscribers a better reason to sign up than "Get on another mailing list."
Your lead generation pages, offering gated content have the call to action, but do you talk about the content you are offering, or do you talk about our company and your products instead? – Any page to which your friends, fans and followers might come in search of education or entertainment qualified as a social media landing page.
Product pages on eCommerce sites, are another frequent social media landing page. The call to action is invariably there: Add to Cart.
Ask yourself the following questions about your social landing pages:
What content topics generate the most engaged visitors?
Will more visitors comment if you simply ask them to?
Where should your conversion beacons be: in the sidebar column, before or after the post or in the copy?
What offers draw more clicks on your conversion beacons?
For more information about social media landing pages, Read Brian's article "The Anatomy of a Great Social Media Landing Page".
Remember that these are Social Visitors
Given that your visitors are coming from a social network, they will be more likely to want to see social content with the product information. You should oblige them.
Consider star ratings and reviews for your products.
Use social proof. How many others have customered (bought) this product? How many friends, fans and followers do you have?
Don't invite them to become a friend, fan or follower. They already are. The only choice they should have is to customer you.
It's one thing to get people to friend, fan, follow, and flatulate. It's quite another to get them to customer you. Use content to connect your social batteries to social media landing pages and get customered.
Images by Brian Massey

Podcast: Play in new window | Download
"Getting Customered: Improving Your Social Media Conversion Rate" was recorded at Engage Mexico 2013 in Puerta Vallarta.
Can't get enough? Check out
Get Customered: Social Media Conversion Rate
PowerPoint Presentation.
[signature]
[sitepromo]

Latest posts by Brian Massey
(see all)
https://conversionsciences.com/wp-content/uploads/2019/11/conversion-sciences-cro-agency-conversion-optimization-consultants.png
0
0
Brian Massey
https://conversionsciences.com/wp-content/uploads/2019/11/conversion-sciences-cro-agency-conversion-optimization-consultants.png
Brian Massey
2014-03-03 11:00:06
2014-03-03 11:00:06
Get Customered: Improving Your Social Media Conversion Rate [AUDIO]