Use Your Customer's Voice to Create Powerful Content that Converts
With the use of social media and web access at all-time highs, it's more important than ever to create powerful content that converts and makes sure that you engage with your customers. With the 2018 marketing trends in mind, leads and potential customers are looking for a personal touch. They want an account of how your product or service works, what people are happy with and what challenges they face in using it. They do not want a marketing funnel.
This is where using your customer's voice comes in. When used right, your current customers' voices can be used to create powerful content that actually converts leads!
For the purpose of this post, you can all but forget fancy terms and processes. Conversion funnels, influencer marketing, engagement – these all have a place in business, but it's not necessarily here. Instead, this post is all about why interacting with current customers is so important and how you can use this interaction to create authentic content. This is the kind of content customers are looking for – and it just so happens to be the kind of content that converts.
The Importance of Leveraging Honest & Authentic Reviews
At the base of using your customer's voice to create powerful content is a preliminary step; encouraging and gathering honest and authentic user reviews. Without customer reviews, you won't have much to go off of when it comes to incorporating customers' perspectives into your content planning!
Thankfully, there is no shortage of review sites available to B2B and software companies. Do your research. Take the time find one or two that fit your business and your customer profile. Then take the time to invite (and maybe even incentivize?) your customers to submit reviews about your software, your service, your product. This will have more than a few benefits for your company, including:
It gives credibility:

Content plan or not, opening up your service or product to authentic reviews is just a good idea – full stop. Instead of having to convincing leads with marketing language, you can rely on informative and positive feedback from current customers to help potential customers make their decision.

More leads:

More customer reviews means more exposure and a better ranking, which means more leads. It's as simple as that.

A pool of content:

Of course, this is the focus of the post. Encouraging reviews gives you a pool of customer feedback to incorporate into your marketing content! Positive reviews can be translated into featured website content, blog posts, social media content, and more.
Using Your Customer's Voice to Create Content That Converts
Of course, it's not enough to simply open up your company to authentic customer reviews and leave it at that. You can take the time to translate your customer's voice into marketing content! There are a few ways to go about this.
#1: Manage Your Potential Customer's Expectations
You can use reviews to help potential customers understand what your service, product or software looks like in practice. Instead of imagining everything they could do with the features, customer reviews give leads the chance to explore how your product will truly work for them.
For example, sharing customer reviews that highlight specific features of your service or product will speak more specifically to a smaller target audience.
#2: Customer Experience Speaks Louder Than Marketing Language
This is absolutely the main benefit of customer reviews; you can use all of the positive quotes you want in developing a content strategy! You can incorporate reviews (especially specific and helpful reviews) into blog posts, landing pages, social media content, and even demos!
For example, try replacing the headline copy on one of your landing pages with a quote from an authentic user review. Run an A/B test and see how that page compares to others.
#3: Listen to What's Important
If your current customers are focusing on technical support and price in their reviews, then you shouldn't really be spending that much time on something else. Look at what features customers focus on in their feedback, and spend time developing content around those features.
For example, if most reviews focus on the quality for the price, you can use that in your marketing language for paids. Similarly, if customers are highlighting your customer service, home in on that for attracting new customers.
This should get you started on using your customer's voice to create content that converts going into 2018!
About the Author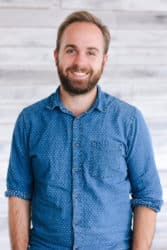 Brooklin Nash writes about the latest tools and small business trends for TrustRadius. When he's not writing, you can find him reading YA dystopian fiction (with guilty pleasure) and cooking.
Latest posts by Brooklin Nash
(see all)