Turn Those Recorded Webinars into Kick-Ass Lead-Generating Content [AUDIO]
An article in the Gardian says, "Brands need to think like publishers to build effective content marketing work flows and outcomes including applying the science of accepted newsroom practices." For an overworked, understaffed marketing department, this is a daunting thought.
This audio program will show you how to turn up the frequency and quality of your content output, with a minimum of time and resources. In this presentation, we'll introduce you to the content cascade.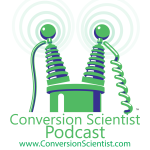 Podcast: Play in new window | Download
Subscribe to the Podcast
Links from Podcast
Slides
If you enjoyed this, please leave a
review on iTunes
!
How often are people publishing content?
Almost 70% of 100 online marketers surveyed are releasing content at least weekly. Blogs are important, too. Almost 56% are updating their blogs at least weekly.
There's only one reliable indicator across industries for increasing the traffic to your site and that is the frequency of your blog posts. The more frequently you publish, the more your traffic will grow and the faster it will grow.
What is a content cascade?
A webinar represents a point in time in which a subject matter expert has organized a topic relevant to your business. The main points, graphs, and data have been assembled and organized. This is the hard work of content marketing.
The content cascade uses inexpensive and free tools to turn the graphics and the audio into sharable content of different types. The subject matter expert has done all the work. They've prepared the material, you now can create eBooks,  infographs, white papers, blog posts, and reports.
That is what we call the content cascade. Listen to my webinar in its entirety to find out how you can turn those webinars sitting in your resource tabs collecting dust, into kick-ass content that converts.
Links to Resources Mentioned
Hublished for Webinar Management
Camtasia Studio for recording audio and slides
Transcribe Me and SpeechPad for transcriptions
PowerPoint for graphic design
BoxShot and BoxShot3D for Product images
Infogr.am for Infographics
Audacity for editing audio
BluBrry Podcast Hosting
Hootsuite Pro social media
Twitterfeed social feed
ClicktoTweet social sharing
Slideshare for presentations
Embed Code Generator for WordPress
Unbounce, Lander and LeadPages for landing pages.


Latest posts by Brian Massey
(see all)