How a Testing Culture will make you the Zappos of Your Industry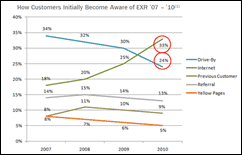 It's happening in every industry as we speak. Decision makers are looking at information that tells them how the Internet is impacting their business and their industry.
It may be happening in your office.
A decision is going to be made:
a) To continue with business as usual
b) To commit to the Internet as a crucial part of the future of the business
Those businesses that choose a) may not be here in 24 months. Those that choose b) may not either, but if they are they will be the leader in their space.
In my Search Engine Land column 5 Ways to Jump Ahead in Your Industry, I outline the characteristics of a testing company, like Zappos or Amazon. These are the characteristics that can result in astonishing growth and amazing profitability. They include:
    

Accept The Internet As A Lever

    

Develop A Testing Culture

    

Invest Where It Counts

    

Know Your Numbers

    

Take A Non-Commodity Approach
It is no small feat to accomplish these, but those that do will enjoy a lead in their industry that will be hard to usurp by competitors.
Thanks to Extra Space Management for sharing their results with us at the Phone Smart Unconference Hawaii.

Latest posts by Brian Massey
(see all)