Team, tech, process and scale: these are the primary components shared by Tania Shershin of Homeaway at the Which Test Won Live Event in Austin, Texas.
We captured the high-points of her presentation live in this instagraph infographic.
If you want to create a culture of testing in your organization, here is a roadmap to success.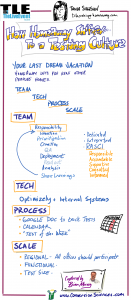 Click to Enlarge
[sitepromo]
[signature]
The following two tabs change content below.
Brian Massey is the Founder and Conversion Scientist™ at Conversion Sciences. He is the author of Your Customer Creation Equation. His rare combination of interests, experience and neuroses were developed over almost 20 years as a computer programmer, entrepreneur, corporate marketer, international speaker and writer.
Latest posts by Brian Massey (see all)
Brian Massey
https://conversionsciences.com/wp-content/uploads/2018/11/conversion-sciences-conversion-optimization-agency.png
Brian Massey
2014-09-09 16:41:29
2014-09-09 16:41:29
How Homeaway Shifted to a Testing Culture [INFOGRAPHIC]