Grow Your Email List With These Recommended Tools
How do you grow your email list quickly and effectively? Do you advertise on social media, use special list building software, or do you pray to the lead generation gods for better, quality leads?
How many tools do you really need to list build? Maybe a dozen?
60 online marketing experts were asked a simple question:
"If you could only choose 3 tools to grow your email list, which 3 would you choose?"
At Conversion Sciences, we like to break down our list building strategy into three parts. Content, destination, and calls to action.
We use the Content Cascade for transcribing webinars for a month's worth of quality content. Hootsuite helps us share that content over time on social media. WordPress plugins help funnel the type of traffic we get from social media. We also recommend building a separate site for phone visitors. Finally, we've built a conversion mini course on our website and use CommerceScience.com to significantly grow our subscribers.
Here are just a few of the top tools recommended by 60 Marketing Experts in a poll by RobbieRichards.com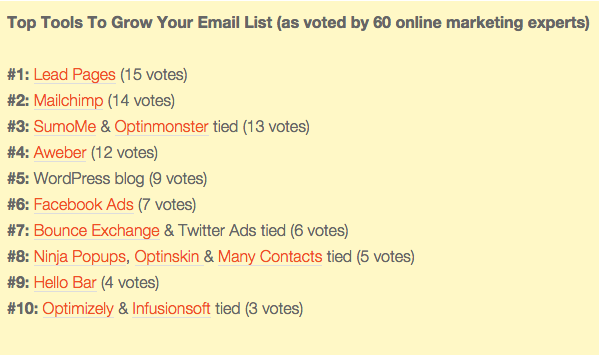 Read the Robbie Richards Blog for more of the best tools for list building.




Latest posts by Luis Ramirez
(see all)