I'm going to make this brief.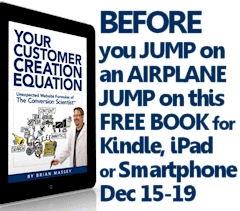 Get a free copy at the Amazon Kindle Store
As a reader of The Conversion Scientist, I'm offering you free copy of Your Customer Creation Equation: Unexpected Website Formulas of The Conversion Scientist for your Kindle, iPad or Smarthphone.
All you have to do is visit the Amazon Kindle Store and have the book sent to your iPad, iPhone, Android, or Kindle.
You can read it on the Amazon Cloud Reader on your computer, or through the free Kindle App available for your Smartphone or iPad.
The book gives you the foolproof formulas to creating a website that not only gets the right traffic, but converts that traffic to customers, returning customers and advocates.
Some of the great things you'll learn in this book:
Identify the unique customer creation formula for your site.
Set up your own digital conversion lab to measure your progress.
Develop landing pages for your site that actually deliver.
Charge your marketing "batteries" to reduce your advertising expenditures.
Communicate authoritatively with designers, developers, and executives.
So please, do not buy this book.
Go over to the Kindle Store and get your copy absolutely free. Your website will thank you for it.
[signature]

Conversion Scientist™
at
Conversion Sciences
Brian Massey is the Founder and Conversion Scientist™ at Conversion Sciences. He is the author of Your Customer Creation Equation. His rare combination of interests, experience and neuroses were developed over almost 20 years as a computer programmer, entrepreneur, corporate marketer, international speaker and writer.

Latest posts by Brian Massey (see all)
https://conversionsciences.com/wp-content/uploads/2019/11/conversion-sciences-cro-agency-conversion-optimization-consultants.png
0
0
Brian Massey
https://conversionsciences.com/wp-content/uploads/2019/11/conversion-sciences-cro-agency-conversion-optimization-consultants.png
Brian Massey
2012-12-15 05:00:05
2012-12-15 05:00:05
Do Not Buy My Book (Get it for free)