Business Video Through The Eyes of Your Prospects [New eBook]
Everyone is excited about "whiteboard" video, in which concepts are drawn at super-high speed on a whiteboard to explain or sell what you offer.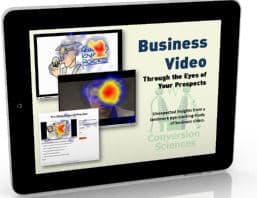 But Whiteboard video is not cheap, and the geek scientists here a Conversion Sciences wanted to learn if whiteboard video was worth the extra price.
First, we used an eye-tracking camera to see how people watch whiteboard video. Watch the incredible video we made that tracks viewers' eyes as the watch whiteboard video right in the interactive eBook.
But, we didn't stop there.
We did the same for "talking head" video and for "webinar" or "slide" video. These are the three most common forms of business video.
You're going to be surprised at what we discovered.
We also did a split test of these kinds of videos to see which would generate the most conversions in a business setting.
Don't invest in video until you've read Business Video Through the Eyes of Your Prospects.
This interactive PDF book includes all of the eye-tracking videos and more.
* An explanation of how video works in the brain
* Results of our split test to maximize conversion
* Results of a post test to measure comprehension
* Over 30 minutes of video so you can see for yourself
This extraordinary ebook will save you from investing $5000, $10,000 or more in the wrong video. Get instant access to the Business Video Through the Eyes of Your Prospects.
Video can significantly improve your conversion rates and revenue. The wrong video can do the opposite. Avoid expensive video pitfalls with this interactive eBook.

Latest posts by Cathy Tilton
(see all)