Last Call for ebook Special – Business Video Through The Eyes of Your Prospects
The big brains in the Conversion Sciences lab have been working around the clock to bring you an interactive ebook about the science behind business video. Business Video Through the Eyes of Your Prospects is a must read for any business looking to invest in video.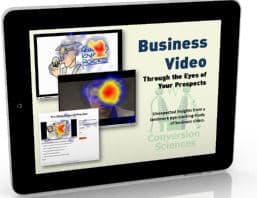 The guys in the lab coats have taken their pile of data on business video and created an ebook that is not only chock full of information, but stocked with over 30 minutes of video examples. Let's be honest; when it comes to video, seeing is believing. And the best way to show what works (and what doesn't) is through actual video.
While we can't promise that this book will tell your future, make your hair thicker, or cure the common cold, we can promise the following:
* An explanation of how video works in the brain
* Results of our split test to maximize conversion
* Results of a post test to measure comprehension
* Over 30 minutes of video so you can see for yourself
* And so much more!
To make a long story short (too late!), you will absolutely want a copy of this book. Before you invest in business video, read this book, watch the videos, and create a video strategy based on what will really work. Get the most out of your video budget by focusing on the video that's going to have the best ROI.
Download Business Video Through the Eyes of Your Prospects.

Latest posts by Cathy Tilton
(see all)
https://conversionsciences.com/wp-content/uploads/2019/11/conversion-sciences-cro-agency-conversion-optimization-consultants.png
0
0
Cathy Tilton
https://conversionsciences.com/wp-content/uploads/2019/11/conversion-sciences-cro-agency-conversion-optimization-consultants.png
Cathy Tilton
2013-06-14 05:19:25
2023-07-30 14:24:12
Last Call for ebook Special – Business Video Through The Eyes of Your Prospects