Conversion Scientists love their crayons.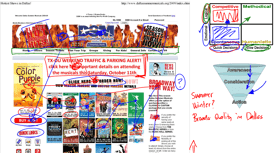 We're starting something new here at Conversion Sciences: The ConversionCast.
A ConversionCast is a detailed analysis of a page based on two primary scales: The four Modes of Persuasion and visitors' position in the Sales Process.
Learn more about the Modes of Persuasion in the book Waiting for Your Cat to Bark? by Bryan and Jeffrey Eisenberg.
A Proven Process for Improving Your Web Site
These two issues are key to making your Web site convert. You should understand that everyone comes to your site in a certain mode, which the Eisenbergs name Methodical, Competitive, Spontaneous or Humanistic. These modes are based on research on Myers-Briggs personality types and Jungian archetypes.
You must also realize that visitors to your site are at different stages of the buying process: Awareness, Consideration or Action.
Watch These Two Five-minute Examples
In ten minutes you should begin to understand how to look at your Web site, and how to improve your conversion results.
NOTE: These turned out a little big, but consider these the HD versions. Please comment with your thoughts and ideas.
We'll be doing more of these in the coming weeks. Don't miss a single ConversionCast.
ConversionCast: Designing for Personas
[signature]
The following two tabs change content below.
Brian Massey is the Founder and Conversion Scientist™ at Conversion Sciences. He is the author of Your Customer Creation Equation. His rare combination of interests, experience and neuroses were developed over almost 20 years as a computer programmer, entrepreneur, corporate marketer, international speaker and writer.
Latest posts by Brian Massey (see all)
https://conversionsciences.com/wp-content/uploads/2008/10/image2.png
153
274
Brian Massey
https://conversionsciences.com/wp-content/uploads/2018/11/conversion-sciences-conversion-optimization-agency.png
Brian Massey
2008-10-23 15:43:46
2018-11-29 15:00:10
ConversionCast: Designing for Personas