In this presentation, I talk about predicting the future.
The problem with predicting the future, even using CRO, is that our visitors are very unpredictable. Here are some of the assumptions we use to predict the future that just don't work.
Because, really, all of us are predicting the future. When we're building our sites and we're putting our ads out, we're trying to predict what that ad or that site is going to do for our business.
We're all trying to predict the future and we're not very good at it.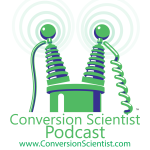 Podcast: Play in new window | Download


Subscribe

Conversion Scientist™
at
Conversion Sciences
Brian Massey is the Founder and Conversion Scientist™ at Conversion Sciences. He is the author of Your Customer Creation Equation. His rare combination of interests, experience and neuroses were developed over almost 20 years as a computer programmer, entrepreneur, corporate marketer, international speaker and writer.

Latest posts by Brian Massey (see all)
Brian Massey
https://conversionsciences.com/wp-content/uploads/2019/11/conversion-sciences-cro-agency-conversion-optimization-consultants.png
Brian Massey
2014-05-12 12:58:43
2014-05-12 12:58:43
Predicting the Unpredictable Consumer