Optimize for Buyer Intent to Increase Conversions
It can be dangerous to delay asking for the sale on your website. Optimizing for buyer intent helps you ask at the right time.
You should hire me.
I'm good at what I do, have helped some pretty awesome companies achieve killer results, and I reckon I could help you achieve similar levels of success.
If you've got copywriting or PPC optimization needs, I'm your man. Click here to pay your deposit now and secure my revenue increasing services!
Crappy pitch, right? Even overlooking the dreadfully generic benefit, poor copy, and woeful CTA there's still something important missing.
An omission which would stop you from reaching out and laying down that deposit I so desperately want.
That something is your complete lack of knowledge and trust in me.
99% of the people who read this will never have heard of me. They'll have no idea who I am, only a vague idea of what I do, and absolutely no inkling as to whether or not I'm good at it (save for my poorly worded benefit brag).
This is first contact for you and I. And for a first contact, that pitch is far too aggressive.
Unfortunately, this is the exact approach I see countless brands across the globe making day after day. They think all they need is a hard pitch, a well optimised landing page, and some relevant traffic.
But that's not how sales are made.
No one makes big purchase decisions based on impulse. It might work for low cost items, but for big-ticket products or high end services you've got to foster a little trust before a pitch will be effective.
You've got to establish yourself as an authority; a provider of the highest quality. Only then will a hard pitch for high-priced products work.
This is the element missing from so many campaigns. It's the element that not only makes the sale, but keeps your customers coming back to you time and time again.
It's a shame that more business don't focus on building relationships. And if I had to hazard a guess why, it's because very few understand that…
Not all your Leads are Ready to Purchase
In fact, very few are at the point where they're ready to open their wallet.
If you've spent any time in marketing and sales you'll have heard the statistics. It takes anywhere between 6 and 12 touchpoints with customers to make a sale. You've probably also seen countless images like the below.
There's an element of truth to these beliefs. The view of a wholly linear sales funnel might be outdated, but the principle stands.
People don't trust you enough to purchase after a single interaction.
Check the modern consumer's browsing habits and you'll see what I mean. Modern users jump from site-to-site, they use various devices, abandon, reengage, and complete purchase journeys at completely random times.
It's honestly a bit of a mess. But figuring out how to make the most of the modern consumers scatterbrained approach to online purchases doesn't have to be. And it all begins with…
Ignore the Concept of Touchpoints
When you follow the old linear journey and the belief that you must have X touchpoint for the sale it blinkers your focus.
The thought of there being a set number of touchpoints to make users purchase is absolute bullshit. I don't walk into a store 6 times and on the 7th feel as though I must buy something simply because I've hit my touchpoint limit.
The same is true for the online purchase journey. People don't buy based on the number of touchpoints alone. They purchase based on value.
Let's put this in real terms, I recently assisted a client in optimising their PPC campaigns. When I took over, all campaigns targeted industry related keywords before directing users to the primary landing page.
If we imagine the client was in the real estate space, that meant searches like the below all directed to the same page:
What are the house sale processes in [area]
the best real estate broker in [area]
what's in [neighborhood] for [kids/elderly/students]
The client believed that if customers stopped by his site often enough, they were eventually bound to hire him. He thought this repeated hard pitch was guaranteed to wear his customers down until they bent to his will.
It didn't work well for him because, whilst he had a frequently visited site, it offered no value.
If he had instead offered something of value related to the user's search, then people would have remembered him. Something like:
An eBook/guide explaining the house sale process
A sales page explaining why he was the best
A neighborhood guide that detailed all relevant areas
Taking this approach gives people what they want. It offers the value they're searching for and would raise him in their estimation.
You have to shift focus to the customer. You have to examine the reason the user comes to your page/site, understand the problem they're facing, and optimize to address that problem.
As Brian mentions in this piece:
A landing page has two very focused jobs:
Keep the promise made in the ad, email or link that brings visitors to the page. We call this the Offer.
Get the visitor to take action on the offer.
The offer is what I want to bring attention to here. People at different stages of the customer journey need different things from you.
Your traffic generation makes a promise that attracts them, your pages need to reflect and deliver on that promise.
So the first step is to stop directing users with different needs to a single hard sales page. You first need to optimize each page for buyer intent.
What Do I Mean Buyer Intent?
I'm sure you're aware of the different stages of awareness and how they impact the length and detail of your landing pages.
If you're not, I'll offer a very quick explanation. Basically, the less aware someone is of your brand, the longer your landing page usually is.
Someone who's having their first contact with your brand will need more information before they take any action.
On the other hand, someone who knows your brand well, understands the products you offer, the benefits, and maybe has bought something from you before won't need as much information. All they need is the bare essentials of the product and offer.
The guys at Copyhackers put a great image together explaining this.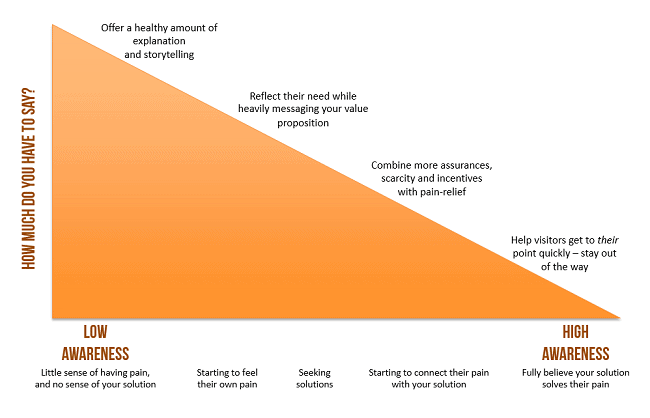 It's some killer advice. But, it's excluded something something the marketing community has generally overlooked.
Buyer Intent
Length of page is great when considering the stages of awareness, but it doesn't take buyer intent into consideration. Not all people buy products for the same reason.
Some products and services are indeed universal and customers from all walks of life purchase for the same reason. In those cases, you only have to consider the stage of awareness.
Take the below, once again from Copyhackers, as a perfect demonstration of a universal buyer intent.
The above would resonate with all people suffering from substance abuse. It's a perfectly optimized page for those seeking help because intent, in this case, wouldn't deviate between different people.
But in cases where buyer intent will differ, you have to consider what the user's intent is and optimize accordingly.
I've chosen an extremely obvious example to highlight this in Upwork. Upwork is a great place to hire cheap freelance work (and a terrible place to offer freelance services).
The site ranks well for all terms relating to freelancing on both the client and freelancer side.
However, they have two distinct sides to the site. One is optimised for those who are looking to hire a freelancer, the other is for those looking for work.
Both are optimized for different intent. They're focused on a service which overlaps, but are completely different in their approach because they're trying to convert two distinct groups of people.
I know this example is something of a copout because, whilst the services overlap, they have very different demographics with different goals.
However, it proves the point that the same service can have different pages targeting different buyer intent. Each one is aimed at providing a high level of value to its respective audience.
Optimizing for buyer intent in this way should be a common practice in every business's marketing.
For example, eCommerce product pages should be optimised not just for the product, but also for who might be shopping. A woman shopping for jewelry herself will need different information than her partner who's buying it as a gift.
Unbounce have good examples of this. They've built campaigns (from the look of it both PPC and SEO campaigns) that direct users to pages that mirror explicit needs and the search terms users are using.
For example, a search for "consulting landing page builder" directs to the below page which is set up to sell their consulting specific landing page templates.
Pop in a similar search for "SaaS landing pages" and you get the below.
Both are specific to the search term and offer the answer the user is looking for.
The service wouldn't change as the end goal is still to get the user to sign up for an Unbounce account where, if I'm not mistaken, they'd get access to all of the free templates outlined on both pages.
The difference is simply in focusing on the need of the customer. If you want to implement something similar to the above, here's what you need to do.
Focus on the Immediate Value
I'm a huge proponent of the one page, one purpose rule.
Whatever you're selling, your landing page should only have one purpose. Anything more and you'll just end up confusing yourself, and your customers.
However, buyer intent will dictate that immediate conversion goal. Let's again imagine that my goal is to understand landing pages and that I'm a complete newbie to marketing.
My first search might be "what is a landing page?", with that search I'd find the below ads.
One ad from Wix,which leads to this page.
The intent for me was to educate myself on the basics of landing pages. Does this page do that?
No (the dictionary response did a better job)! Again, it's focused only on the sale and getting people to sign up.
It tells me that I can try a free landing page and create a stunning site, but doesn't answer the question I asked. If I were truly seeking for information on landing pages, I'd bounce almost immediately and forget Wix within minutes.
What they should have done was provide something that educated me on the basics of landing pages.
That could be a comprehensive beginner's guide blog post or even an eBook/guide behind an email gate.
The value for people at the highest level of awareness is not being answered here. And there's a huge gap that could be filled.
What about those later in the purchase journey for landing page services searching "how to create a highly optimised landing page"
There's a couple of potentials in here. The WordStream result is the highest relevant result so we'll use that in this example. If I click though, I find the below.
Does this answer the question I asked and is it targeted at those with an intent to learn more about the perfect landing page?
Hells yeah it is.
It's exactly what I'd need at this stage. I'm looking for information on what makes a great landing page, and that's exactly what I'm being offered. If this were a real search, I'd likely stop my search here to see what this guide is all about.
If they'd linked to the main WordStream page and tried to sell me their service I'd leave because I'm not interested in purchasing just yet. But no, they perfectly answered my question and offered the value I need.
Whether you're running PPC campaigns or are optimising your SEO to bring in relevant traffic, ask yourself about the user's intent. Ask yourself what's the most valuable thing you can offer them right then and there. What's the offer they won't be able to refuse?
Stop thinking about the sale, and start thinking about the value.
Once you've done that, you'll create more valuable touchpoint that create a longer lasting positive image of your brand. And once that touchpoint is down, you need to focus on the next step.
Build a Solid Follow Up Based on Previous Action
We all know email as the ROI king. As such, much of the follow-up information out there is focused on how to build relevant email sequences.
It's all great advice and can really help in driving revenue numbers up. However, it's also something that's been covered time and time again.
So rather than flog a dead horse, I'm going to link to a great post on some awesome email campaigns from Jacob and move on to something that's not covered as often.
What I want to cover is a tactic I recently stumbled across from Ezra Firestone of Smart Marketer. It's a relatively simple idea (as all great ideas are) that details how to offer value through some smart retargeting. A strategy which helped Ezra sell 84,000 units in three months.
Here's the image of the sequence in action (and a link to a podcast where he explains it)
What I love about the sequence is how it's focused on value which is in direct contrast to how most advertisers run their business.
If you check out a store, you're usually just then served the same ad across either the display network or through Facebook ads.
There's that hard sell mentality of "well, they looked at the product so shove it down their throats until they buy".
But with Ezra's method you're focusing on providing a more logical user journey packed full of value.
You can see how the initial video ad kicks things off. Ezra explains that he breaks things down by the engagement.
If they watch less than 25% then they're not retargeted and tagged as a poor lead.
Between 25-75%, he'll retarget them with more value building content. Something to establish the brand and product in a favorable light.
Over 75% consumed indicates a highly interested user, and so they're sent to a long form sales page.
Ezra only pushes the sale on those who are most interested and most likely to convert. For those who aren't ready, he focuses on the value they need to make an informed purchase decision.
This pre-sell engagement tracking and retargeting is an incredible way to build value with your customers and, for Ezra, led to $18,000,000 in sales form a single page.
It's also not just a viable method for eCommerce. If we look once again at the WordStream example above we can apply the same processes.
They could track all users to that landing page (which I'm sure they are) and track how many make it through to the "thanks for downloading" page. Those who don't might benefit from a retargeting campaign that either linked back to that page, or one with more information that offers the same download.
For those that download, you could retarget with the next logical step in their customer journey.
After downloading the basics of landing pages, you could retargeted with an eBook or article on the best landing page services for beginner CROs and copywriters through Google Display Network, Facebook Ads, and of course the follow-up email campaign.
You could also see if user's are ready for the hard sell at that point.
This multi-touch campaign focuses on value. It provides the user with multiple touchpoints but, unlike most campaigns, doesn't feed everyone you've contacted to your sales page.
Instead, it offers them the next logical step ensuring they take it with your brand. You're still hitting those multiple touchpoints, but you're packing each one with value which builds more trust in you and your brand.
Multiple Touchpoints Build Trust, But Only if Optimised into a Comprehensive Customer Journey
Each step you optimize needs to be focused on the immediate value the consumer is most looking for. However, you also need to keep your eye on the overall conversion goal.
As a starting point I'd recommend starting as close to the money as possible. Look at how you can optimize the sale and work backwards. Doing so brings more immediate gains, but it also means that with each subsequent optimization you're simply adding more fuel to the fire.
You're not optimising a stage for which there is no logical follow up established.
So stop focusing only on grabbing the sale. Look at the immediate value you can offer and build it into your wider conversion funnel. Do that, and you'll see more people buying from you and becoming long term advocates of your brand.
Latest posts by Peter Boyle
(see all)