How to Growth-Hack Your Email List Using Exit-Intent Overlays
Exit-intent overlays are effective tactics for building subscriber lists. Incentivize signups, capture addresses, and target specific users.
The other day we gathered for an email brainstorming session.  What followed was the usual list of half-baked metaphors:
"Email is like fine wine, it gets better with age."
"Email is like styrofoam, it'll take 10,000 years to break down."
"Email is like a cockroach, you can't kill it."
We were repeating ourselves, but the point was clear: despite being 350 Internet years old, email has never been more important to ecommerce.  How did this happen? Weren't we all giving email the last rites in 2009 as 'social' stormed The Internets?
Instead, something peculiar happened: email grew some grey hair and stopped wearing cheap suits. It became a place for business, something we now use mostly for work, shopping, and all kinds of other grown-up stuff.  Think about it: what did you do online in 1998 that you still do today? You don't go on Yahoo Chat, and you don't Ask Jeeves. But you still use email every day.
And since Clooney got married, John Stamos stands as the last breathing representation of email: a relic from the '90s that we still appreciate—and that still looks pretty damn good.
Email By the numbers
To illustrate just how valuable email has become to ecommerce, we need only look at a few telling statistics:
Over 77% of online customers prefer receiving marketing messages via email. (MarketingLand)
Email marketing produces a $44.25 return for every $1 spent.
Companies see, on average, a 4300% return on their investments in email marketing. (Digital.com)
79% of leads don't convert to sales, and lack of nurturing is the main reason. (Unbounce)
Prospects who receive email marketing messages order 28% more often. (iContact)
Email is projected to grow from roughly 4.1 billion accounts (2014) to 5.2 billion accounts in 2018. (Radicati Group)
So why is it so much more valuable than social media?
The reason is that email addresses are much different than fans or followers. Gaining direct access to someone's inbox is the ultimate sign of trust from an online customer.
"Without a doubt our email list is the best investment we've ever made."
Douglas Karr, MarketingTechBlog
And if you build a list of subscribers who know and respect your brand, it's likely to become your most powerful revenue channel.
The list-building conundrum: how exit-intent overlays can help
The sheer value of email subscribers creates a natural conundrum. How can marketers reach beyond signup widgets and accelerate list growth?
Sure your signup widgets and call-outs help. But they won't build you a hugely valuable email list by themselves.  And I'm not talking the dead-end 'get one or two leads' or 'half the emails get returned' kind of list.
I'm talking lists full of warm email leads that are familiar with your products, have read your content, and recently interacted with your brand.
The tool I'm going to discuss today is building some seriously kickass email lists for marketers across the web; Neil Patel has used it to double his email his email opt-in rate.
The tool is an exit-intent overlay, i.e. a modal lightbox that activates when a user is about to abandon your site.
The juice that drives exit overlays is called "exit-intent technology," which is designed to detect abandoning visitors based on user behaviour. Exit-intent technology identifies abandoning users by measuring the path a user follows through a site, sensing resting moments when users are idle, and detecting cursor movements the break the browser plane towards the 'Back' button.
When abandoning visitors are detected, the exit overlay activates and attempts to capture a signup by offering something of value to the user.
And when done right, exit overlays will build you a kickass email list in a relatively short period of time.
4 Reasons exit-intent overlays are the best list-building tool on the web
1.   You can incentivize the signup
Customers need a good reason to sign up for your email list, and exit-intent overlays are fertile ground for providing this incentive.
Busted Tees uses an immediate discount as incentive in the example below.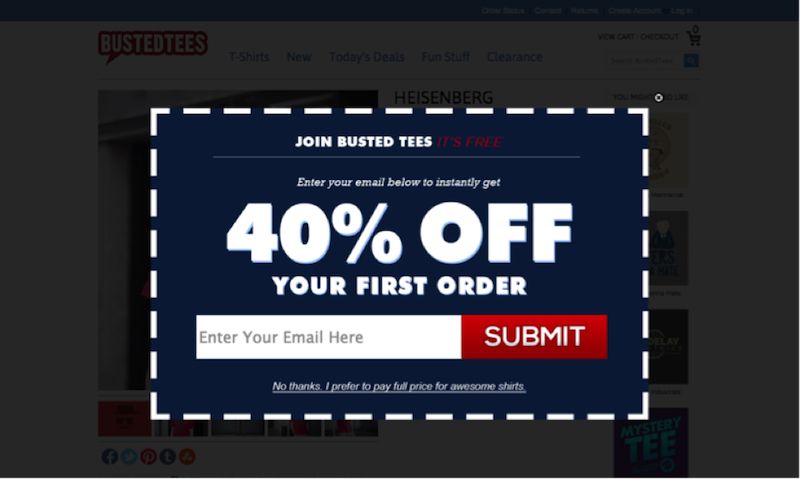 The incentive you offer can take many forms. Here's another example from CopyHackers, which incentivizes the email signup with the promise of valuable, free information that marketers can use to improve their business.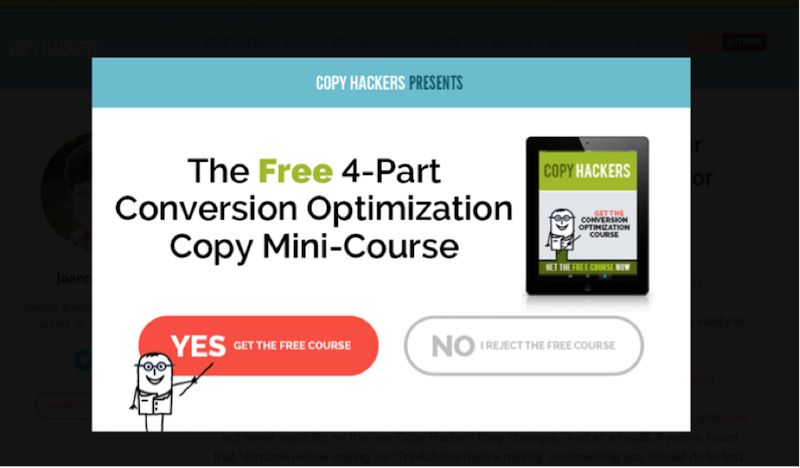 Offering a course has the extra advantage of guaranteeing multiple interactions with the prospect, as the offer can be served piece-by-piece.
2.   Exit-intent overlays are big and bold—but not intrusive
Exit overlays have much better visibility than traditional signup widgets.
When an exit overlay activates, it dims out the rest of the window to maximize contrast and visibility, as per the example from The Chive below.
That said, exit overlays are not intrusive in the way old school pop-ups were:
They don't disable or inhibit the functionality of the navigation bar
They don't slow or prevent users from leaving the site
Since they're served only to abandoning users, they don't interrupt active browsing sessions
Essentially, an exit overlay acts as a second page view that's only seen by segments of abandoning users you choose to target
3.   Exit overlays can be targeted at specific users and pages
Abandoning users are not all the same; they leave your site for all different reasons.  To accommodate differing motivations, exit-intent technology allows you to target specific user groups such as first-time or repeat visitors, cart abandoners, referral traffic, and paid traffic.
Targeting rules can also be applied to pages. You can target (or exclude) any page on your site—which comes in handy for appealing to different users who are at various stages of your conversion funnel.
For example, targeting first-time visitors from low-converting segments like social media traffic can be a very lucrative tactic for building email lists. Traffic from social media usually hasn't established a relationship with your brand, so grabbing an email address from these users can be a valuable tactic for starting this relationship.
4.   Exit-intent overlays capture signups from "hedonic" cart abandoners
If you're like me, you believe the idea that abandoned shopping carts are costing etailers trillion of dollars per year is utter hogwash.
Yes, most virtual carts are 'abandoned'. But by attaching a dollar figure to the "cost" of cart abandonment, we're presupposing that everyone who adds items to a virtual cart does so with intent to buy.
The truth is, a good portion of cart abandoners add items out of interest, not commitment. They're simply browsing, often using the cart as a bookmarking tool to save items for later.
And a group called hedonic shoppers makes up a large percentage of these 'casual' cart abandoners.
According to research, people have two primary shopping motivations: hedonic and utilitarian.
Utilitarian shopping is driven by our need for necessities like housing, food and clothing. For utilitarian shoppers, purchasing is a problem-solving activity.
Hedonic shopping, however, is driven by our desire for fun and entertaining shopping experiences.
To illustrate, here's Shopify's data on cart abandonment: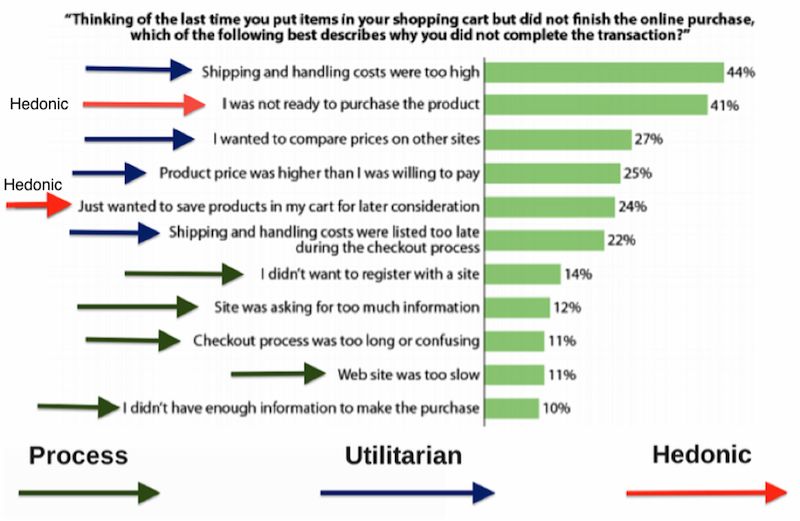 Note that hedonic motivations show up in two of the top five reasons for abandoning a cart.  Hedonic shoppers don't need to buy to get satisfaction; they need only browse. And we see these motivations manifest themselves most noticeably in cart abandonment.
So the question now is obvious: how do we engage hedonic shoppers beyond that first interaction with your cart?
Email is the obvious answer, yet according to BizReport, 80% of marketers aren't sending triggered emails after cart abandonment.
Exit-intent overlays can rapidly build subscriber lists from abandoning cart traffic – especially when they promise more of the rich, engaging experiences the hedonic shopper desires.
Case Study: How Xero Shoes used exit overlays to grab 3,000 new email subscribers
Xero Shoes manufactures and markets "barefootwear," a brand of light, low-profile footwear that feels like you're wearing nothing at all.
In the words of founder Steven Sashen, Xero Shoes allows customers to Feel The World™.
Like all etailers, Xero's fortunes rest on the performance of paid and organic traffic sources. And of course, email marketing is a key tactic for monetizing this traffic.
Challenge and Strategy
Barefootwear is a complicated product that takes time to explain properly, and educating prospects on its benefits posed a big challenge for Xero.
Further, Xero's email sidebar widget had a low signup rate—a common problem amongst etailers today.
But rather than see this as a barrier to sale, Xero hypothesized that they could kill two birds with one stone using an exit overlay campaign.
Bird 1: Accelerate growth of the company's subscriber list.
Bird 2: Use the email content to explain thoroughly Xero's product offering and overcome customer pain points/objections.
The creative was designed to position Xero Shoes as an alternative to what "shoe companies" offer and to drive curiosity around founder and owner Steven Sashen.
Xero decided to place their exit overlay on the company homepage—the highest-traffic page on the domain—with the intent of grabbing new signups from low-converting segments such as social media traffic.
Finally, returning visitors were excluded from viewing the exit overlay—ensuring the messaging wouldn't irritate blog readers or existing customers.
Results
Over a six-month period, Xero's exit overlay campaign averaged between 15 and 20 signups per day, resulting in a list of over 3,000 new subscribers.
This represented a 412% increase in email signups and drove a 9.81% boost in overall company order volume.
Takeaways
Gaining access to a prospect's inbox is the ultimate sign of trust which is why email marketing has become so valuable to ecommerce.
Exit overlays – modal lightboxes that activate before users abandon your site – are one of the most effective tactics for building subscriber lists.  With exit overlays, marketers can incentivize signups, capture addresses from uncommitted prospects, and target specific users and pages.
Angus Lynch is a conversion copywriter at Crowdvert, a Vancouver-based conversion rate optimization agency, and the Director of Marketing for Crowdvert's proprietary user engagement tool, Rooster.
Latest posts by Angus Lynch
(see all)