Read the Articles that The Conversion Scientist is Reading: For Further Study
It's out there: the article with the answer to your online marketing question. All you have to do is find it.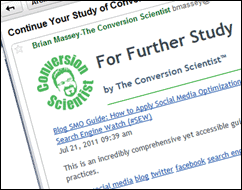 As it turns out, I'm looking for answers to a lot of questions. It's my job as the Conversion Scientist.
When I find a good checklist, best practice or how-to, I save it to my personal library. When my clients hit me with a question, this library offers a treasure trove of answers written by some of the smartest people in the business.
"But why wait for a call?" I thought. "Why not share this with my clients every week?"
Thus is born "For Further Study," a scannable, quickly digested weekly email created exclusively for my clients.
I promise:
Quality sources
Conversion-enhancing content
Scannable emails with a short commentary by me to help you decide if you should read an article.
Here's a sample of what to expect each week.
Blog SMO Guide: How to Apply Social Media Optimization to Your Blog in 33 Steps – Search Engine Watch (#SEW)
Jul 21, 2011 09:39 am
This is an incredibly comprehensive yet accessible guide to social media best practices.
Tags: social media blog twitter facebook search engine watch
read more
Seth's Blog: Articulating your preferred use case (what's it for?)
Jul 17, 2011 03:36 am
What Seth calls a "Use Case" we call Personas in the world of conversion. Otherwise the benefits are the same: understanding your most important visitors, ending bad relationships with poor customers, and getting everyone on the same page.
Tags: seth personas use case
read more

Latest posts by Brian Massey
(see all)