Conversion Conference: One Conference that Should Pay for Itself Quickly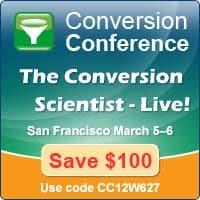 I got to attend my first Conversion Conference in October of last year and I am pleased to have been invited to speak at this year's San Francisco conference.
First of all, I learned a LOT at last year's conference. And I study this stuff all day long.
I don't pay to attend many conferences, but I think I'm pretty good at picking those that give me information I can use "on Monday." Conversion Conference is definitely one of those. Just look at some of the agenda items:
Biggest Usability Mistakes That You're Probably Making
The Science of Shopping Cart Abandonment (I will never look at cart abandonment the same)
Rapid Fire: Lessons Learned from 30,000 Conversion Tests (These kinds of presentations are gold)
Merging SEO & Usability to Drive Conversion (I say "YeSEO")
Creating Killer Conversion Copy – Email, Landing Pages, PPC Ads and More (This is mine. Never bore your visitors again)
Getting Smart About Conversion on Mobile Devices (We're all going to have to deal with mobile sooner or later)

Latest posts by Brian Massey
(see all)