Content Marketing Traps You Can Avoid
Brittney Stephenson at Powered by Search gives you content marketing traps you can easily avoid.
Content marketing can help your business capture leads and convert them into customers. In fact, after analyzing data from thousands of their software users, HubSpot found that organizations that blog just one or two times a month generate 70% more leads than businesses that don't blog at all.
It's therefore no surprise that so many companies have jumped on the content marketing bandwagon, and are churning out blog posts, eBooks, whitepapers, info-graphics, webinars and more, all in the name of lead generation. But there are two common traps that marketers can fall into. The first is focusing exclusively on the content itself. The second is thinking that strong CTAs and landing pages will make up for mediocre content.
If you're not thinking about a visitor's overall experience with your content, then you're not getting the most out of it. A recent Marketing Profs study of B2B marketers revealed that only 36% of respondents believe their organization is using content marketing effectively. This means that there's a lot of room for improvement, and learning how to hit the right balance between content and conversion will make you stand out as a content marketing champ!
Content Marketing Trap #1 – 'Content is King!'
Yes, it's been said a thousand times, content is king. But don't misinterpret this popular phrase to mean that content is the only thing you need to achieve marketing success. Even top notch content needs a little help if you want it to prompt site visitors to complete a specific action. Otherwise your content marketing strategy will be great for driving site traffic and building industry authority, but not for directly generating leads.
Having a company blog is one of the most popular content marketing tactics, but it's also one that can easily take up a lot of your energy with little result if you're not careful. Forgetting to optimize your blog for conversions is a common oversight. Fortunately, there are a number of ways to remedy this.
One of the best methods to turn casual blog readers into leads is including calls to action (CTAs) directly on your blog. CTAs make it easy for site visitors to become leads by asking readers to act, and creating a clear path to do so. Marketing software provider HubSpot has done an excellent job of optimizing their blog for conversions in this way. Any given HubSpot blog post will include four CTAs, just like the images below. (Some readers may find this number of CTAs too distracting, so make sure to test what number works best with your own blog audience.)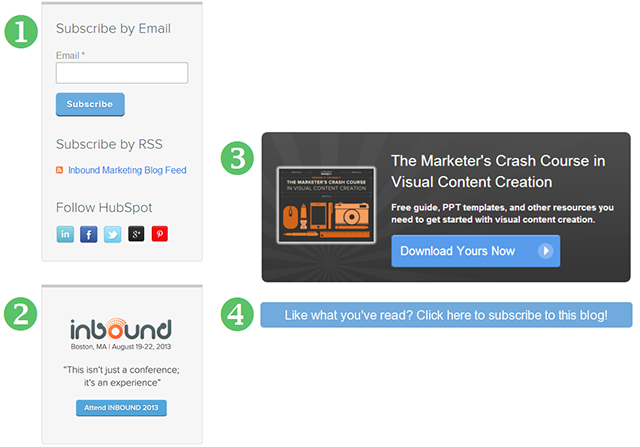 CTA #1 asks readers to subscribe to their blog and appears above the fold. This grabs the attention of page visitors right away, even if they don't scroll any further down.
CTA #2 is located directly below the first one in the right sidebar. The offer (attending a conference on inbound marketing) is highly relevant to the readers of their inbound marketing blog, which makes this CTA even more effective.
CTAs #3 and #4 appear at the end of the blog post, above the comments section. CTA #3 is a new offer for a related piece of downloadable content, while #4 acts as a second reminder to subscribe to their blog.
Calls to action are just one way to optimize your blog for lead conversion. To really maximize conversions, you should also test your overall blog layout and design, use of images and colors, as well as your posting frequency.
Some of these tips may sound obvious, but the 2013 State of Inbound Marketing Report shows the grim reality is that 45% of marketers do not test their marketing efforts, and 21% don't know whether they test or not.
Just think of all the opportunities to optimize their marketing they're missing out on!
Does your content marketing strategy include creating high-value content, such as whitepapers or eBooks, that are only accessible after site visitors fill out a form?
If so, these forms may be holding back the conversion potential of your content. A CMO Council study asked consumers what their biggest point of frustration is when it comes to content, and 50% of respondents cited long registrations before accessing content as one of their 'top three turnoffs.'
If you're getting lots of clicks on your CTAs, but few conversions, try using progressive profiling on your landing pages. This works by asking consumers only a few questions the first time they fill out a form, and then subsequently asking different questions each time they download a piece of content.
Keeping these CRO tips in mind will help take your content to the next level!
Content Marketing Trap # 2 – Thinking of Your Content as a 'Lead Generating Machine'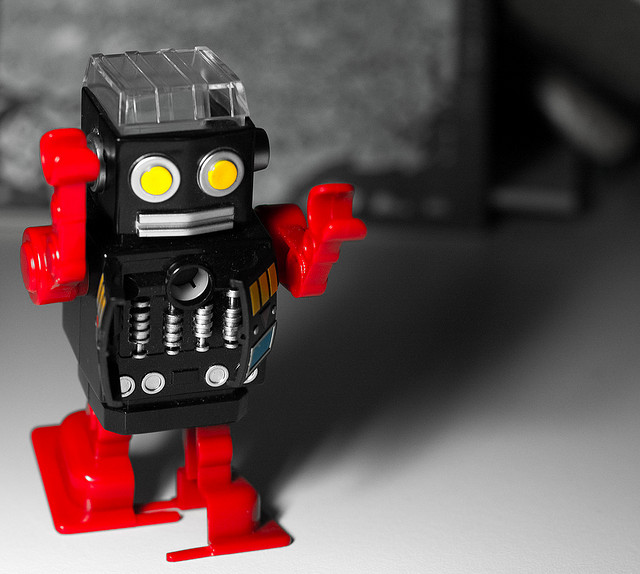 Marketers are increasingly under pressure to demonstrate the ROI of their efforts, and content marketing is no exception. When you first get started, it may be tempting to churn out a high volume of mediocre (or even poor) content to get the ball rolling. It's also easy to fall into the trap of producing blatantly self-promotional content, especially if you're worried about 'wasting time' on content that doesn't produce results. But despite your best intentions, if your content isn't providing sufficient value to your audience then your efforts are doomed to fail.
Content marketing isn't a simple mechanical process — you can't combine a handful of attractive CTAs and optimized landing pages with low quality content and expect customers to come pouring in. Even if you are able to generate leads in this way, imagine their disappointment after they've filled out your form and downloaded your offer, only to find a piece of lackluster content. These leads won't convert into customers, and will sit indefinitely at the top of your sales funnel.
Not concerned yet? You might be surprised to learn the cost of bad content. An IGD Connect survey found that if buyers perceive your content to be "low value," your business is 27% less likely to be considered in the decision making process, and 40% less likely to ultimately make the sale!
Think about the last time you downloaded a whitepaper or checked out a company's blog. How did the quality of the content affect your opinion of that company?
One sure fire way of producing content that people find valuable is by writing with your target audience in mind.
Tailor your content to your ideal buyer persona by brainstorming topics they'd be most interested in, or tips that they'd find beneficial. Don't spend time and energy creating general content if your goal is to reach a specific audience.
Being more strategic about the type of content you produce will not only raise its value, but it can also help you gain more qualified leads.
Plus, leads that are satisfied with your content are more likely to come back for more. That's why it's also important to create different types of content for different stages of the buying process. For instance, a small business owner exploring their marketing options may come to an agency's site and download a free guide or tip sheet. Once they feel more prepared to make a decision, this lead may return to attend a webinar or read through a case study.
There's no way around it: if you want to have a successful content marketing strategy, you have to invest in the content itself.
The best way to ensure you end up with qualified leads is to first think about your buyer persona, then start writing. And don't count on poorly researched articles or typo-riddled guides to convince your leads to convert into customers.
Remember to devote time to both the quality of your content, as well as improving its ability to generate leads — otherwise your work will only be half done!
Image Credit: David Goehring
Do you have any tips for producing engaging content, or optimizing content to generate leads? Share your experience in the comments below!
About the Author: Brittney Stephenson is a Marketing Assistant at Powered by Search, an SEO and inbound marketing agency based in Toronto, Canada. She has a passion for marketing strategy, content marketing, and all things digital. Feel free to connect with Brittney on Google+.
Latest posts by Brittney Stephenson
(see all)