9 Motivational CRO Lessons You Can Learn from Ghostbusters
Ghostbusters was a touchstone for us. Seven years ago, we were launching into a new marketplace – conversion optimization. Like the Ghostbusters, many didn't understand the value of what we did. Like the ghosts of the movie, the goblins in a website were invisible and ethereal.
So, we turned up the volume, donning lab coats and teaching anyone who would listen. Today, conversion optimization is quickly becoming a must-have discipline in any online business.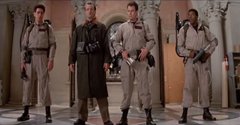 We have always taken inspiration from the trio of Venkman, Stantz and Spengler, collectively known as the Ghostbusters.
To celebrate the 30th anniversary of the release of the Ghostbusters movie, we offer nine important lessons that we've taken from this classic comedy.
1. Get Yourself Some Cool Toys
"It's technical. It's one of our little toys."
Batman had the Bat Cave. Ghostbusters had ECTO-1. We have CRO-1.
For us, we have to be able to bring our tools of choice to our clients. You probably don't need the mobility that we do, but should have your own digital lab, stocked with the latest toys.
For us, we require a solid analytics setup to build on. We further like to add some click tracking tools to see how visitors are interacting with pages. Our split testing software allows us to segment visitors into tests and to inject JavaScript into their experiences.
In the past, we've used session recorders and eye-tracking software to get more info on how visitors are using a site.
Yes, we think these are pretty cool toys. You will too when you wield them with a little finesse.
2. Save Your Tests
"Please understand. This is a high-voltage laser containment system."
The Ghostbusters went on quite a hunting spree in the first movie capturing all manner of ghost, ghoul and specter. What did they do with these? They placed them in a high-voltage laser containment system.
When you complete a test on your website, you need to save the results in a place that ensures you won't forget what you've learned.
We've never had a one-size-fits-all approach to documenting test results. We've used physical books that we call "Books of Swagger" so that our clients have the answers to questions at their fingertips.
We've kept detailed spreadsheets of tests.
Today, we rely most frequently on PowerPoint decks to save our "swagger" along with the details of the tests in our split testing tools.
3. Realize You're Saving the World
"Fire and brimstone coming down from the sky! Rivers and seas boiling! Forty years of darkness! Earthquakes! Volcanoes! The dead rising from the grave! Human sacrifice, dogs and cats living together — mass hysteria!"
Don't underestimate the magnitude of the shift you're bringing to your online business. Adding some science to your marketing is going to bring profound changes to your organization.
Decisions will be made differently. Old beliefs, superstitions and sacred cows will disintegrate.
It will be painful at times and will take some passionate convincing of doubters. In the end, you could be saving the business.
4. Get Some Strange Hobbies
"I collect molds, spores and fungus."
You've got to be interested in some strange topics. Revenue per visit, statistical significance, correlation vs. causation… it's quite different from product, positioning and pricing.
Yes, the geeks are going to rule the marketing world, so get your geek on.
CRO geeks are interested in the psychology of influence, the structure of the mind and in rudimentary statistics. We study images, copywriting, pricing theory and user experience theory.
The bottom line is that you are going to have to nurture an interest in some unusual topics to be a well-rounded online marketing scientist.
5. Clear Your Mind
"It's the Stay Puft Marshmallow Man."
Expectations and attachments will dull your ability to apply science to your marketing. Often, our most cherished creative just won't win in a split test.
I'm not saying that you shouldn't have goals for your tests. However, expectations and attachments to outcomes can lead to poor decision-making.
If you're sure a certain treatment is going to win in a split test, you're more likely to call it a winner before the confidence level is high enough.
If you expect your results to "make sense", you are more likely to throw out valid results as "unexplainable."
We find that it is harder to come up with new hypotheses for a site we've been working on for a year or more. It's harder to clear our minds of the knowledge we already have.
The more you know a thing, the less meaning it has for you. Clear your mind.
6. Don't Cross the Streams
"Try to imagine all life as you know it ending instantaneously and every molecule in your body exploding at the speed of light."
The more tests we can run on a site, the faster we learn. Sites with a large number of visitors and conversions can run several tests, provided the audience can be segmented.
The idea of testing is to understand what is working and what is not. To do this, we need to isolate variables. This is science talk for "only change one thing at a time." Ideally, only one thing will change for any visitor to your site.
However, if you allow a group of visitors to enter multiple tests, then more than one thing is changing. Imagine that a visitor comes to the home page and is entered into a test in which you remove the sidebar menu. Then they come to a test in your shopping cart in which you remove the discount code field.
When the tests are done, you won't know which combination of home page sidebar and discount code field resulted in the most sales. The data for both tests have been polluted and cannot be relied on.
So, don't cross your streams of traffic. If you are running multiple tests on a site, be sure that you segment traffic to only see one or the other.
7. Be Proud to be a Scientist
"Back off man. I'm a scientist."
You should feel proud to have a data-driven marketing program up and running. Science isn't perfect, and the fact that we are always trying to prove ourselves wrong means that our self-esteem may suffer.
Most importantly, you should be bringing others in your organization along the science learning curve.
Don't be afraid to take a moment to explain statistical significance to a coworker. Go ahead and write up a memo on isolating variables or calculating the length of a test.
And when you have a success, be sure to do the money-dance in a very public way.
8. Tell Them About the Twinkie
"That's a big Twinkie."
At one point in our heroes' adventures, Dr. Spengler uses a Twinkie to illustrate the growth of "psychokinetic energy" in the New York area.
"According to this morning's sample, it would be a Twinkie 35 feet long weighing 600 pounds."
We really can't take our graphs, charts and tables out to our organizations and expect others the understand what we're seeing.
I think this is why we prefer to save our test results in slide decks. It is a system designed to tell an emerging story. These decks includes hypotheses, screen shots, data tables and conclusions. Everyone can open them and they can be as big as they need to be.
Sometimes, a map is better than step-by-step directions. Become a student of explaining and presenting findings. The better you get at this, the more cred you will build within your company.
Companies like Narrative Sciences are focused on turning data into stories.
Use your own Twinkies – analogies and metaphors – to help others understand the context for your discoveries and their relevance to themselves.
Charles Bukowski said, "Genius could be the ability to say a profound thing in a simple way."
9. Don't get Slimed
"I feel so funky."
It is one of the inevitabilities of the scientist to have her most amazing theories regularly proven wrong. Inconclusive tests, polluted data and external interference make testing disheartening.
Don't let a series of disappointments bring your momentum and scientific excitement to a standstill. Don't let yourself get slimed.
If you find yourself in a slump, it's time to get input from outside of your echo-chamber. Pull in some fresh eyes from elsewhere in the company. Watch a few recorded sessions or collect some user feedback using any of a number of tools.
When you feel your energy ebbing, it's because you got attached to your outcomes. Be humble. Stay curious. Stay out of the slime.
Thanks to Dan Akroyd, Rick Moranis, Bill Murray and the late Harold Ramis for providing the inspiration we needed to take ourselves a little less seriously than we would have.
Are you troubled by high bounce rates in the middle of the night?
Do you experience feelings of dread in your CFO's office?
Have you or your family ever seen you twitch, shake or cry?
If the answer is "yes," then don't wait another minute. Pick up the phone and call the professionals.
Images taken from Ghostbusters. All copyrights belong to their owners.

Latest posts by Brian Massey
(see all)