I apparently have set off a new fashion trend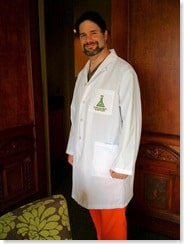 During my presentation at Innotech Portland on Social Conversion Twitter was alive with chatter about my attractive Lab Coat. In generous Conversion Scientist fashion, I provided @tom_bennett of The New Group with a coat of his own, as well as @bryanrhoads and @kellyrfeller of Intel.
Clearly, a I'm not the only one that looks good in a lab coat.
But, lest you believe that the coat is only a fashion statement, be assured that it is an important protective garment for any Conversion Scientist.
In my letter to Tom,  Bryan and Kelly, I tell them that the new addition to their wardrobe is functional as well as stylish.
These coats are woven from mono-filament engagium for strength and protection. The cloth is designed to protect the wearer from all forms of marketing chemicals no matter how acidic or overblown. The material will resist most toxic marketing, including email ribonucleic flaccid, copy hydro-inflate, and Flash fires.
However, there is a danger to the appearance of unbounded intelligence intimated by such an outfit.
Be forewarned that, when wearing the coat in public, you will be expected to have intelligence far beyond normal human capacity. Nonetheless, making up answers to questions about genetics or the proper operation of an electron microscope will harm the image that we try to convey with the lab coat. It's OK to say "I don't know."
Needless to say, such a garment doesn't come cheap. Safe marketing my friends.
Brian

Latest posts by Brian Massey
(see all)
https://conversionsciences.com/wp-content/uploads/2019/11/conversion-sciences-cro-agency-conversion-optimization-consultants.png
0
0
Brian Massey
https://conversionsciences.com/wp-content/uploads/2019/11/conversion-sciences-cro-agency-conversion-optimization-consultants.png
Brian Massey
2009-05-22 00:11:57
2009-05-22 00:11:57
The Lab Coat: Conversion Scientist Chic