How to Drive eCommerce Sales Without Discounting [INFOGRAPHIC]
During the holiday shopping season, everyone seems to turn into Santa Claus. An infographic from Slant states that "nearly 2/3 of the top 1,000 e-retailers offered discounts" last year.
Frankly, I'm more than a little surprised that it was only two thirds. Offering discounts during the holidays kind of seems like a given. Everyone does it from the largest brick-and-mortar chains to the smallest Etsy shop. These sales are so pervasive that I imagine there's a good deal of social pressure to give deep discounts, and as a consumer, I'd probably be a little curious about why a business isn't taking that route.
How did the discounting trend get started in the first place?

The fear of missing out is
an emotional trigger
that undeniably leads to people clicking the purchase button in higher numbers. And when I think about companies moving away from discounts, I'm reminded of the
epic fail that was JC Penney's rebranding
and decision to stop using coupons in favor of lowering prices across the board. When the coupons went away, so did millions of dollars.
But what if discount culture isn't helping you reap the benefits you think it is? Slant's infographic makes the case that maybe you should reconsider discounts. If the thought of losing out on the upcoming money-spending frenzy that is the holiday shopping season is frightening, this infographic isn't just dropping bad news on you and fleeing the scene. It also gives actionable solutions that are proven to drive sales.
Why Discounting Isn't All It's Cracked Up To Be
Ultimately, the benefits of discounting are short-sighted. (And there was quite a bit more going on with JC Penney than getting rid of coupons. This is a prime example of a blunder that could have been avoided with split-testing.)

Cornflakes experienced a 500% increase in sales! That's insane! I can clearly picture that email subject line turning up in the inboxes of the whole Cornflakes marketing crew. Too bad there's a "but" in that sentence.
Groupon ran into this problem
. Consumers love it, but it can be bad for businesses. One massage therapist complained that "everyone who came in for his promotion got a massage and then walked out. Most of them didn't spend anything beyond getting the freebie. He lost money on the promotion itself and there was no way to recoup that loss." That article about Groupon has both pros and cons, but the cons are big.
Discounts can hurt not only your business, but your brand. Slant's infographic states that "
81% of hoteliers [are] discounting more
now than they were five years ago, with
75% saying this has done damage to their brand.
" That's an awfully big sacrifice for a boost in sales that isn't even sustainable for more than a day.
The lower prices give your best item the intrinsic value of an outlet mall. To me, that means it's
kind of
what I'm looking for, but I anticipate the Banana Republic outlet mall sweater I just bought is going to unravel much sooner than if had I bought it at a retail Banana Republic.
Is Discounting Just Treating the Symptoms?
Why are you offering discounts in the first place? To boost sales.
Which means people aren't buying.
You may believe that you can't keep up with competitors because they're offering discounts. Are you certain that they would buy if your competitors didn't discount? If so, then you are essentially resorting to bribery.
What are the reasons shoppers don't buy from you?



If only 2% of shoppers are converting right away, you either need to figure out how to boost impulse buying without a sale or put in more effort to get customers to return.
Free shipping is an example of an impulse booster. If the power of free shipping hasn't been drilled into you enough, consider this.

Are you getting that these are the same exact bag? And you'd be paying the exact same price? Understand what you're losing when you don't offer free shipping: 61% of shoppers would abandon what's in their cart if free shipping isn't an option.
Equally important as free shipping, 61% of shoppers read reviews of products. Consumer reviews are even more important than the product descriptions.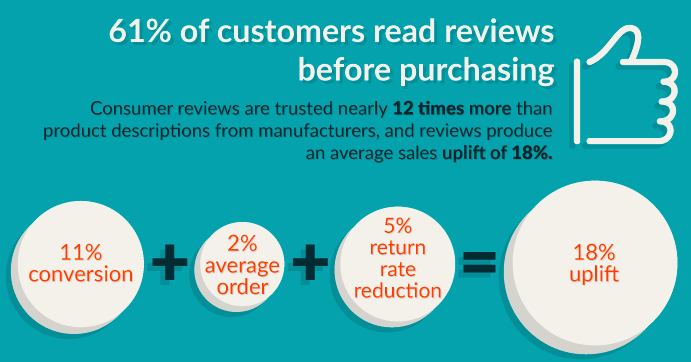 Are Loyalty Programs the Anti-Coupon?
One of the alternatives to discounting from the infographic is the use of loyalty programs. If discounts and coupons hold appeal for you, and you think they'd work well with your clientele, loyalty programs might be a worthwhile option.

One of our Conversion Scientists is extremely loyal to Southwest Airlines and has gone to great lengths – like booking extra, random flights – to secure a companion. Another one favors the loyalty program at a bicycle shop that gave a steep discount on his new bike.
I personally drive several miles out of my way to a local local grocery store because I get 10% off my purchase every quarter and a few bucks back at the end of every fiscal year. The entire film
Up in the Air
places an airline loyalty program at the center of the story.
You may be occasionally offering a discount or a coupon to your loyalty program customers, but this person demonstrated that they are unlikely to take the discount and walk away. There's a level of commitment here that you aren't going to find with a door buster sale. People don't commit to brands that they perceive to be low-quality.
Check out the entire infographic
for even more conversion boosting tips that will help stop the reliance on discounting.

Thanks to Slant for sharing.

Latest posts by Conversion Sciences Team
(see all)
0
0
Conversion Sciences Team
https://conversionsciences.com/wp-content/uploads/2019/11/conversion-sciences-cro-agency-conversion-optimization-consultants.png
Conversion Sciences Team
2015-10-28 17:02:23
2015-10-28 17:02:23
How to Drive eCommerce Sales Without Discounting [INFOGRAPHIC]