More and more companies are putting Conversion Rate Optimization (CRO) into their online marketing budgets.
You should, too.
CRO — or website optimization, or revenue optimization — increases revenue, leads and subscribers. It also decreases the cost of all of your marketing. It reduces your acquisition cost by turning more visitors into leads and buyers.
However, CRO is one of the most measurable activities marketing will do. We like to call ourselves "The most measurable agency you'll ever hire." The reason is that we rely on analytics and testing to do our job. We have to know if we're creating more revenue for a business. If we know you know.
Estimating Your Budget
The thing about conversion optimization is that small changes in conversion rate — we prefer to measure revenue per visit (RPV) — deliver big changes in sales. It can be hard to get your head around.
To help you understand the annual impact of small changes in your revenue per visit, we've created the Conversion Rate Upside Calculator. It will tell you how much more revenue you will make per year with small changes in your RPV.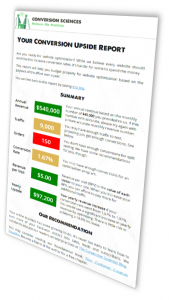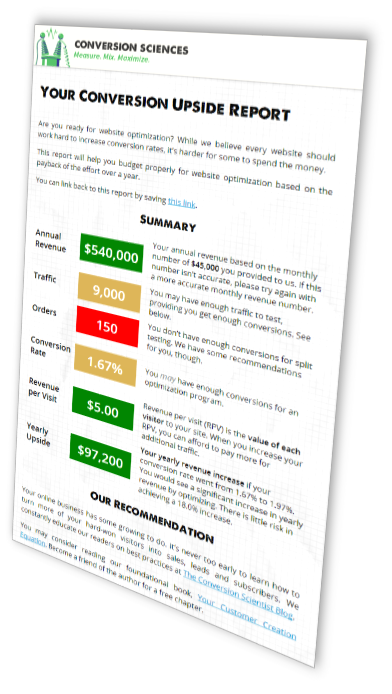 The Conversion Upside Report evaluates your online business on several dimensions.
The report tells you:
Your current conversion rate
Your current revenue per visit
Your current monthly transactions
Additional revenue from a 10% increase in RPV
Additional revenue from adding .1 to your conversion rate
It's a great report on the state of your online business, and the potential future you have in store.
Three Questions
Just three questions is all it takes to see how much your business will benefit from optimization.
Monthly visits
Monthly new revenue
The value of a conversion
Small changes in your conversion rate can mean big changes in your revenue. Give the optimization calculator a try.

Call us anytime at (888) 961-6604
Email us in the lab at
{You must have javascript enabled to see this email address.}
*All data entered is kept confidential
Shelly Koenig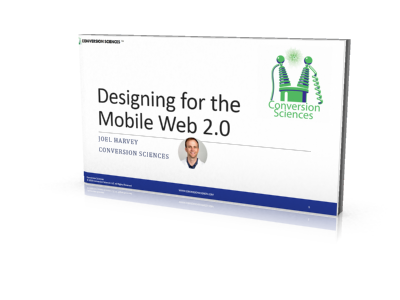 This free eBook has 56 pages of insights from AB testing experts Conversion Sciences.
Designing for the Mobile Web 2.0
What works in conversion-centered design for the Mobile Web 2.0.
Why responsive web design might be a bad idea and alternatives.
What is working in our mobile tests.
Why best practices aren't always best.