5 Ways Conversion Makes Winning Look Easy
Your unique online equation is a powerful tool, a tool that gives you leverage over your marketplace. It is what makes making money, generating leads and growing your business look easy.
How can this be?
There are five big reasons that companies that understand their online equation win:
They pay less for the exact same advertising as you.
They hit your prospects several times to your one touch.
Their content is about their prospects, not themselves.
They don't make mistakes more than once.
They are waiting on search engines for your dissatisfied visitors.
There are two ways to learn more about these five advantages in my new Search Engine Land column 5 Ways Conversion Takes Market Share Like Candy From A Baby.
My book, Your Customer Creation Equation.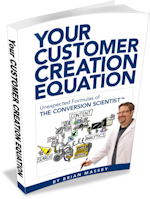 Latest posts by Brian Massey
(see all)