The Indispensable Marketer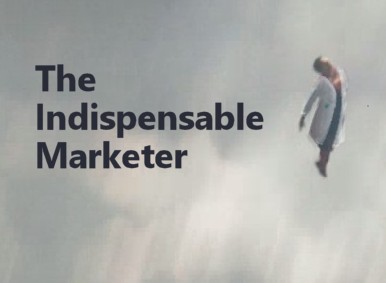 Let's talk about your career as a marketer. Let's talk about your power in an organization. Let's talk about your ability to make things happen in a very real and salary-building way.
Marketing is seen as important by CEOs. However, the marketing department is often not seen as important.
We are too often seen as tactical teams working on strategic initiatives, but don't own the strategy. Our skills are seen as commodities. Everyone with a word processor seems to know how to do marketing.
Marketers move in a valley between powers. They don't have control of the products. They don't have control over sales.
We are the soil and water (and fertilizer) that makes the grass grow, but at the end of the day, we're not given credit for the grass.
The distinctions between a "typical" marketer and an indispensable marketer are subtle and huge.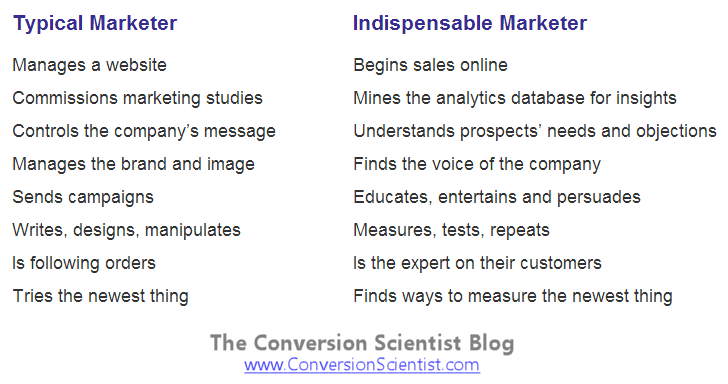 The table is full of generalizations, of course. My aim is to describe a number of Power Processes that marketers can use to become indispensable.
Power Processes: Visible, Measurable, Repeatable
A power process has the following characteristics:
1. It has visible, demonstrable effects on the bottom line of a company.
Marketing success is too often relegated to graphs in the monthly marketing report. Power Processes are visible to the company, often creating problems in other areas when they work.
2. It is repeatable with consistent results.
Power processes are the things that can be relied on month after month to provide additional revenue and success.
3. It is measureable.
Marketers need to stop doing the things that don't work. The success or failure of a Power Process should be obvious.
4. It provides a self-regulating learning curve.
A Power Process provides feedback as it is implemented. Learning happens in action. It is a more organic learning curve than can be provided by a campaign.
Power Process #1: Make the phone ring
In my MarketingLand column Marketing Power Processes: The Lord Of The Rings, I talk about making the phone ring. It fits the model of the Power Process.
1. Sales or customer support knows when the website is generating calls. You might create some problems for them!
2. It will deliver month after month.
3. It can be measured and quantified.
4. You will learn over time what calls to action make the phone ring more and more.
Read the article or listen to it here.

Podcast: Play in new window | Download

Latest posts by Brian Massey
(see all)
https://conversionsciences.com/wp-content/uploads/2019/11/conversion-sciences-cro-agency-conversion-optimization-consultants.png
0
0
Brian Massey
https://conversionsciences.com/wp-content/uploads/2019/11/conversion-sciences-cro-agency-conversion-optimization-consultants.png
Brian Massey
2013-10-17 14:00:02
2013-10-17 14:00:02
The Indispensable Marketer