4 Revelations About Small Business in 2015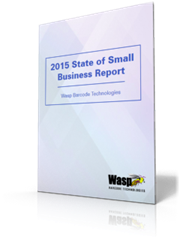 A new survey of 1,000 business owners and executives of small businesses has revealed their attitudes as we go into 2015.
Dallas-based Wasp Barcode is a small business and took it upon themselves to survey their colleagues, finding out how small businesses felt about the coming year.
As a small business, we took an interest in the findings of this report. Here is what we divined from the numbers.
They are Optimistic
Overall, 57% of businesses are expecting revenue growth in 2015. Only 9% expect their revenue to be lower in 2015.
This is a rosy outlook, considering that the Small Business Administration's Office of Advocacy says that some 20% of businesses with employees will close shop within 5 years of starting. Optimism is a part of the job description for entrepreneurs, who create far more jobs than big companies in America.
They are Hiring, Or Trying
Of the biggest challenges facing small businesses, 42% cited hiring new employees. This was second only to growing revenue, and the two are intertwined for most businesses.
For companies above 51 employees, hiring was the most acute problem for 2015.
Government regulation and employee healthcare took the fourth and fifth slots on the list of challenges. Clearly, the changes in the national healthcare policies is on the mind of small businesses.
They are Local
It was somewhat surprising to find that 82% of small businesses had no plans to expand globally. In our experience, it is common to work with businesses who are utilizing highly-trained workers from outside of the US.
This statistic draws a bright circle around the fact that small business is local business.
They are Working to Keep You Happy
Of the small businesses surveyed, 56% said that they were focused on improving customer experience and retention. Small business has clearly gotten the message that it's cheaper to keep a customer than to gain a new one.
This doesn't mean that they're not working to get new customers. The next most cited strategy was investing in new customer acquisition.
In 2015, we can expect to courted by small business.
Read the Full Report
You can read the entire small business report from Wasp Barcode and draw your own conclusions.
Disclosure: Wasp Barcode is a client of Conversion Sciences.


Latest posts by Brian Massey
(see all)
0
0
Brian Massey
https://conversionsciences.com/wp-content/uploads/2019/11/conversion-sciences-cro-agency-conversion-optimization-consultants.png
Brian Massey
2015-01-23 07:40:00
2015-01-23 07:40:00
4 Revelations About Small Business in 2015