Brian Massey
Bio
Brian Massey is the Founder and Conversion Scientist at
Conversion Sciences
. He is the author of
Your Customer Creation Equation
. His rare combination of interests, experience and neuroses were developed over almost 20 years as a computer programmer, entrepreneur, corporate marketer, international speaker and writer.
On The Web:
Posts by Brian Massey:
14 Persuasive Writing Techniques That Trigger A Response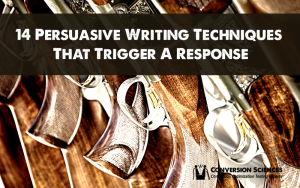 Jan 05, 2017
Here are fourteen persuasive writing techniques that will trigger a response from your visitors. Have you ever wondered why nobody is responding to your offers? Why do people read your landing pages and then leave? Why do people see your ads and keep scrolling? You have a great product. You are offering an in-demand service….