Summary of Conversion Catalyst
SM

Service

Conversion Sciences delivers a proven process for all of our clients. This process delivers more revenue, more leads and more sales from the traffic visiting a website.

Here are the highlights.

Turnkey Service: We provide the complete team. Data Scientist, Developer, Designer and QA Tech. Our tools allow us to test and deliver changes without backend development. Your resources can continue working on their priorities.

Your Tools: We work with your analytics database and other third party tools. We don't require any proprietary software to be installed. You own all of the data whether you work with us or not.

Optimization Focus: Optimization is all we do. We don't want your PPC or SEO business.

Collaborative Approach: We meet with your team on a weekly basis rather than just send reports.

180-day Process: We deliver results that not only pay our fees, but add to your bottom line in just six months. Over 95% of our customers continue working with us after this period. There is no better measure of success to us.

Fixed Price: Regardless of what we have to do to deliver remarkable results, you will pay a fixed price paid monthly.

Great For Small and Large Businesses: This process works on almost any website currently generating 300 transactions or leads a month. Find out if your website is ready for our process.

Setup a Call with a Conversion Scientist
"Always Deliver Remarkable Results"
This is written in every office at Conversion Sciences headquarters. It's easy to write, but requires a unique team to live up to.
First, we only work with a company if we feel confident of success. This is a partnership and we want a good fit with our partners.
Second, our job is to teach. Your organization is going to learn how to ask good questions and to apply behavioral data to everyday business problems.
Third, we do what we say when we say we'll do it. Keeping commitments drives our execution and execution sets us apart.
Finally, we deliver insights into your visitors and customers that will surprise you. Ultimately, optimization is about getting to know your audience.
Here's how we do it.
Remarkable Results Means Bottom-line Performance
Our Conversion Catalyst service is a 180-day program designed to deliver increased leads or revenue from your website. Remarkable results mean to us that we focus on business-changing goals.
Engagement metrics are all the rage: pages per visit, time on site, and number of interactions. However, increasing engagement may decrease transactions and leads. This is why we always focus on goals that directly drive revenue.
Remarkable Results Means Reliable Data
If the data we're using to make decisions isn't accurate, we'll make bad decisions. Our first step is to make sure the behavioral data that your website is reporting is accurate and represents what is happening in reality.
We will setup and audit all tools used for data collection. These tools include the analytics database, a testing tool, user experience tools and data reported by your third party tools, such as live chat.
We typically worked with third-party AB testing tools such as Optimizely, Visual Website Optimizer, Adobe Target and Omniconvert. These tools that do a great job of managing the testing process for us.
Collectively, we call this collection of tools your Digital Lab.
We want to ensure the analytics are recording everything, that there are no blind spots, and that the information we're getting out of the analytics database coincides with reality.
For example, we will compare the sales reported by analytics to the actual sales reported by the owner of the site.
The Digital Lab also includes intelligence tools. These help us triangulate on the hypotheses that are most likely to win. The real trick in AB testing is figuring out what to test.
Remarkable Results Means Testing the Right Thing
Once we have the Digital Lab setup, we do an audit of the pages based on best practices. This generates a large number of ideas, or hypotheses, but it only get us so far. For each of these hypotheses, we will see if there's proof using our Digital Lab tools.
The analytics, click tracking and session recording tools allow us to look for proof that there really is an opportunity, that the hypothesis may be true. We pick the things that are most likely to generate an ROI.
We will end up with a long list of hypotheses, ideas for what will make your website more profitable. This list can be anywhere from 25 ideas to 100 ideas that could increase the conversion rate for your website. We prioritize the list using four measures.
1. Proof
If there's a lot of proof that this hypothesis is a problem, then it gets a higher rank.
2. Expected Impact
If we think the expected impact based on our experience is high, then it'll be ranked higher.
3. Level of Effort
If a hypothesis is difficult to test, it gets a lower ranking. Initially, we favor tests that don't require a lot of production and expense to test and implement.
4. Visitors
We want to test on pages where traffic is either plentiful or really important. For example, a home page usually has plentiful traffic. We would rank tests on the homepage higher based on traffic volume.
In contrast, the checkout process on an ecommerce site doesn't have as much traffic, but that traffic is really important. Those visitors have shown an intent to buy. We would rank hypotheses on these pages higher based on the importance of the traffic.
Remarkable Strategies
Once have an ROI-Prioritized hypothesis list, we classify it into one of five "buckets". This will help define our testing strategy. This reveals the overriding issues with your website.
Your issues will fall into one of five categories.
1. Social Proof
This category includes hypotheses that include things like ratings and reviews on an ecommerce site.
2. Credibility and Authority
A professional design conveys credibility. Hypotheses that address the story and history of a business to convey credibility and authority fall into this category.
3. Trust and Security
Trust can be conveyed by providing privacy policies, return policies and the use of trust symbols. These communicate to the visitor that they're safe to purchase.
4. Messaging and Value Proposition
The value proposition tells a visitor in words and images why they should buy from from the site, or at least stick around and continue to explore.
5. User eXperience and User Interface
Layout Issues – that might be keeping people from seeing the information they need to get through the process.
This research starts off any conversion optimization program, whether we're using a traditional AB testing methodology or our machine learning optimization process.
Once we have our hypothesis list, it's ranked and bucketed, our strategy is revealed, uncovering our tests. Now we dive in.
Remarkable A/B Testing Process
When we have chosen one or more hypotheses to test, we develop a separate page with a change that tests that hypothesis. We do all of the design and development.
With your approval, we load this page into our testing tool and test the original page against this changed page. So half your visitors will see the original page, and half will see the changed page. Then we measure how many people convert, either purchase, complete a form, or pick up the phone and call.
It's easy to make errors when designing tests. Our team is focused on designing tests that answer the real question, and answer that leads to more leads and sales.
Each AB test cycle may test one, two or more hypotheses at once. All we have to do is create one, two or more variations of the page.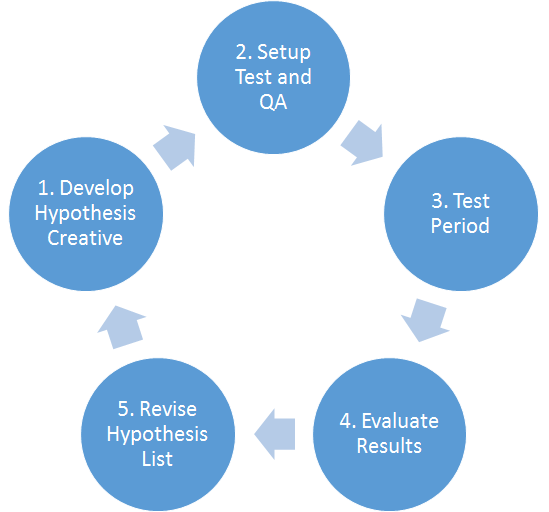 We review the results with you, and if we find a winning idea, it becomes the page to beat. We may try to get more from this page, or move on to another part of the site.
A Remarkable Process
AB Testing allows us to mine "veins of gold" in the conversion rate. With each test, we revise the hypothesis list, pick our next test, and go through the cycle again.
In a six-month process, we will complete six test cycles covering anywhere between six and twenty-four hypotheses.
It's this process that allows us to on average find a 15 to 25% increase in revenue per visit or 15 to 25% increase in new leads and new calls.
What Would Remarkable Results Look Like to You?
Find out if the Conversion Catalyst is right for your website. Have a conversation with a Conversion Scientist and find out what remarkable results would mean for your business.

Your privacy is important to us.