What you need to know to start a Conversion Optimization Program of Your Own
If you are the Conversion Champion in your organization, or want to become a Conversion Champion, you have taken a step in the right direction.
What does it take to plant a conversion optimization program and find those Quick Wins that let it grow?
We're sending you a package that outlines a special training program that tells you exactly how we do what we do so well: increase online conversion rates and revenue per visit.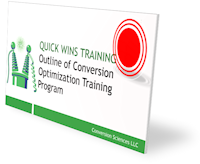 We'll take you through setting up your Digital Lab. This includes your Analytics, click-tracking software and the tools to run your tests.
We'll introduce you to the scientific method and teach you how to turn ideas into testable hypotheses.
Questions?
We're taking applications for our next Quick Wins training group. You should be a part of it.
Contact your trainer by emailing {You must have javascript enabled to see this email address.}.