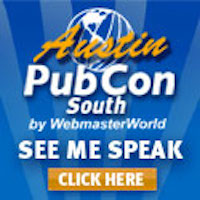 More Businesses Realize that Conversion is the Key to Lowering Search Costs
The folks at PubCon are smart, and I'm talking about the attendees. They're good at what they do because, well, they go to PubCon. Brett Tabke's organization, which has several conferences around the country has a loyal following.
And they get that conversion math make search math work better.
I'm pleased to be an active part of the organization. I am supporting the cause with a workshop and two panels this year at PubCon South.
Masters Training: PPC/SEM/Conversion Track
We start off with a full-day workshop on Pay-per-click advertising (PPC), a subset of Search Engine Marketing (SEM) and Conversion Optimization. I am humbled to be in the company of Austin's own Kate Morris and the no-holds-barred style of Tim Ash. I'll be talking about understanding your audience by "Killing Brad Pitt."
Conversion Optimization Panel
On Thursday, its the Conversion Optimization Panel with Wider Funnel's Chris Goward, Tim Ash and Khalid Saleh.
For my part, I'll be presenting the case study of Newsday.com, examining how an online news site can invest $4,000,000 in a redesign, and yield only 35 paid subscribers in three months.
Über Advanced PPC
Right after the Conversion Optimization Panel, I'll be joining Christine Churchill, Wister Walcott, and David Szetela to discuss advanced tactics and tools for PPC advertising.
Smart People. Great Topics
I hope to see you at PubCon and hope you'll come to my sessions for two totally new presentations.
If you can't make it, I'll let you know where to get the slides if you'll give me your email address right here: