CRO For Content Marketers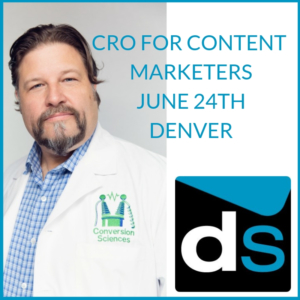 The magical equation you've been optimizing for, but didn't know it.
The metrics content marketers should pay attention to.
Calculate the value of a reader, prospect and customer.
Build high-converting content pages.
How to get bigger content budgets from higher conversion rates.
The rules of behavioral science — that you already know.
The tools you should always have at your fingertips.
How to use heatmaps to improve page layouts.
Using analytics to grade your content and traffic.
Why Bounce Rate is a poor indicator of content effectiveness.
The sources of data you can tap for amazing insights.
Keeping designers and copywriters honest.
How to outgrow competitors with more resources.
Dealing with executive interference.
How to evaluate for crazy ideas that "just might work."
Transcend your IT department.
How to decide what to change, what to leave the same, and what to test.
Writing great survey questions.
How to run a focus group from your desk.
Managing content for a website redesign.
How to develop ads that deliver qualified readers.
**PLEASE NOTE: The Masterclass is included with Platinum Passes,  but an upgrade is required for Conference, Plus, & Premium Pass holders.