I was directed by a Facebook notification to a quotation so important that it deserved its own graphic panel. Clearly, this was a quote that needed to be read. As I read I thought, "This guy and I think a lot alike. Who is this Plato of the conversion world?"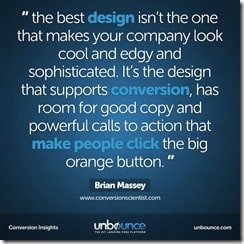 At the end was my name, and the quote had been taken from one of my recent blog posts on conversion and design. You could hear the air squealing into my already inflated head.
So infatuated was I with myself, that I immediately shared the – quotegraph? – with my entire network, and I'm writing a blog post about it. Who would have created such a honeypot for my ego? What entity would benefit from such bold action?
It was the very smart marketers at Unbounce. Their service provides easy ways to develop landing pages and to test different versions of those landing pages. Who spends their time recommending – nay demanding – that businesses use targeted landing pages to increase leads and sales? I do, as well as many other marketing experts, some of whom have already been targeted by Unbounce flattery.
If you're reading this and this is your first introduction to the people at Unbounce, then tell us in the comments. That will be a testimonial to how effective this technique can be.
And it's cheap.
I (and other experts) provide the content. All Unbounce had to do was lay the quote out all big and bold, and post it on Facebook. Very smart.
Will this also end up on my Pinterest page? Oh, yes.
Steal this idea for your industry.
Get a Free Chapter
I've written a tell-all with juicy details about how to run a high-converting website. Become a friend of the author for free chapters and bonus content from Your Customer Creation Equation: Unexpected Website Formulas of the Conversion Scientist
.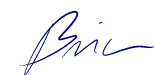 Brian Massey is the Founder and Conversion Scientist™ at Conversion Sciences. He is the author of Your Customer Creation Equation. His rare combination of interests, experience and neuroses were developed over almost 20 years as a computer programmer, entrepreneur, corporate marketer, international speaker and writer.