I've got some eye-candy and ear-hums for those of you who hate reading. My tour of Europe (Frankfurt, Germany to Stockholm, Sweden) yielded a variety of media.
Lab Coats Were All the Rage
My fantastic hosts, André Morys and John Ekman easily earned their Conversion Scences lab coats for exemplary work in progressing the science of conversion. Co-speaker Natalie Nahai (the WebPschologist) found the 1200 thread count thermal weave to be warming on a cool Stockholm night.
An Audio Preview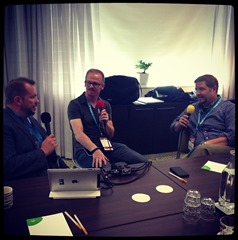 The James Royal-Lawson and Per Axbom recorded a short (14:36 min) interview. You should listen to it, and if you want to learn more, check out the complete audio of my presentation.
Live the Full Presentation as if you were THERE
Podcast: Download (Duration: 43:18 — 39.7MB)
Subscribe: Apple Podcasts | Android | RSS
Follow along with the slides.