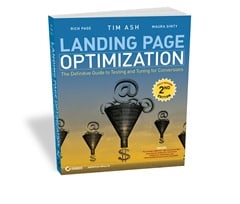 At first, I was pleased to get my brand new copy of Landing Page Optimization Second Edition, delivered and signed by Tim Ash himself. I had learned a great deal from his first edition. It was a time in which I was adding more optimization services to my practice.
The new edition seemed to have everything. It had fresh pages from Tim plus Rich Page and Maura Ginty. It had a snazzy blue cover. Many of the graphics inside were new or updated.
And then it hit me.
Where were my dog-ears? My notes in the margins? The coffee stains on my most visited pages? The new book didn't fall open to the places I revisited most, like the handy little "Size of Improvements" chart (now on page 302). It was all… gone.
I felt like my favorite site had been redesigned and none of my bookmarks worked. This is the downside to new editions, so I went searching for reasons to start over. It turned out to be a nice reminder of what we do and how we do it.
First of all, he still calls our baby "ugly" to highlight the need for "unflinching courage and clinical detachment" in examining your site. I guess familiarity is welcome in almost any form.
The new book has new content from Tim's classic presentations, including "The Seven Deadly Sins of Landing Page Design" and his "Conversion Ninja Toolbox."
Less of an edge
I don't know if Rich and Maura brought this characteristic, but the book has a bit less of an edge. Tim introduced his original section on "The Math of Tuning" with a section entitled "Just Grin and Bear It." That little ditty is now gone, as is the section "A Final Warning." The chapter from the first edition "Why Your Site is Not Perfect" has been removed and the content scattered about, as if they were trying to hide it.
Still, you can sense a little of the original edge. The chapter on "Understanding Your Audience" is now "Misunderstanding Your Visitors." I had to jump to that one.
Just about everything is in there
The book is ambitious, and Tim, Rich and Maura do a good job of covering a lot of ground without eye-glazing detail. Of course, the discussion of factoring is still there.
The new book covers conversion improvement basics and best practices in common situations, which sets the table for the ensuing chapters. There's a basic primer on statistics and probability. The authors address the challenges of assembling a team and getting buy-in, certainly a thornier optimization challenge than the technical issues.
The excellent chapter "Developing Your Action Plan" is there. New content on mobile websites can be found in this edition.
For me, Landing Page Optimization has been the best book in my library for successful testing, and is the one I most return to. The title may be misleading. Since every page on your site could be a landing page, it is really a book about website optimization.
The new edition offers even more without becoming cumbersome. If only I they could have preserved my "customizations" from the first edition.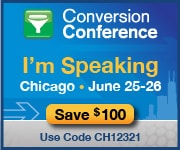 The next best thing to reading Landing Page Optimization is seeing Tim, Rich and Maura in person. Will you be at Conversion Conference Chicago June 25-27? It is the most interesting and educational way to get your optimization game into full swing.
---