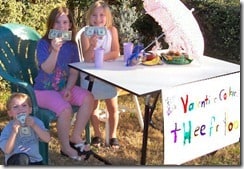 No parent relishes having "the talk" about conversion rates. No one wants to tell their kids: "Kids, conversion rates are still only around 2 percent" or tell them the naked truth about all the sites out there that were never optimized. Or point out that they're hanging with the wrong crowd when it comes to web development and creation.
But if we don't tell the kids about the benefits of hanging with fake people—called personas—who will? We have to just pick the right time and be ready to be vulnerable.
When confronted with a difficult question like "Daddy, should I put up a squeeze page?" we can just say: "I just don't know. Let's explore that together."
As hard as this is, it's better they learn about value propositions from you than off the street. Check out my article on Search Engine Land: 7 Things to Teach Your Children About Conversion to learn how to do this the right way.
I'm completing the chapters of my new book due out in this Spring. Find out how you can get a free copy of the book when its available.