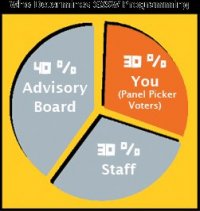 The process of naming SXSW panels is part of the process of getting them accepted. The fine folks at SXSW seem to prefer interesting, surprising panel titles. Of course, they may be swayed by the votes that cleverly-named panels get at the start of the selection process. Thirty percent of the decision to choose a panel comes from the number of votes garnered.
An unexpected title might just help get votes.
Each year, I do a study of the SXSW panel names, looking for inspiration and common themes that I can use in my own email subject lines. This year, I present examples of panel titles that use the following hacks:
Things That Don't Fit Together: Non-Sequiturs
Our brains are wired to discard the familiar faster than a bear can spell Constantinople. It is the unexpected that gets the attention of our conscious and prepares us for action. These titles demonstrate the use of twists to pull readers out of their inbox apathy.
Lists of Three
There is something memorable, readable, and easy-to-count about lists of three. This method is especially successful when the third item is overly specific or doesn't fit. See "Things that Don't Fit Together" above.
Shock and Awe
Boring subject lines make me want to poke needles into my eyes! Sometimes it makes sense to hit readers over the head with something that is just plain shocking. Sometimes.
Rhymes and Alliteration
Sensual subject lines supplement the bottom line. Alliteration is the repeated use of consonants. Rhymes grab your readers like a musical phrase. Don't be afraid to add a little poetry to your prose.
Create a Common Enemy
You may find your reader united behind you by identifying a common enemy – like the delete key.
Insult Someone
Don't be a wimp. When all else fails drop the political correctness and tell the reader what you really think.
Lead With a Number
Four session titles that use numbers. When we offer the reader a specific number of things, they know they are going to get a manageable set of tips or tricks that is easy to scan and digest.
Make Up Words
If you find yourself with subjectlinitis, tossing a memebomb or two may be your best hope. New words can turn a deletophile into a reader.
Pop Culture References
If you know your audience, you slip them some "Funky Cold Medina" in the form of a pop-culture reference. For your geeks, "Star Trek" or "Star Wars" will do. For the younger generation, something from the "Harry Potter" series might make a connection. Music is usually a sure bet. Can you name the sources of the following references?
Metaphors and Similes
Similes are like can openers for the mind. Metaphors are the batteries in the flashlight of your email. The technical term for this style of messaging is "transubstantiation," using the characteristics of one thing to add meaning to another in the eyes of the reader.
Target an Audience
Right-handed marketers, take note! Targeting your audience can significantly increase the relevance to two groups of people: those to whom you are speaking, and those who feel left out by the fact that you aren't speaking to them (you left-handers felt a twinge of anger at being left out, didn't you?).
This approach takes guts, as you are consciously ignoring part of your audience in the hope of truly engaging another.
Sex Sells
Even the "oldest profession in the world" required some persuasive messaging. Your reader may see sex as the most base or most exalted activity humans can engage in. This is the risk and the reward for bawdy banter in your email subject lines.
Big Promises
If you've got the goods, big promises will make you rich in as little as three days. Big promises make the reader ask, "So, how can you do that?" even if they are skeptical. Of course, if you can't deliver on the promise with sufficient proof in your email, all is lost – including your credibility.
Add an "i"
New This Year, turn your subject line into an iLine! All it takes is one little vowel.
I give you over 100 examples of each of these in my ClickZ column 14 Email Subject Line Hacks. I promise you'll be amused and inspired.
[signature]

Latest posts by Brian Massey
(see all)
https://conversionsciences.com/wp-content/uploads/2019/11/conversion-sciences-cro-agency-conversion-optimization-consultants.png
0
0
Brian Massey
https://conversionsciences.com/wp-content/uploads/2019/11/conversion-sciences-cro-agency-conversion-optimization-consultants.png
Brian Massey
2012-04-13 22:25:41
2012-04-13 22:25:41
14 Inspiring Email Subject Line Hacks from the SXSW Catalog